'Satyamev Jayate' episode boosts anti-foeticide efforts
Parmod Bharti
Nawanshahr, May 20
The first episode of Amir Khan's 'Satyamev Jayate' has not only given nationwide recognition to Nawanshahr model of fighting against female foeticide that was launched in 2005 by the then Deputy Commissioner Krishan Kumar, under the aegis of district-level NGOs' Coordination Committee - UPKAR, but has also helped infuse new life into the UPKAR Coordination Society.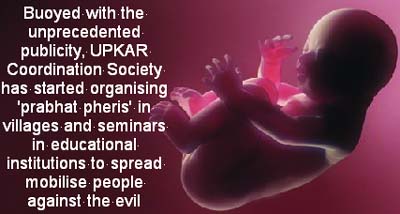 Buoyed with the unprecedented publicity, the society has started organising 'prabhat pheris' in villages and seminars in educational institutions with renewed vigour and enthusiasm so as to mobilise people particularly students at the grassroots to come forward to fight the social evil.
The society recently took out prabhat pheris at Alipur and Alachaur villages and organised a seminar at Government Senior Secondary School, Kariha, to revitalise its fight against female foeticide.
Society members while addressing gatherings at different places said the gender ration improved from 879 girls per 1000 boys to 975 girls per 1000 boys in the age group of 0-1 year in the district in 10 years. Society activists exhorted people to come forward to create awareness in their surroundings to make it a mass movement.