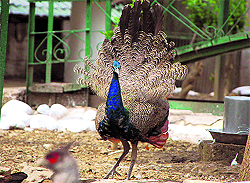 Himalayan Bird Park to be closed down
Shimla, May 20
Tourists and local residents will no longer be able to see the gorgeous feathered creatures at the Himalayan Bird Park (HBN) at Chaura Maidan here with the Central Zoo Authority directing the state to close down the five-decade old pheasantry.


A peacock at the park in Shimla. Photo: Amit Kanwar

Shanta free to bring HLP leaders back: CM
Dharamsala, May 20
"Shanta Kumar has every right to persuade Himachal Lokhit Party (HLP) leaders to rejoin the BJP. He can try to bring them back into the party fold," said Chief Minister Prem Kumar Dhumal here today. He was responding to queries regarding Shanta Kumar's repeated statements praising HLP leaders.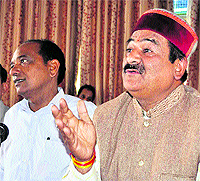 HLP fires another salvo at govt
Shimla, May 20
The Himachal Lokhit Party (HLP), a breakaway group of the BJP, today fired another salvo at the Dhumal government accusing it of according "special treatment" to the national convener of the BJP legal cell while engaging him as counsel for the state.



Maheshwar Singh, president of the Himachal Lokhit Party, addresses mediapersons in Shimla on Sunday.

Anurag alleges discrimination by UPA govt
Nurpur, May 20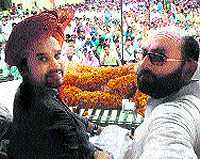 National BJP Yuva Morcha (BJYM) president and Lok Sabha MP Anurag Thakur today addressed a mammoth public meeting at Fatehpur, native Assembly segment of suspended BJP MP from Kangra Rajan Sushant who is bete noire of Chief Minister PK Dhumal. Sushant's political detractors, under the banner of the local BJP Mandal (unit), organised this rally just to display a show of strength in the wake of forthcoming Assembly polls.
BJYM president and Lok Sabha MP Anurag Thakur (L) at a public meeting at Fatehpur in Nurpur on Sunday. Photo: Rajiv Mahajan

HLP dharna at Raj Bhawan today
Shimla, May 20
The Himachal Lokhit Party will stage a dharna in protest against "rampant corruption" under the Dhumal regime in front of the Raj Bhawan tomorrow and also submit a memorandum to Governor Urmila Singh.
Congress flogging dead issue: Satti
Shimla, May 20
State BJP chief Satpal Satti today alleged that Congress leaders were repeatedly raising the Jaypee cement and thermal plant issue as they did not have any major issue against the government to highlight.
Pay water bills or face disconnection: IPH Dept
Hamirpur, May 20
Taking tough measures against defaulters not paying water charges for quite long, the Irrigation and Public Health (IPH) Department, Hamirpur, has issued strict notices to finally pay the water bills or face disconnection of their water connections.
ASI-protected Mandi temples in tatters
Mandi, May 20
The temple heritage of this town is in tatters and up for grabs. Even three temples protected by the Archaeological Survey of India (ASI) are "fast turning into junkyards", what to talk about other over 100 temples, which are dying a slow, but sure death under the nose of temple committees and the local administration.
Firm to start heli-taxi service to Palampur temple
Palampur, May 20
Sumit Aviation Company will start a helicopter service to the ancient temple Himani Chamunda, situated at a height of 10,000 ft from the sea level in the Dhauladhar hills of the Kangra valley.
Property worth Rs 5 lakh destroyed in fire
Bilaspur, May 20
Property worth Rs 5 lakh was destroyed in a devastating fire which suddenly spread in three adjoining houses and one cow shed of Gandhi Ram, Satish Kumar and Sonia at Chakrana village under Gatwaad gram panchayat near Bharadi, 55 km from here, last night.
Block committee wants DCC president removed
Hamirpur, May 20
The ongoing differences in the district Congress, Hamirpur, took an ugly turn today as the Block Congress Committee passed a resolution demanding the removal of District Congress Committee (DCC) president Sunil Sharma (Bittoo) from the post.
Company told to provide new car or return cost to complainant
Bilaspur, May 20
The District Consumers Redressal Forum, headed by Justice BR Chandel and members Shyam Lal Thakur and Manorama Thakur, on Friday ordered a motor vehicle trading company, Ashrit Trading Company of Bhida, Hamirpur, to either provide a new car or return its total cost of Rs 7,41,544 with 9 per cent interest to complainant Surender Kumar of Baddu near Ghumarwin.
Transport unions to work 8 hours a day from May 29
Bilaspur, May 20
The Himachal Pradesh State Transport Unions Coordination and Joint Action Committee (TUCJAC) has unanimously decided to start working for only eight hours a day from May 29 and go on a one-day strike throughout the state on June 5 as a mark of protest against the government for ignoring their long-pending demands charter.
13 Patiala residents hurt in road mishap
Bilaspur, May 20
Thirteen persons of Patiala, Punjab, were injured, some of them seriously, when the Innova (No. PB-11-AS-8044) by which they were travelling to Manikaran, was suddenly hit by a speeding truck (No.HP-12A-5022) coming from the opposite direction near Nauni on NH-21, 11 km from here, late last evening.
Project oustees given forest land illegally
Sundernagar, May 20
Hundreds of bighas of forest land has allegedly been given to oustees of the Beas-Sutlej Link (BSL) Project without the permission of the Central Government despite the enactment of the Forest Conservation Act.
Woman commits suicide, in-laws arrested
Bilaspur, May 20
The police last evening arrested Suman Kumari's in-laws Prakash, Kaushalya and Anita Kumari of Kasaru village near Ghumarwin under Sections 306 and 34, IPC, on a complaint of her mother Kanta Devi of Jewin village who held them responsible for her daughter's death.