BJP ready for Assembly poll: Dhumal
Palampur, May 19
Chief Minister Prem Kumar Dhumal said today that the BJP was fully prepared for the Assembly elections due by the end of this year in the state.
NGO refutes claim of Jaypee group management
Solan, May 19
An environmental NGO, Him Parivesh Environment Protection Society, has refuted the recent claim of the management of Jaypee Associates that its Bagheri-based thermal plant had not been constructed.
Round-the-year marigold brings cheer to farmers
Nurpur, May 19
In the scorching heat of May when the cultivation of marigold is a distant dream in the plains of neighbouring Punjab and Haryana, farmers of lower hills in Himachal Pradesh have succeeded in growing this flower round the year, thanks to the efforts and research by scientists of the local Regional Horticulture Research Station, Jachh, near here.
New excise policy worries hoteliers
Solan, May 19
With the Excise and Taxation Department making it compulsory for bar licensees to purchase a minimum quota of liquor from the local licensee every month, resentment was prevailing among hoteliers against this policy.
Zee awards given for exemplary acts
Shimla, May 19
Chief Minister PK Dhumal conferred the Zee Himachal Shikhar Samman upon people who had excelled in various fields by way of their exemplary acts at a function organised by a TV channel, Zee TV, here last evening.
Design engineers seek NPA
Shimla, May 19
The Himachal Pradesh Public Works Department Design Engineers Association has demanded non-practising allowance (NPA) on the pattern of doctors.
Transfer of 3 specialist docs hits health services
Palampur, May 19
Health services at the Civil Hospital, Palampur, have been paralysed following transfer of three post-graduate (specialist) doctors.
Petroleum dealers hail HC decision
Solan, May 19
Welcoming the decision of the state high court regarding opening of new petrol pumps by three oil companies, the HP Petroleum Dealers Association said yesterday the move would help save wasteful expenditure of public money.
Condition of Children Homes
Shimla, May 19
The state high court has directed the chief architect to prepare a model building plan for children homes in the state and asked Deputy Commissioners (DCs) to file an affidavit about the condition of these homes in their respective districts by July 10.
Challan presented in court
Manali, May 19
The state Vigilance and Anti-Corruption Bureau, Mandi, has put up a challan of three accused in the Rs 8.27-lakh medicine purchase scam of the nagar panchayat, Manali, in the court of the Special Judge, Kullu.
Order of Consumer Forum stayed
Mandi, May 19
The State Consumer Commission has stayed the order of the District Consumer Forum, Mandi, that had awarded compensation of Rs 13,000 and payment of Rs 8,000 as the cost of litigation to two complainants to be paid by SDM, Sarkaghat, Kishori Lal for deficiency in service.
Religious bodies ban animal sacrifice in shrines
Chamba, May 19
All the members belonging to various religious institutions of Chamba district situated adjacent to the borders of Jammu and Kashmir have reached a consensus to ban animal sacrifice on the premises of such shrines realising that the killing of animals as a sacrifice is a "crime".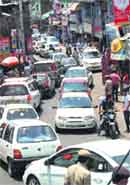 IPL match gridlocks Dharamsala
Dharamsala, May 19
The IPL match between the Kings XI Punjab and the Delhi Daredevils today paralysed Dharamsala and exposed the limitation of a small town in handling big crowds. A large number of spectators arrived here last evening. They were staying in McLeodganj and adjoining tourist spots with hotel facilities in the area packed to their capacity. The road to McLeodganj was clogged with vehicles coming down this morning. Though the traffic cops tried their best, narrow roads provided them with limited options.
A traffic jam during the IPL match in Dharamsala on Saturday. Photo: Kamaljeet