Best clicks from lensmenís eyes
Tribune News Service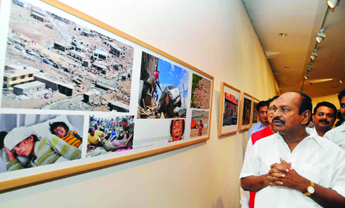 Union Minister of State for Information and Broadcasting S. Jagathrakshakan watches pictures of the 2010 Leh cloudburst taken by The Tribune photographer Mukesh Aggarwal at a photo exhibition -- The Big Picture 2012 -- at Lalit Kala Gallery in New Delhi on Friday. Tribune photo.

New Delhi, May 19
Taking from their varied encounters as a photojournalist, the association of working cameramen has displayed some of the best clicks depicting the numerous shades of contemporary India at the Lalit Kala Academy in the Capital.
"The Big Picture 2012" showcases work of 70 photo journalists affiliated to the All-India Working News Cameramen's Association (WNCA) at a six-day exhibition which was inaugurated by the Union Minister of State for Information and Broadcasting, S Jagathrakshakan yesterday.
The exhibition, featuring over 200 pictures, is the fourth public display of works by members of the WNCA, the largest national body of print and electronic media photojournalists representing national and international media organisations.
The exhibition displays several pictorial stories through the lenses of cameramen.
A story by The Tribune photojournalist, Mukesh Aggarwal, is on the Ladakh mudslide that captures the nature's wrath and the unbeatable surviving instinct amongst the locals.
Other stories include the construction of Terminal3 of Indira Gandhi International Airport, collection of wild elephants in different moods at the Jim Corbett National Park and the Commonwealth Games 2010.
Several pictures are spontaneous and capture some of the best moments, including the motorcade of Anna Hazare, the day he was released from Tihar Jail, Ďaartií at Varanasi Ghat, a variety of pictures capturing models' different moods on the ramp during fashion weeks, etc.
Another interesting offering of the exhibition are the pictures that have managed to shoot the different moods and expressions of some of the prominent political figures.
From a tense Rajnath Singh at a BJP meeting, Congress general secretary Rahul Gandhi paying his respects at his grandmother Indira Gandhi's memorial as his mother Sonia Gandhi walks past, Union Home Minister P Chidambaram in a reflective mood and Prime Minister Manmohan Singh in a thoughtful mood through a clear water glass on a conference table.
Photojournalists at WNCA explained that these pictures were the result of a lot of patience, hard work, sweat and tears.
"A photojournalist has to work hard to get these extraordinary pictures. The right moment, the right click is just something one has to be always on the lookout for. At times, luck favours and you get a fabulous shot that means a lot of things, at different levels," said a member.