Mid-Himalayan project to be showcased as model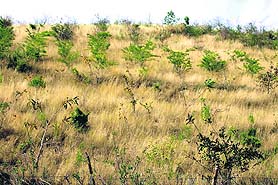 Shimla, May 15
The World Bank-funded Mid-Himalayan Watershed Development Project has earned another distinction with its selection as a model for sustainable development of hills to be showcased at the 11th Conference of Parties (CoP) under the climate change initiative of the United Nations to be held at Hyderabad in October next.
Fodder and saplings grown under the Mid-Himalayan Watershed Development Project.

IPL Matches in Dharamsala
Far-off parking slots to bother spectators
Dharamsala, May 15
Those coming for the IPL matches scheduled for May 17 and 19 at Dharamsala are likely to get a taste of the traffic woes of hills areas. A majority of the people coming in their own vehicles to watch the matches will have to park their vehicles at the Zorawar stadium near Sidhbari, about 7 km from the Dharamsala cricket stadium.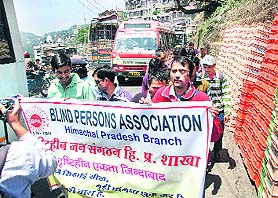 Visually impaired stage protest
Shimla, May 15
Members of the Himachal Blind Persons Association staged a protest march followed by a dharna in front of the state Secretariat to press for their demands. The association demanded strict action in checking fake disability certificates and sacking of those who got government jobs reserved for the blind through wrongly acquired blindness certificates.
Members of the Himachal Blind Persons Association stage a protest march in support of their demands in Shimla on Tuesday. Photo: Amit Kanwar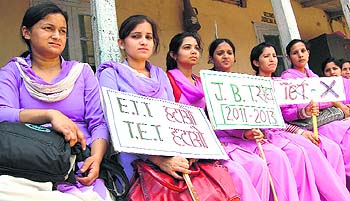 JBT trainees hold protest march
Dharamsala, May 15
Trainees of various JBT institutes of the state today organised a protest march here against the policy of the Education Department to hold entrance test for their recruitment as teachers in government schools.
JBT trainees during a protest demonstration in Dharamsala on Tuesday. Photo: Kamaljeet

Solar light scam: Director seeks report
Kangra, May 15
Dr RN Batta, Director, Rural Development and Panchayati Raj Department, Himachal Pradesh, has sought a detailed report from the Block Development Officer (BDO), Kangra, regarding the purchase of solar lights without inviting tenders and without consulting Him Urja, the solar energy department in the state, thus putting the government to a financial loss.
Land Allotment to Jaypee
CPM demands CBI probe
Hamirpur, May 15
The CPM has demanded a CBI probe into the alleged illegal acquisition and allotment of government and private land to Jaypee Industries and violation of environment laws for setting up various projects in the state. It has sought the registration of criminal cases against political leaders and officers accused of helping the company in committing various illegalities.
Mandi Municipal Council removes encroachments
Mandi, May 15
Assisted by revenue officials and the police, the Mandi Municipal Council today launched an anti-encroachment drive and demolished two structures on government land in ward No. 1, Khaliar, in this temple town.
CD case: Hearing adjourned till May 22
Shimla, May 15
Special Judge (Forest) BL Soni yesterday adjourned the alleged CD case registered against Union Minister Virbhadra Singh and his wife Pratibha Singh for May 22.
Forest clearance for rural roads sought
Chamba, May 15
The construction work on the seven rural roads falling in non-tribal areas of the Bharmour tribal Assembly constituency in Chamba district has been hampered as a result of inordinate delay in the forest clearance.
Seek CBI probe, BJP dares Cong
Shimla, May 15
The BJP today dared the Congress to seek a CBI probe into the issue of setting up of the cement plant by Jaypee Associates Ltd (JAL), accusing its political rival of distorting facts to mislead the public.
2 youths get life term for murdering taxi driver
Solan, May 15
Sessions Judge KS Chandel sentenced two youths to life imprisonment and a fine for Rs 25,000, for murdering taxi driver Rajinder Kumar, at a camp in Nalagarh today. The duo has also been fined Rs 10,000 and 5,000 for having kidnapped and causing disappearance of evidence in this case which pertains to June 15, 2010.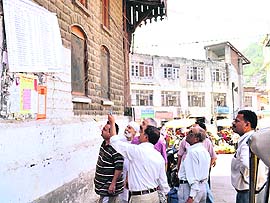 Mandi MC displays rent defaulters' list
Mandi, May 15
The Mandi Municipal Council today made public a list of 54 major rent defaulters, including the IPH Department, the electricity board and the Ayurveda Department, whose shop rent bill has exceeded Rs 50,000. The action followed directions from Mandi Deputy Commissioner Devesh Kumar.
People watch the rent defaulters' list at Indira Market in Mandi on Tuesday. Photo: Jai Kumar

Two die of poisoning
Kangra, May 15
Two persons, including a woman, died at the Dr Rajendra Prashad Government Medical College (DRPGMC) at Tanda today as they had consumed some poison by mistake.
Restoration work of Bailey bridge on
Chamba, May 15
The restoration work of the damaged Bailey bridge across the Mahlu nullah falling in the Pangi tribal valley of Chamba district has been undertaken in full swing.
Man gets 7-year jail in rape case
Dharamsala, May 15
Additional and Districts Judge, Dharamsala, Baldev Singh today sentenced Karnail Singh of Thora Jatoli village in Nurpur tehsil to seven years of rigorous imprisonment on the charge of rape.