3 yrs on, NH withers as union ministry dithers on notification
Dharamsala, May 6
There has been a delay on the part of the Union Ministry for Surface Transport in notifying the 91-km Nagrota Bagwan-Mubarakpur road as the National Highway (NH) 20-A. As a result, the state government has been allocating funds for relaying the road after 2009, the year it was declared a national highway.
Dr Minhas BJP nominee for Mayor's post
Shimla, May 6
A retired surgeon, Dr SS Minhas, will be the BJP candidate for the post of Mayor and Dig Vijay Singh Chauhan (Bhanu), son of late BJP stalwart Daulat Ram Chauhan, for Deputy Mayor for the ensuing elections to the Shimla Municipal Corporation. Minhas who is abroad is likely to arrive in the country tonight.
Women protest against shortage of drinking water
Palampur, May 6
Hundreds of women of Bhawarna, Bhattia and Punnar areas today staged a protest dharna outside the office of the IPH Department in protest against the shortage of drinking water in their villages.
Now, 7-a-side football tourney at Dharamsala
Dharamsala, May 6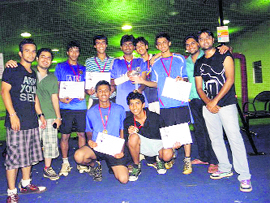 Now a seven-a-side football tournament will enthral sports enthusiasts of the area. We and Football, a sports club started by a few young professionals in Delhi to popularise football among the masses in the country, will organise the two-day seven-a-side football tournament at Dharamsala on May 12 and 13.


Members of We and Football, a sports club formed to popularise football across the country.
Rohtang Tunnel Transmission Line
Authorities seek report from power corp
Mandi/Manali, May 6
The Rohtang Tunnel project authorities have sought a comprehensive project report from the Himachal Pradesh Power Transmission Corporation (HPPTC) on the proposed underground transmission line through the 8.82-km-long Rohtang tunnel so that "it will be easier to lay underground high-voltage gas-insulated cables (GIC) inside the tunnel before it is too late".
Green Bench decision on JP plant historic, says NGO
Solan, May 6

Terming the decision of the Green Bench as historic, an NGO, Him Parivesh, which had filed a petition alleging violations of environmental laws in the Bagheri-based plant of Jaiprakash Associates Limited (JAL) in the state high court, said this decision would prove to be a milestone for the entire country in environmental matters.
Him Parivesh members at a press conference in Nalagarh on Saturday.
Differently abled brave odds to trek
Dalhousie, May 6
Another batch of the National Himalayan Nature Study-cum-Trekking Expedition completed its trek today. The trek was started from May 1 from the Youth Hostel, Dalhousie, organised by the Youth Hostels Association of India (YHAI). As many as 140 participants hailing from Maharastra and Gujarat participated in this trek.
BSNL mobile users rue poor connectivity
Nurpur, May 6
BSNL subscribers have been facing hardships due to the consistent poor connectivity of the BSNL mobile service for the past over one month.
PNB told to pay Rs 5,000 as compensation
Sundernagar, May 6
The Consumer Forum, Mandi, has directed Punjab National Bank (PNB), Sundernagar, to pay Rs 5,000 as compensation and Rs 2,000 as the cost of complaint to Sunil Kumar, proprietor, Genuine Earth Movers, Naulkha, Sundernagar, whose cheque was lost by the bank. The forum further directed it to issue a duplicate cheque to the consumer within 30 days.
More powers sought for urban local bodies
Manali, May 6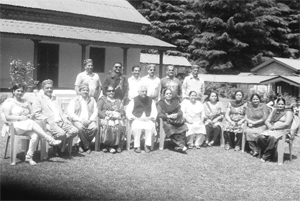 Himachal Pradesh Elected Representatives of Urban Local Bodies Association president Kul Rakesh Pant has said developmental activities will be carried out in coordination with the state government. He was briefing mediapersons here today.


Members of the Himachal Pradesh Elected Representatives of Urban Local Bodies Association at Manali on Sunday. Photo by writer
Rs 57 lakh spent on ministers' vehicles
Shimla, May 6
The government had spent Rs 57.64 lakh on fuel and repairs of vehicles of Chief Minister and his Cabinet colleagues during 2011.
Garbage collector held for attacking woman
Bilaspur, May 6
Sikandar (25) of Patiala in Punjab, who does garbage collection at Jahu in Bilaspur and Hamirpur districts, was arrested at Ghumarwin by the police for allegedly attacking garbage collector Babli, wife of Rinku, who live in a jhuggi near a nullah flowing by the side of Government Girls Senior Secondary School in Raura sector here.
Youth run over by train, dies
Kangra, May 6
An unidentified youth in his mid-20s was killed when he was run over by a train on the narrow-gauge Pathankot-Joginder Nagar railway track at thhe Sammela tunnel near here today. This was stated by the Railway police. The youth died on the spot.
Educationist dies at 86
Bilaspur, May 6
Educationist Attar Singh Chandel (86), popularly known as Mian Attar Singh, died at his home in Badhyat village on the outskirts of the town last night. He had been ailing for sometime.
Man dies of poisoning
Kangra, May 6
A 40-year-old man who had consumed poison by mistake died in the Dr Rajendra Prakash Government Medical College (DRPGMC) Tanda Hospital here today.
Beldar found dead
Bilaspur, May 6
A beldar working with the IPH Department was found dead under suspicious circumstances. Reports said beldar Satish Kumar (35) of Mohin village, near Barthin, who was employed as beldar at Barthin, was found dead near Sunhani pump house where he was earlier sent by the office on duty earlier in the morning.