Furniture Market fire
Recurring incidents fail to move administration
Chandigarh, May 15
Four major fires in the illegal furniture market of Sectors 52-53 in the past about 12 years have failed to wake up the UT administration from its slumber to remove the encroachments on the prime commercial land and allot them some alternative site.

This is all that remains after the fire at the furniture market on Monday night. Photo: Pradeep Tewari
Daily wagers have no hope
Daily wager Bajrangi Yadav was traumatised when he came to know that he had lost his job of polishing at the furniture market here, as the shop where he worked for the past 15 years was gutted last night.


kansal area
Department stops approving layout plans
Chandigarh, May 15
A day after the Punjab and Haryana Court halted construction activity in Sukhna's catchment area, the Punjab Local Bodies Department has stopped clearing layout plans of residential projects, especially in Kansal, that fall in the Nayagoan Master Plan area.
The fate of housing projects in Kansal hangs in balance. Tribune photo: Manoj Mahajan
Youth stabbed to death by 12 assailants
Chandigarh May 15
A 22-year-old youth was stabbed to death by around a dozen assailants at his Daddu Majra residence last night. The victim, Alok Kumar, was stabbed repeatedly in the back. He later died in the PGI. The police has arrested nine persons in the case of murder registered at the police station at Sector 39.


| | |
| --- | --- |
| Making way amid darkness | A risky ride |
| Vehicle-drivers have a tough time are non-functional as traffic lights on the road separating Sectors 29 and 30 in Chandigarh on Monday night. Tribune Photo: Manoj Mahajan | A rickshaw-puller carries a ladder in a dangerous way at Sector 45 in Chandigarh on Tuesday. Tribune photo: Vicky Gharu |
UT awaits fault-finding machine
Chandigarh, May 15
While the residents of the city are facing power cuts due to fault in the power supply lines on numerous occasions, the UT Electricity Department does not have any equipment to locate fault in the underground cables spread across the city.
7,200 EWS houses by 2014: Sukhbir
Mohali, May 15
At least 7,200 houses will be constructed for economically weaker section (EWS) here in the next two years. This was stated by Punjab's Deputy Chief Minister Sukhbir Singh Badal here today.


Modern day pitchers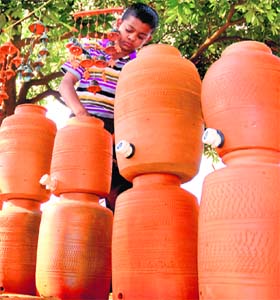 A boy checks his earthen pots fitted with taps, which have replaced traditional pitchers, in Chandigarh on Tuesday. Tribune photo: S Chandan
Boost to PGI liver transplant programme
Chandigarh, May 15
The liver transplant programme at the Post Graduate Institute of Medical Research (PGIMER) has gained momentum when the doctors performed third such surgery successfully last week. The 54-year-old patient, Anil, from Himachal Pradesh is recovering fast and the doctors are hopeful that he will be discharged this week only.
Counter-claim
Chandigarh, May 15
Countering the allegations of Ashwini, brother of deceased Ashok who was killed in an accident along with his wife, Dr PN Gupta has stated that the police had approached him for the footage to get clues of the accident. The doctor stated that he did not know Ashwini who had been making false statements to the media and taking all the credit for getting the case solved.
STA cracks whip on auto dealers
Chandigarh, May 15
After deciding to act tough against the operators of auto-rickshaws with diesel engines, the State Transport Authority (STA) has cracked its whip on the auto dealers who are selling new models without getting approval from the transport authority.
Encroachments removed
Chandigarh, May 15
The enforcement wing of the Municipal Corporation today lifted material belonging to those shopkeepers at Night Food Street near the PGI who had encroached upon corporation land by putting up their stuff in front of six shops which are closed now. Out of eight shops, the allottees of six had shut their shops.
MC to have its own building soon
Panchkula, May 15
The Panchkula municipal corporation (MC) will soon have its own building as parleys between the civic authorities and the Haryana Urban Development Authority (HUDA) over land near Devi Nagar are at the final stage.
Ex-servicemen take up 'one rank one pension' issue with Antony
Chandigarh, May 15
A delegation of retired Army officers, led by Congress MP Partap Singh Bajwa, called upon Defence Minister AK Antony and, besides various issues, discussed the implementation of one rank one pension (OROP) scheme with him.
Snehalaya inmates get better deal
Chandigarh, May 15
After sitting over the report of the inquiry into the Snehalaya issue for so many months, the UT Administration has now started providing a family atmosphere to the inmates. To counter negative feelings among the children, the UT Administration has also started yoga classes, art of living classes and educational tours for them.
No free-pass entry to Sec-17 parking lots
Chandigarh, May 15
Vehicles with free parking passes issued by the Municipal Corporation will not be allowed to park in the two parking lots of Sector 17. This decision has been taken by the authorities to ease pressure on the Empire Store and Sahib Singh parking lots.
'The Homecoming' leaves audience awestruck
Chandigarh, May 15
The Roopak Kala and Welfare Society in association with the Ministry of Culture, Government of India, and NZCC, Patiala, staged three stories written by Rabindranath Tagore, which were translated in Punjabi, designed and directed by Sangeeta Gupta and Chakresh.
Absentees to face the music: DC
Mohali, May 15
Showing concern over 'lapses' in delivering health services in the 'kandi' area, Deputy Commissioner (DC) Varun Roojam directed the senior medical officer concerned to ensure the presence of medical staff in the area.
Senators campaign in guise
Chandigarh, May 15
Giving two hoots to all norms, Panjab University senators are using university funds to campaigning for senate elections under the garb of anti-cheating squads. What left the university authorities fuming is that the anti-cheating squads, primarily comprising senators, have registered only 7 cases so far out of 2,800 visits to 1,600 centres.
Road safety to be part of CBSE curriculum
Chandigarh, May 15
The Central Board of Secondary Education (CBSE) has directed its affiliated schools to impart lessons on Essential Road Safety Rules to their students. The lessons, which are meant to be started from this year, are for students from standard VI to XII.
45 students honoured for excellence
Chandigarh, May 15
PEC University of Technology held its annual honour ceremony in college auditorium today. The event was organised to honour those students who have excelled in extra-curricular activities. This year, 45 students were given prestigious institute colours. The institute colour is an honour given to the best students of the graduating year for their contribution toward the institute.
HC issues notice of motion to PU
Chandigarh, May 15
The Punjab and Haryana High Court today issued notice of motion to the Panjab University and its Vice-chancellor on a petition seeking permission to allow legal heir of deceased employees to opt for family pension.