M A I N N E W S
Terror plot foiled ahead of Chicago summit; 3 arrested
Washington, May 20
Three members of the Black Bloc group have been arrested and a fourth one faces terror charges in President Barack Obama's hometown Chicago for allegedly plotting attacks during the NATO Summit in the city.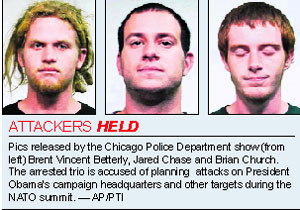 Around 60 world leaders have gathered in Chicago for the summit that begins today. The summit aims at charting out a road map of international support to Afghanistan post-2014.
The arrested trio was also planning to attack the headquarters of the Obama Campaign in Chicago, sources said.
The three men - Brian Church (22) from Florida, Jared Chase (27) from New Hampshire and Brent Betterly (24) who told the police that he is from Massachusetts - were produced in a court yesterday. The three were charged with material support to terrorism; conspiracy to commit terror acts; and possession of explosives or incendiary devices. Sebastian Senakiewicz, 24, of the 3,600 block of North Odell Avenue, is the fourth person to be hit with terrorism-related charges, but the police did not say whether he was connected to the three persons arrested in a Bridgeport raid earlier this week. — PTI