Two labourers killed in sewer tank
Megha Mann
Tribune News Service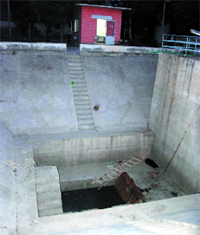 The sewer tank near the ITI Chowk where two labourers were killed on Tuesday evening. Tribune photos: Pawan Sharma
Bathinda, May 22
Two labourers were killed while removing the old screen chamber at the Municipal Corporation's sewerage project near the ITI today.
The incident took place at around 6:30 pm when the labourers, under contractor Sushil Mittal, were working on replacing the screen chamber. After the old chamber was removed, the contractor and his men stood examining the spot.
Suddenly, one of the men, Atma Ram, standing nearby, fell into the tank. In panic, Sushil Mittal dived to rescue him instead of taking the staircase down the pit. "But he found it difficult to stay afloat in the toxic waters. To save him, two labourers, Murari and Bablu, also jumped inside," said the municipal corporation officials.
Sushil Mittal and Atma Ram, who fell down accidentally, caught hold of the staircase and saved themselves.
However, Murari and Bablu could not survive in the toxic waters and died inside.
The volunteers of the NGO, Sahara Welfare Society, rushed to the spot and pulled the two out. They were rushed to the Civil Hospital where the doctors declared them dead on arrival. Even Sushil and Atma Ram sustained serious injuries.
The possibility of the labourers dying after inhaling toxic gases emanating from the tank has been ruled out as the tank was open, thus giving an outlet to the toxic gases. The labourers could have died due to the toxic water entering their lungs or due to head injuries.
The sewer pumping station at the ITI Chowk pumps out the entire city's sewage in the sludge carrier that leads to a vacant area on the Dabwali road.
For the last few days, the sluice valve controlling the outlets of the sewage was out of order. After repairing the sluice valve, the contractor saw that even the screen chamber needed repair and hence, it was being changed.
Head injuries caused death: MCB official
Bathinda: Bathinda Municipal Commissioner Uma Shankar Gupta said the labourers seemed to have died due to head injuries. "The labourers jumped off from a height of nine feet and plunged into two feet deep water. When they dived, their head might have hit the bottom of the tank, which has shallow water. Even the doctors at the Civil Hospital said preliminary investigation points to head injury as the cause of the death," he said.
Gupta termed the incident as unfortunate. He added that the XEN, Sewerage Board, has been directed to look into the issue. — TNS