Lacklustre campaign by Congress
Election campaign takes a backseat due to internal fight
Umeash Dewan
Tribune News Service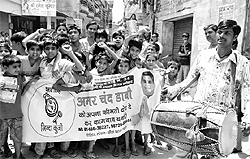 Election campaign in progress at Patiala. Tribune Photo: Rajesh Sachar

Patiala, June 3
With blame game on within the Congress over the choice of candidates for the 50 municipal wards in Patiala, the election campaign of the party has certainly taken a backseat.
While the Shiromani Akali Dal (SAD) and the Bharatiya Janata Party (BJP) candidates are going door-to-door to woo the electorate, the Congress candidates are facing a tough time as the leaders are not willing to campaign in the wake of differences within the party.
Two Congress candidates, one from ward number 39 Makhan Ram and another from ward number 2 Surjit Dhiman, have already withdrawn their candidature - a development that has badly affected the morale of the party rank and file.
Makhan has withdrawn his papers in favour of Akali Dal candidate. However, the exact reason behind Surjit's withdrawal is yet to be ascertained.
The tussle between various Congress leaders, including the former Improvement Trust chairman KK Sharma and District Congress Committee (Urban) president KK Puri and others, is no more a secret.
The former Mayor, Vishnu Sharma, has fielded his supports as independents from various wards reportedly because he was "overlooked" during the ticket allocation process.
Amidst the internal bickering coupled with high morale of the SAD-BJP candidates in the wake of party's excellent performance in the recently held Assembly polls, the Congress candidates in most of the wards are finding it difficult to give a push to the election campaign.
"Just five days left for the campaigning to end, no senior party leaders has so far figured during the meetings, programmes and door-to-door canvassing," said many Congress candidates.
However, when contacted DCC (Urban) president claimed that the Congress campaign has gained momentum and the entire Patiala Congress is united.
Other than making tall claims of registering victory in the civic polls, Puri failed to give any convincing reply pertaining to the factionalism that has adversely affected their election campaign. Meanwhile, in a release issued, Puri claimed that all the Congress activists are busy in election campaign.