The usual challenges of turning a work of art into another medium have acquired a new dimension with the making of Salman Rushdie's popular novel 'Midnight's Children' into a film. The focus has once again shifted to politicisation of art

Lost love letters to India
"Most of what matters in our lives takes place in
our absence" —'Midnight's Children'
Vandana Shukla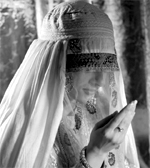 THE VEILED TRUTH: Soha Ali Khan plays the role of Jamila i.e Saleem Sinai's sister who becomes the Bulbul of Pakistan Pictures courtesy- Hamilton-Mehta Films Ltd
Sometimes written words of a fictional work become prophetic for real life situations. The Best of Booker, 'Midnight's Children', written by India born author Salman Rushdie who termed it as his 'love letter to India', is turned into the 'biggest project of her lifetime' by film director Deepa Mehta. Even before the film hit the production floor, it was sold to forty countries. Such confidence shown by film distributors across the globe is reserved only for a few names from Hollywood, which has now been accorded to the team of Mehta and Rushdie. The much-awaited film is ready for release on 26th October, across the globe in 30 countries, except in India, where the writer and the film director belong.
The fantastic tale of Saleem Sinai and his alter- ego Shiva, born on the night of August 15, 1947, the night of India's freedom, spans six decades across different locations of the Indian sub-continent— from Mumbai, Karachi to the Sunderbans in the novel. Rushdie defies whatever Aristotle's 'Poetics' professed about the three unities in this work — he goes beyond the monologic versions of a novel to offer a carnival like space, where time, place and action stage a fluid dance. Everything – characters, locations and action run crisscross under the spell of his magical realism. Why would a film director, known for handling realistic issues in her films attempt to bring such a book on celluloid?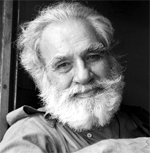 Kulbhushan Kharbanda plays Picture Singh
A cinematic book
Mehta opted for the book for precisely these very reasons. In an e-mail interview she says, "Not only because Midnight's Children is a beloved, classic novel about post-colonial India ( and that's pressure enough, not to short change it, that is), but also because of its sheer cinematic scope, its epic nature, its  different periods, its cast of more than three hundred speaking parts and 17 principle actors," which has made it the biggest project of her life.
It all began when Rushdie came for the screening of 'Water' ( the last of Mehta's elemental trilogy after 'Earth' and 'Fire') at Toronto(Where Mehta lives) and appreciated her work. "I relate to his sensitivity, and he said let's work together," she said. Three years later when he was again in Toronto, he asked, which of his works would she like to work on? "Midnight's Children speaks to me the most," she said and the rest is history. David Hamilton agreed to produce this film too, like the rest of her films.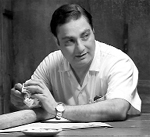 Vinay Pathak has a friendly appearance in the film
When a book is interpreted in the language of celluloid, it almost always throws up interesting questions, whether the medium shapes a story or the story shapes a medium. Did the challenge deter Mehta? "We (Salman Rushdie and myself) had decided that our approach to the book would be cinematic. Mr Rushdie's screenplay reflects this, the story line, compressed time periods are all handled beautifully by him. And I am happy with the way it's shaped up," says Mehta. Both Rushdie and Mehta would prepare a script, separately, to begin with, and they claim, it often matched. From the original 6oo pages of the novel, Rushdie prepared the first draft of 276 pages, which was further brought down to 120. Many chapters and characters had to be collapsed for the script. Despite these cuts, the film has 67 different locations, for which shooting was concluded in short of three months.
In a talk delivered at Redcliffe Institute, Harvard University, on 'Taking Midnight's Children from book to film' Mehta said, "We share a healthy respect for each others' craft" which is why they did not have a single show down during the making of the film, which was like running a marathon within the span of a sprint event.
The shooting was kept under wraps of secrecy, and the crew and cast were made to sign confidentiality agreement. Despite these precautions, Iranian government came to know of the shooting and tried to put pressure on the government of Sri Lanka to stop the shooting. For a few days their licence to shoot remained cancelled, which was later revived. Within three months the shooting was completed in Sri Lanka where Bombay of the 40s to the 70s and other locations were re-created. For a few important landmark locations of India and Pakistan, shots were taken under great secrecy.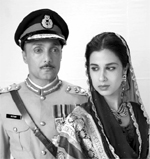 Rahul Bose plays General Zulfikar of Pakistan with him is his wife Emerald, played by Anita Majumdar
The politics of art
Rushdie was also involved in choosing the cast, that includes Seema Biswas, Rahul Bose, Shahana Goswami, Soha Ali Khan, Kulbhushan Kharbanda, Shabana Azmi, Anupam Kher and others. The lead role of Saleem Sinai, whose perspective on an India- in- transition constitutes the plot, is played by a newcomer Satya Bhabha. The film is in English, Hindi and Urdu and will be released under the title of 'Winds of Change', in all probability.
Apart from the script one has heard and read so much about, which is the strongest point of the film? " Without the strong, indeed stunning production design by Dilip Mehta and his team, to capture 60 years of India's post colonial history  and 67 locations, the film would have been impossible," says Mehta, to add, "Film is a collaborative art form, everyone involved with it contributed to its realization."
While Rushdie called his book a 'love letter to India', Mehta, in her talk delivered at Redcliffe Institute said," How much I love and care for my country with all its complexity, the complexity I was looking for 'Midnight's Children' gave me." Ironically, it tells the story of the country where not a single distributor is willing to take the film. The making of this film, which undertook many risks in its production leaves many unasked questions unanswered, because we are living in 'sensitive' times. Noted poet Ashok Vajpayee had raised a pertinent question during 'Jaipur Literature Festival.' He said, "Writers are not dictators, nor do they carry weapons, why is the world so scared of them?" We may not get answer to this question, what we do know is, in this age of heightened 'sensitivity' love letters can be delivered elsewhere, but not to the addressee.


Narrator of the partition saga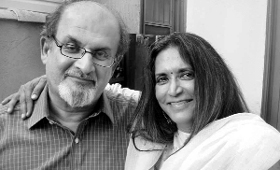 A formidable team: Salman Rushdie, the author of Midnight's Children with Deepa Mehta, who evokes the visual magic of the novel on celluloid
Before 'Midnight's Children', Deepa Mehta had brought one more novel on celluloid—Bapsi Sidhwa's 'Ice- Candy Man.' Born in Amritsar, Mehta moved to Delhi for higher education and later migrated to Canada, where she began her creative journey. She started her film career by making documentaries and children's films. Her debut feature film was 'Sam and Me'. The script of her first film of the elemental trilogy 'Fire' (1996) was written on the kitchen table of her home. The film received critical acclaim for handling the subject of lesbian love (between sisters- in- law)-- thus far untouched by the Indian film makers. This was followed by 'Earth'(1998), a film based on Bapsi Shdhwa's 'Ice- Candy Man'. The novel was based on an eight year old Parsi girl's perspective on the partition of India. For the making of 'Earth' too she had ensured a creative involvement of Sidhwa. Incidentally, 'Midnight's Children' too deals with the partition of India. Mehta's parents had come from Lahore, and she grew up listening to tales of the partition.
The last of the trilogy 'Water' was released in 2005, the film was shot in Sri Lanka. She has also directed several English-language films set in Canada, including 'The Republic of Love' (2003) and 'Heaven on Earth' (2008), the latter deals with domestic violence. She has been honoured with many awards, including Governor General's Performing Arts Award for Life Time Achievement in Canada.
We never had a single fight
I have known and admired Deepa Mehta's work from a distance for many years, but in the last three years I have had the good fortune to collaborate closely with her on the film of my novel Midnight's Children, so now I know everything about her, except one thing: I don't know what she's like when she loses her temper, because - and this will amaze anyone who has ever had anything to do with making a movie - in three years of close, impassioned collaboration we never had a single fight. This is a great improvement on most of the close relationships of my life…
— Salman Rushdie