Citizens' right to public space
There's limit to sacrificing it for personal security
by Shailaja Chandra
We live in a country which treats public space as charity for its citizens. Most urban areas are overtaken by congestion, pollution and chaos. But the few exceptions still left were the immaculate green spaces of Chandigarh and Delhi celebrated for their elegant tree-lined avenues. Over the years these too have been degraded with tents and porta cabins that house security personnel guarding politicians, judges, the police brass itself and bureaucrats. But recently the High Court of Punjab and Haryana, which has been hearing a PIL, has successfully overseen the removal of a majority of such encumbrances on public space. Unfortunately in Delhi, the phenomenon of security personnel occupying sidewalks meant for pedestrians and cyclists continues, despite numerous solutions having been proposed.
To be fair, let us hear the version of the main protagonist — the security police. Indeed, if there is a threat perception and the individual falls into the XYZ categories the police has no option but to post the posse of policemen outside his house, as prescribed. When the "protectee" (in police parlance) disallows habitation inside the boundary of his bungalow, (notwithstanding a 2-3 acre expanse being available where umpteen personal offices have been built,) the only option available to the security boss is to locate the guards outside the perimeter. And that explains why most options are closed.
Now let us consider it from the point of view of the citizen. In other countries, the man on foot is treated like God. Pedestrian walkways and street furniture are specially designed for smooth, uninterrupted walking. Benches are placed conveniently where one can eat a sandwich or read a book. There are no tents and porta cabins anywhere. That is because the citizens guard their open spaces fiercely and place a high value on easy access to sidewalks. But consider just one sidewalk on Tilak Marg, New Delhi — the address of the Supreme Court of India. It is the main artery for international visitors driving to Rajghat, to the Red Fort and Jama Masjid. A third of Delhi's population destined for ITO and old Delhi drive through Tilak Marg. Even so, for the last 20 years a porta cabin with its line of washed underwear strung between two trees is one of the sights on view.
Certainly it is not the fault of the five police personnel who have no option but to eat, sleep, bathe and wash their clothes on the sidewalk of Tilak Marg dressed or undressed. With temperatures soaring beyond 43 degrees Celsius, it must be a torture. When asked why the 'protectee' could not be relocated in a gated complex with adequate space for security guards, a senior police friend said, "None of them will agree to move to such complexes. And should there be a terror attack, the sentry on duty will shout and four men will immediately leap in and crush the intruder."
A former police commissioner of Delhi, Mr T R Kakkar, was fortunately more realistic. "It is possible to house security guards within the nearest police station. The police stations in the NDMC area have the space. One sentry could be stationed for two hours at a time with modern communication systems to alert the security guards at the police station. Where foliage is not a problem CCTV cameras can be used. PCR patrolling can do the rest. It would be a boon for the boys."
Security obstacles also include the stacks of unsightly sand bags that have sprung up all over Delhi. Roosevelt House (American Embassy) is one of the most emblematic buildings in Delhi's diplomatic enclave surrounded by tree-lined streets. But every nook and corner is dotted with ugly sand bags intended to protect the security personnel as they fight picketers and terrorists. In other countries they use barricades and stainless steel bollards which move up and down to prevent vehicles from gaining entry until screened. Setting up such bollards might be a better answer than stacking heaps of sand bags to conduct warfare.
The good news reported by police friends is that the majority of the people who once refused security guards inside the perimeter of their houses have begun co-operating — at last. The second good news is that the NDMC is not permitting new security structures on their roads. The third good news is that the number of non-entitled persons who had earlier grabbed security cover has declined considerably; not comparable perhaps to the Punjab government which has slashed security cover from several entrenched hangers-on.
The bad news at least for Delhi is that the quest for personal security is no longer confined to police protection. Porta cabins stand outside most homes in South Delhi blocking footpaths and forcing the elderly and children to walk on the main road. While many private security guards gamble, drink, smoke and play cards, their presence has become indispensable. But when residents engage private security not just to guard the house but to pilot their masters much like 'Z' category security guards it becomes cause for concern. The SUV carcade flashing a string of lights (strictly prohibited under the Motor Vehicles Act) zoom through the colony creating a huge ruckus. The accompanying security guards wearing black bandanas have barred residents from entering their own apartments. Such was their hooliganism that an aggrieved resident of Delhi's prestigious Defence Colony approached Delhi's Public Grievance Commission to intercede. He received the commission's support but if this is the shape that private security takes, citizens have a brand new problem on their hands.
In a democracy, of all freedoms, the freedom to move without hindrance in public and private space is among the most highly regarded. Public order is critical for stability but in the zeal to maintain public order those in authority must strike a balance between individual security on the one hand and important public freedoms on the other. Citizens have a right to determine acceptable levels to which their rights should be sacrificed in the name of personal security. It is time all agencies put their heads together to ensure that the citizens' interest remained uppermost.n
The writer was Secretary, Government of India, and the Chief Secretary, Delhi.

Siesta on a summer Sunday
by Raji P. Shrivastava
As workdays become longer and busier, the elastic working week eats up Saturdays with greedy delight. That leaves Sunday as the day of choice for the fatigued office-goer. If you aren't the diligent type that likes to go to church or the temple on Sunday morning, you can wake up as late as your circumstances will allow.
Skipping breakfast altogether is no big sacrifice.  The relaxed newspaper read can stretch into midday over a comfort brunch that does not register on the calorie counter (self-deceiving assumption: nothing you eat on a Sunday gets converted to fat). With the Sunday supplements and magazines disposed of, it is time to stretch the spine into an imaginary hammock and shut your eyes and ears to the neighbourhood noises around you. Somebody's dog howls in the background, somebody's maid is shrieking into her mobile phone at an unknown enemy…soon the noises fade into oblivion as the whirr of the fan takes over and the gentle flutter of newspapers is something one can only sense, not hear.
The Sunday afternoon siesta remains one of the last few guilty pleasures of working life. The brunch-induced stupor serves you in good stead till about 3 pm, when you wake up, wondering if you are hungry for lunch. You realise, if anything, that you are ravenous for more sleep. Two glasses of ice-cold water and you are back in bed against a bank of pillows. The pesky mobile phone is on silent mode inside a bedside table drawer. Nothing will ring or ping if you shut it up. A hasty check reveals that all is well with the world and others in your universe have probably been slumbering as well, thank heavens.
You swing from dreams of lion safaris amidst tall grasses and gardens filled with breath-taking tulips. A nasty recurrent dream leaves you a bit shaken: a maths exam in which all the questions are Greek. You reassure yourself that it is only an old, recycled dream — there are going to be no more maths exams in your life. You are not a student, you explain to your sleepy self. You have earned this Sunday snooze by dint of sheer hard work, you remind yourself reassuringly.
You wake up one limb at a time to the accompaniment of a long, lazy yawn – even by your decadent standards, it is time to get up. A cup of ginger tea swirls in the microwaveable cup: a middle aged person's classic restorative. You rub the sleep out of your eyes and try to orient yourself – is it afternoon or evening or mid-morning? The weather is cloudy outside, so you are not so sure. A moment later you place the hour correctly – it's 5 pm, and you've had four hours of precious slumber. The mobile phone now growing out of your fingers buzzes to life. Somehow you don't mind it anymore – you even have a smile for the caller as you mumble a sleepy "Hello".
This siesta has to last you a whole week, as you essay the double role of night owl and morning lark.

A foe China would hate to kill
The Dalai Lama created a flutter by raising fears of a Chinese plot to assassinate him. For all the hatred China may have for the Tibetan spiritual leader — who continues to be a hurdle in its complete control over Tibet — the country would only have more trouble on its hands by eliminating him
Ashok Tuteja
On September 24, 2011, the 14th Dalai Lama issued a declaration from McLeodganj, Dharamsala, his abode in India, regarding the future of his lineage. In the 4,200-word document, Tibet's spiritual leader asserted he would decide when he is "about 90" whether he should be reincarnated. The document also included a strong rebuke of official Chinese claims of Beijing's authority over the process of his reincarnation.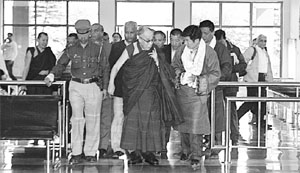 The Dalai Lama arrives at Kangra airport, near Dharamsala, with the Himachal Police and an inner cordon of Tibetan personnel securing his every move. His physical contact with devotees (above, right) has been restricted following reports of assassination plans.
This development in the running feud between the Communist Party of China (CPC) and the Dalai Lama indeed incensed Beijing, which went all guns blazing against the Dalai 'clique'.
China has repeatedly blamed the unrest in its Tibetan Autonomous Region (TAR) on the Dalai Lama — winner of the Nobel Peace Prize-1989 — who has lived in exile in India since 1959. Zhang Qingli, the former CPC Secretary in TAR, once wrote in a Tibet daily: "The Dalai Lama is a wolf wrapped in a monk's habit, a monster with a human face and animal's heart."
Being at the centre of a running international feud, and the head of a community that sees itself as under siege, is not the most secure position. The Dalai Lama's voicing fears of assassination plans only adds to the anxiety surrounding the Tibetan spiritual head.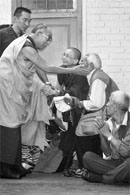 Since the Dalai Lama's permanent home and establishment in exile is at McLeodganj in Dharamsala, Himachal, the state police has been entrusted with his primary security within the state. It has deployed 106 personnel on the job, including one Additional SP, five sub-inspectors, three assistant sub-inspectors, 23 head constables and 73 constables, all posted at his McLeodganj complex. They also move with the Dalai Lama within the state. But when he visits other states, the respective state police forces provide the security.
For the inner cordon, however, he has his own security detail of Tibetans in exile.
On foreign tours, only a few Tibetan personnel travel with him, besides an official each of the Indian Ministry of External Affairs and the Intelligence Bureau.
Visitors seeking audience with the Dalai Lama have to pass through metal detectors and are frisked by the Tibetan guards. In view of the recent suspected plan to poison him, the Dalai Lama has been advised against physically touching visitors seeking his blessings.
Threat not new
In October 2011, there were reports that Chinese intelligence agencies had stepped up efforts to collect intelligence on the Dalai Lama's health, as well as samples of his blood, urine and hair. The Central Tibetan Administration (changed name of the Tibetan government in exile) in Dharamsala alleges that in April 2008, Zhang Qingli, then party secretary of the Tibet Autonomous Region (TAR), held a meeting of top officials, where he was quoted as saying: "Those who must be killed should be killed, and who those must be imprisoned must be imprisoned." In February 2012, Chen Quanguo, current Party Secretary of TAR, called for "a war against secessionist sabotage".
Danger within
Tibetans who worship the Shugden spirit are traditional "enemies" of the Dalai Lama since the time of the fifth incarnation. The myth is that Shugden is the spirit of a lama who aspired but could not become the fifth Dalai Lama. Members of the cult suspect he was killed at the instance of the fifth Dalai Lama.
There were also "reports" of China inciting members of the Shugden cult to act against the Dalai Lama, who has banned the religious practices of the sect. Members of the cult were also accused of killing three aides of the Dalai Lama at McLeodganj in 1997. They are believed to have escaped to China. — LM
Amid the Chinese vilification campaign against him, the Tibetan spiritual leader continues to travel across the world, seeking support for more rights for the Tibetan people. But the Dalai Lama stunned the world recently when he told a newspaper that he had received reports of an elaborate assassination plan against him.
"We received some information from Tibet... some Chinese agents training some Tibetans, especially women, you see, using poison — the hair poisoned, and the scarf poisoned — they were supposed to seek blessing from me, and my hand touch," he told Britain's Sunday Telegraph, combining several components usually seen in a film plot. China promptly denied having plotted to kill him, saying it could have assassinated him whenever it wanted.
Who gains?
The moot question is whether China really gains anything by assassinating the Dalai Lama, revered as God by most Tibetans. Observers say any such action by Beijing will only fuel the situation in TAR with vociferous demands for separation. It is believed the situation may assume such alarming dimensions that it could become difficult for China to control it.
Despite China's aggressive campaign to assimilate Tibet, people in TAR are said to be a dissatisfied lot. The Tibetans in China, either within Tibet or in Western China, are often reluctant to openly criticise the Chinese authorities, but frequently infer that they are unhappy about certain aspects of government policy. They privately regret the slow degradation of their culture and tradition.
China is also suspected to be using the massive settlement of Han Chinese, China's majority ethnic community, against dissent and separatism to strengthen its hold on the mountainous region. The one thing that appears to concern the authorities more than anything is the break-up of China, regardless of whether it is Tibet or Xinjiang, the Muslim region in China's far west. The government is also nervous of any religious groups that challenge its authority, especially those that inspire fervour greater than Beijing commands. Both of these sensitive issues are combined in the question of Tibetan independence, and the Chinese government is keen that neither gathers any momentum. Therefore, any attempt on the life of the Dalai Lama could only backfire for Beijing. China is, thus, not likely to indulge in such a misadventure, for it will have to pay a heavy cost for it.
A thorn in the flesh
Even as such drastic action as assassination may not serve its purpose, the presence of the Dalai Lama in India continues to irk Beijing because of its uneasy relationship with New Delhi, primarily due to the complex border issue. Moreover, the Tibet issue has remained in the international spotlight for decades, partly due to the plateau's charismatic appeal and the widely acknowledged political leadership of the Dalai Lama, rattling the Communist regime.
Beijing has also repeatedly moved to place greater pressure on India to withdraw its support for the Tibetan administration in exile, which it has hosted in Dharamsala since 1960. However, New Delhi has time and again assured Beijing that it has never encouraged the activities of the Tibetans living in exile in India, and considers Tibet as an autonomous region of China. The issue had come up between the foreign ministers of the two countries as recently as in February, when External Affairs Minister S.M. Krishna visited the Chinese capital. However, New Delhi is absolutely clear that it would not prevent the Dalai Lama in his capacity as a religious figure visiting anywhere in the country. At the same time, the Dalai Lama has been politely advised to refrain from indulging in any political activity or China bashing during his interactions with people anywhere in India.
China's alleged involvement in anti-India insurgencies in the north-eastern part of the country is also seen in relation to Tibet and territorial sovereignty. China lays claim to the entire north-eastern state of Arunachal Pradesh, which it calls 'Southern Tibet'.