It's a crunch, govt shows some grit
Even as India — the second fastest growing major economy — still remains an important investment destination, vital economic statistics are headed in the wrong direction. The government has shown courage by hiking pertol prices, but it needs to cut fiscal deficit, resume reforms and improve governance
Sanjeev Sharma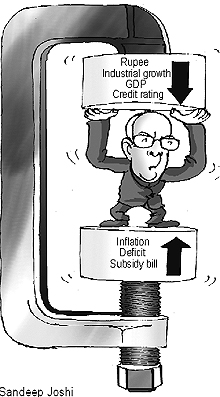 The rupee has hit an all-time low, inflation is again on the rise, and industrial production is getting into negative territory. All of that combined with the escalating economic crisis in Europe, particularly Greece, has put the Indian economy in a spot.

Taking note of these straws in the wind, global financial research and services company Standard & Poor's (S&P) had last month lowered India's rating outlook to negative and warned of a downgrade in two years. Finance Minister Pranab Mukherjee called the development an "alarm bell". The clock is ticking and unless cuts in the fiscal deficit and subsidies are initiated quickly, India runs the risk of being downgraded to junk status.

A sovereign rating by S&P or others is like an appraisal or grading of a country's creditworthiness and investment outlook assessed on the basis of several macro-economic factors. Sound economic fundamentals lead to a better rating, which in turn makes the country more attractive for foreign investors. A good rating means the debt paper issued by the government or companies has to bear lower interest cost and vice versa.

India's rating of "BBB-", which is already the lowest investment grade rating, is also at risk now if quick action is not taken to address the issues of fiscal deficit, cutting subsidies and boosting growth through reforms. However, India can draw some comfort from the fact that even if the economy is not booming, it is still the second fastest growing major economy in the world. With the developed world slowly being engulfed by a recession, India still remains an important investment destination.

FigureS of fall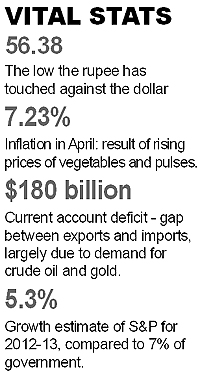 India's vital economic signs are not looking great. A cause of immediate worry is the sharp fall in the rupee, which has plunged below the never-before level of 56 to a US dollar. A weak rupee has the effect of making foreign travel, overseas education and imports like oil and consumer goods more expensive. However, it is beneficial for exporters of software, textiles, gems and jewellery. The problems in Europe and Greece have been a big spoiler for the global economy and the problems there are leading to a risk aversion, leading to capital moving out of riskier assets — like equities shifting to gold and dollar, which are considered safer.
Industrial production declined by 3.5 per cent in March due to the weak investment climate. Through 2011-12, it grew a dismal 2.8 per cent, as compared to 8.2 per cent in the previous fiscal.
Inflation came in higher than expected at 7.23 per cent for April on the back of increase in prices of vegetables and pulses, leading to worries over a potentially grim situation in the economy where inflation is rising while growth is weak, pointing to a looming "stagflation" and almost ruling out chances of any substantial interest rate cuts by the Central bank.
The current account deficit, or the gap between exports and imports, is at $180 billion, largely due to inelastic demand for crude oil and gold. S&P has not bought the Finance Ministry's estimates on GDP growth and fiscal deficit. It has pegged growth much lower at 5.3 per cent for 2012-13, as compared to the government's 7 per cent forecast. The government has set a target of 5.1 per cent fiscal deficit and limiting subsidies to 2 per cent of the GDP, but the environment and the will to take tough decisions to achieve these goals is not there.
According to Ramesh Adige, a public policy expert, India is falling short on major parameters such as fiscal situation, growth prospects, external debt and policy making. On the impact of the action, he said when sovereign credit rating goes down, it takes down with it the credit rating of private debt instruments as well, including the entire banking system. In addition, it could affect the weakening rupee, affect foreign investors, both capital and FDI flows, raise borrowings costs for Indian companies in the international markets and dent India's reputation as a growth story and investment destination.
An opportunity
While things are grim in the macro-economy picture, the only positive to come out of the high-voltage shock of the S&P warning is that it can help the government hardsell tough economic decisions — such as raising fuel prices and cutting subsidies — to the larger political spectrum, as it is now more of a need rather than matter of choice.
Since 1991 — when the first round of economic liberalisation in India took place — it has been several times that tough economic decisions have been taken only in crunch situations. This event may be another similar trigger to act. The latest fuel hike (biggest in history) would be an example of just that.
"The outlook revision reflects our view of at least a one-in-three likelihood of a downgrade if the external position continues to deteriorate, growth prospects diminish or progress on fiscal reforms remains slow in a weakened political setting," said S&P's credit analyst Takahira Ogawa on the India outlook.
The S&P view is that high fiscal deficits and a heavy debt burden remain the most significant constraints on the sovereign ratings of India. "We expect only modest progress in fiscal and public sector reforms, given the political cycle — with the next elections to be held by May 2014 — and the current political gridlock. Such reforms include reducing fuel and fertiliser subsidies, introducing a nationwide goods and services tax, and easing of restrictions on foreign ownership of various sectors such as banking, insurance, and retail sectors," S&P said.
According to a note prepared by Edelweiss Research, at this stage it is just an outlook change, and not a ratings downgrade. To that extent, it is more of a warning of increasing vulnerabilities of the country.
Foreign hand
The global uncertainty and the worsening economic situation in Europe are certainly not helping India's cause. Indranil Pan, chief economist, Kotak Mahindra Bank, has said in a recent report that funding the current account deficit becomes a challenge as global financial market turbulence continues and also due to flip-flops in domestic policy and the S&P downgrade.
Pan says that though India has historically been a current account deficit (CAD) economy, the difficulty in financing the deficit had not been a serious challenge until the onset of the financial crisis. "The global flip-flop between risk appetite and aversion has also failed to provide any concrete view on capital flows, also creating an uncertain atmosphere for the currency."
While most developed economies are faltering, the new variable is a tilt towards Socialism. US President Barack Obama is making protectionist noises time and again on losing jobs and factories to India and China. In Europe, where there is a full-blown sovereign debt crisis, the cascading effect is causing turbulence across continents, and countries are not able to agree on a resolution.
French President Nicolas Sarkozy became the 11th government head to be voted out in Europe after the financial crisis, and incoming President Francois Hollande is rejecting austerity and has vowed to heavily tax the rich instead. Greece, tottering on the edge of a default, has rejected an austerity package that called for hardship, as a vast population is against it.
There is a dichotomy the world over with markets wanting fiscal discipline and the general population saying that we don't care. Governments are finding it difficult to balance between the two.
A global domino effect may only accentuate India's woes. Adige says, "It is not surprising, therefore, that S&P lowered the outlook, especially when rating agencies are taking a conservative position with all other countries as well. The criticism the rating agencies received for not foreseeing the 2008-2009 financial and banking crisis is making them conservative, now that a global sovereign debt crisis seems to be looming on the horizon".