Owned by the disowned
Not a hostage to optimism, manto looked at reality as it exists, which lends him contemporary flair
Vandana Shukla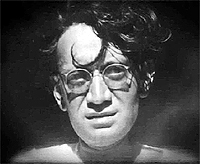 "Manto's life is an excellent example of what happens when a man of outstanding genius falls among men of little talent" ( Safdar Mir- Modern Urdu Prose- 1963)

While experts and scholars suffered 'Tagore fatigue' attending a busy calendar through the 150th year celebrations of Rabindranath Tagore's literary genius, the same can't be said of Saadat Hasan Manto's centenary year. An odd silence prevails. Reasons are obvious. Manto never pleased the civil society, nor the state, for their power constructs. Instead, he offered a de-powering experience of the two through his narratives.
He was the writer of the marginalised — not only of the poor, whose misery offered exotica to the comfort- fatigued rich — his characters were loathed by the so-called respectable. And, his world of short stories — inhabited by the most vulnerable — prostitutes, rioters, slum-dwellers, alcoholics, lunatics and pimps, was perpetually tearing open the comforts of hypocrisy.
Then, he had the penchant for rubbing the establishment on the wrong side by refusing to veil his stark realism or, blunt the edges of his acid-sharp narrative. This landed him in controversies, which resulted in five litigations, threats of imprisonment and fines imposed. In the times of writers getting million dollar book signing deals, globe trotting schedules for book-promotion and living- out- of suitcase existence, it is hard to imagine how Manto wrote, just for the sake of writing, which offered more excuses to the establishment for banning his works rather than getting him fat cheques ( he was tried for 'Boo' and 'Khol Do', thrice for 'Thanda Gosht' and 'Syah Hashiye' was severely criticised by the Progressives). Despite this, he continued to unmask the world by never allowing his pen to be obscured by the convenience of compromise.
Claimed in translation
There are no events announced in full page ads in the leading dailies by the Ministry of Culture, India, to celebrate his genius. The same government apathy is echoed on the other side of the border. Manto lived his best years in India, in Mumbai, and he wrote some of his best stories, post- partition, in Lahore. He invented a new idiom of writing in Urdu, but is read more in Hindi, Punjabi, Marathi, English and other translations. Perhaps these ironies stalk state's intent, if at all its there, to recognise his genius. But, after hundred years of his birth, Manto is read more than ever before. He is owned by the people, who continue to re- discover in his works a unique sensitivity, humanism and brilliant realism that is both deeply involved and detached and is expressed in dry wit.
For his centenary year, events are organised by dedicated groups of readers, private foundations and literary circles, his works are made available in fresh editions and collections, two more writers (including Ayesha Jalal, his grand niece) are attempting his biography, in an effort to finally establish the person behind the best short story writer the sub-continent produced in the last century.
Despite a wider acceptance for Manto's works, which were at one time stamped 'vulgar' and 'obscene', the society has become more intolerant and has turned into a 'mass book burner.' It is ironical that while Delhi University has prescribed Manto in its syllabus, it banned A K Ramanujan's essay 'Three Hundred Ramayanas.' Mumbai University removed Rohinton Mistry's novel 'Such a Long Journey' from its syllabi. The selection of syllabi, across India, leaves a lot to be questioned. And makes one wonder, if literary truth can be digested only posthumously — as, in the case of Manto.
Not a documentarian
It also makes one appreciate the fact that, in a scenario, when people burn effigies of writers at the drop of a hat, they continue to read and appreciate Manto. Especially the post-independence generation, which does not relate to the tragedy of the partition of India — since Manto's greatest works were impacted by the forced uprooting of people from both sides. This dramatic unfolding of history before him, of which he became a part, sculpted his stories in a unique form. The shock of partition continued to resound through his works, and became a tool of expression in his hands. He migrated to Pakistan, a year after the partition, when he realised, he could no longer live his life the way it was. Partition had disturbed the delicate fabric of composite culture in India.
Though, Manto is primarily known for his writings on partition, to treat him as a documentarian of the partition is to limit the scope of his writing. "Manto was perhaps the first cartographer of the urban slums of India," says Dr Alok Bhalla, editor of 'The Life and Works of Manto.' This partly explains his timeless appeal. Not that other writers had not written about city life, they had treated it as a place inhabited by the educated middle-class. Manto spoke boldly about the lives of those who were pushed into the dark recesses of Bombay or Delhi — not just to the margins. "He gave them a body and a face and a psyche which was both bewildered and capable of resistance. I don't think anybody since has explored those spaces where the soul can only be bruised and the self's wounds can be healed," adds Bhalla.
Shock and consolation
Even though censorship haunted his works, Manto created a legacy for the writers on how not to give in to self-censorship and to fight those who try to throttle style and content. His realism was honest, he liberated the prostitutes from "the pious sentimentalism of the Mumbai film industry." He made sex central to his writing and didn't give in to the metaphoric rendition of it. He brought to the fore its glory and filth, and the massive exploitation it unleashes, with objectivity. 'Kali Salwar' the story, needles the reader's memory, and the metaphor of a black salwar and the character get blurred. 'Thanda Gosht' leaves the reader with a chill going down the spine, rather than a sense of arousal, it was accused of.
Is Manto the protagonist of all his narratives? Who do we read and listen to? Is it Manto who speaks through the characters he is portraying? He does not delve much on description and detailing. He takes the reader to an event and with the precision of a surgeon, leaves one with his post-mortem, which is often quick and shocking. Dr Bhalla says his works are 'artefacts not autobiographies.' What creates this impression is perhaps the fact that as a writer "he can imagine and empathise with those who suffer in a moral and social system which continues to throw a haze of piety over its profound corruptions, its unexamined nastiness and its callous exploitations." And the reader continues to identify with the underlying layered hypocrisies of human life and its follies.
Ordinary people— helpless, foolish, fine and pure-all at once - inhabited his literary world. No wonder his stories shock, there is bitterness in his laughter, but, they also console. His humanism makes these tales survive and evolve as part of human consciousness. His readers ensure that his voice is never weakened, a voice sharp like the edge of a sword, that cuts across classes, sparing none.
The Punjab connection
Manto was born at Papraudi near Samrala, in Ludhiana district of Punjab in a Kashmiri Muslim family of barristers, on May 11, 1912. He received his early education at Muslim High School in Amritsar, but remained a misfit throughout his school years, failing twice in matriculation. His only love during those days, was reading English novels, for which he even stole a book, once from a book stall at Amritsar Railway Station.In 1931, he finally passed out of school and joined Hindu Sabha College in Amritsar, which was already volatile due the independence movement, soon it reflected in his first story, 'Tamasha', based on the Jalianwala Bagh massacre.
In Manto's words
In undivided India I was tried thrice, in Pakistan so far once. But then Pakistan is still young.
I hope my writings are not given the lofty status as that of Iqbal, my soul will be restless. God may save me from the termite.
His short stories of a few sentences from 'Syaah Haashiye'
The shoe
The angry mob took another direction and attacked the statue of Sir Ganga Ram. They hit it with sticks and threw bricks and stones at it. One of them put tar on its face. Another one collected old shoes and made a garland of them but as he moved to put it around the neck of the statue, the police came and started shooting at the crowd. The one with the garland fell and got wounded. He was later admitted to the Sir Ganga Ram hospital for treatment.
Need to rest
"Look he is not dead as yet."
"I know my friend, but I am tired, I need some rest."
A bad bargain
Two friends selected a girl from the line-up and bought her in forty two rupees. After spending the night with her, one of the friends asked the girl her name. When she told him it threw him into a rage. "But we were told that you belonged to the other religion," he fumed.
"You were told a lie," she said.
He ran to his friend and panicked, "Oh god! We have been ripped off."
"Why? What happened?"
"They sold a girl of our own faith to us."
"What do we do now?"
"Let's return her and get our money back."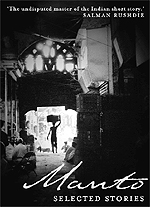 Just 42 years of life and…
Between his obsessive drinking and writing, he produced 22 collections of short stories, one novel, five collections of radio plays, three collections of essays, two collections of personal sketches, and many scripts for films. He wrote the 1954 film 'Mirza Ghalib' which was the first Hindi film to win the first National Award in India
Theatre of the absurd
The appeal of his printed literature inspires performing arts. If Maya Krishna Rao's soul-touching rendition of 'Khol Do' in stylised Kathakali was a milestone,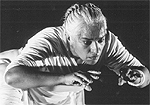 in 1999, Manto entered the exclusive precincts of English theatre with Barry John's direction of his award winning play written by Kishwar Ahluwalia. Then Naseeruddin Shah's play, 'Manto Ismat Hazir Hain' — a theatrical rendition by his group 'Motley' of his stories 'Boo' and 'Tetwal ka Kutta', along with few stories by Ismat Chughtai--which ran full houses for several years in different cities of India and abroad. About a dozen theatre groups have performed 'Toba Tek Singh' in different genres of theatre. The gibberish of Toba Tek Singh, "Uper the gur gur the annexe the bay dhayana the mung the dal of the laltain" became a kind of synonym for the absurdity of communal violence.