Stubble burning rampant despite ban
Gurdaspur, May 13
Hazardous smoke resulting from burning of wheat stubble can be seen billowing out of every other field in the region despite the act being illegal. Fire in fields sometimes goes out of control and leads to fatal incidents.
Power purchase bill up 4 times in 2 yrs
Patiala, May 13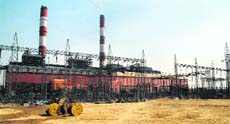 Despite the fact that many states in the country are enhancing their power generation capacity by following the mixed approach of setting up new thermal plants under the state and private sector, Punjab is mainly focusing on awarding power generation projects to private players.


Lehra Mohabbat Thermal plant. Tribune file photograph

Legislators may get area development funds
Chandigarh, May 13
Opposition as well as ruling legislators in Punjab may soon have a reason to cheer. The Planning Commission is open to the suggestion that like MPs, MLAs should also get some constituency development fund which will be spent at the discretion of the legislator in his constituency.

Need to discourage basmati cultivation, say PAU experts
Ludhiana May 13
Cultivation of basmati rice in Punjab must be discouraged and the farmers advised to distribute the area under three non-basmati paddy varieties with a different maturity duration, depending upon the availability of labour and water at the time of transplanting, suggest experts from Punjab Agricultural University here.
childhood lost
1,959 child labourers rescued in one year
Chandigarh, May 13
Punjab Labour Minister Surjit Kumar Jiyani today said 1,959 child labourers had been rescued from various parts of the state over the past one year. Of the rescued children, 1,284 were engaged in dangerous jobs, he said.
VAT collection in Moga up by 21%
Moga, May 13
Excise and sales tax collections in Moga district have registered a significant increase over the past one year. Revenue from value added tax (VAT) increased by 21 per cent in the last fiscal year while excise duty collections in the district are likely to register a growth of 12 per cent during the current fiscal year.
Khalsa College principal proposes 'Sikh Marriage Act, 2012'
Amritsar, May 13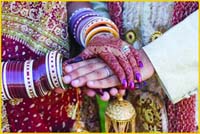 Even as the debate over the absence of divorce clause in the Anand Marriage Amendment Bill 2012 continues, Khalsa College principal and legal luminary Daljeet Singh has prepared the draft of a 'Sikh Marriage Act, 2012'. The Chief Khalsa Diwan intends to send this draft to Prime Minister Manmohan Singh for "further action". Talking to The Tribune, Daljeet Singh said he was entrusted with the responsibility of preparing the draft of a marriage Act for Sikhs during a meeting of the Chief Khalsa Diwan in September last year.
Govt directs boards not to publish own stationery
Ludhiana, May 13
In an attempt to cut down expenses, the Punjab Government has directed the boards and corporations to use the diaries and calendars published only by the state government. The state government has directed all the boards and corporations not to get their diaries and calendars published separately and to send their demand for stationery to the Controller, Printing and Stationery, Punjab.
Help us in development: Majithia to US diplomat
Chandigarh, May 13
The Punjab government has sought cooperation from the US to accelerate the pace of ongoing development in the state in areas such as education, health, industry, business, information technology, renewal energy, besides to strengthen bilateral relations.
Canadian police to join probe: Victim's brother
Ludhiana, May 13
With the Jagraon police failing to locate the remains of 22-year-old NRI Amanpal Singh, whose body was packed in a suitcase and thrown in the Sirhind Feeder Canal, the Royal Canadian Mounted Police (RCMP) is going to initiate a probe into the mysterious death case that led to the busting of a fake marriage nexus.
A (w)hole lot of problems with blackboards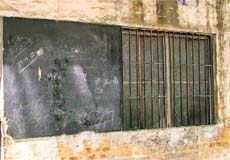 Ludhiana, May 13
Blackboards with gaping holes in them sound surprising? But this is a reality in most of the government schools in the state and you can hardly scribble a word on these blackboards. The blackboard is considered an essential tool of education but the trend of using a blackboard is dwindling in government schools of the state.


Poor condition of a blackboard in a government school. Photo: Inderjeet Verma

Manto's 100th birth anniversary
Punjabi University to compile work of Urdu writer Manto
Samrala, May 13


Punjabi University, Patiala, will publish "Sahitik Simrti Granth" about the writings of Manto, announced Vice Chancellor Dr Jaspal Singh while speaking at a seminar organised by the Lekhak Manch, Samrala, in memory of famous Urdu writer Saadat Hasan Manto.
PPP leader shot at in Bathinda
Bathinda, May 13
Lakhvir Sadhana, a youth leader who contested the recent Vidhan Sabha elections on the People's Party of Punjab (PPP) ticket, was shot at this evening. He has been admitted to a private hospital near Bhucho Mandi in a critical condition.
Molestation charge on hostel warden
Faridkot, May 13
The Red Cross Society in Faridkot has lodged a complaint with the police against a warden of its hostel for an alleged attempt of molesting a 17-year-old mentally challenged girl.