Record procurement of wheat in Punjab
Chandigarh, May 10
Wheat procurement in Punjab today crossed the record projected target of 120 lakh tonnes which itself is a huge improvement on the earlier all-time high of 112 lakh tonnes. While the record harvest is due to the prolonged cold wave, the Agriculture Department, particularly the team headed by former Director Dr BS Sidhu, is also to be patted for creating the protocols that have resulted in this achievement.


120 lakh tonnes and counting

Dirba SHO missing
Sangrur, May 10
Inspector Baljinder Singh Pannu (47) posted as SHO, Dirba, has been missing since yesterday afternoon. The staff attached with the officer have no clue about his whereabouts.
12 PCS officers shifted
Chandigarh, May 10
The Punjab Government today issued transfer orders of 12 PCS officers in the state with immediate effect.
SAD stands exposed on diversion of funds: Cong
Chandigarh, May 10
The Punjab Congress today claimed that Deputy Chief Minister Sukhbir Singh Badal, who had being crying hoarse over "discrimination" by the Centre, had been exposed with Finance Minister Parminder Dhindsa admitting that Rs 2,000 crore meant for centrally sponsored schemes had been "diverted" for other purposes by the last SAD-BJP government.
Nod to 6 projects worth Rs 993 cr
Chandigarh, May 10
The empowered committee on mega projects that is chaired by Chief Minister Parkash Singh Badal today cleared six mega projects worth Rs 993.18 crore.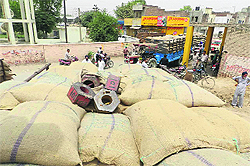 Underweight wheat bags seized
Muktsar, May 10
Markfed officials today caught a commission agent while he was allegedly supplying underweight wheat bags to the government agency. Markfed inspector Jaswinder Singh said on a tip-off a tractor-trailer loaded with 250 wheat bags was checked and all of them were allegedly found underweight.


The weights that were hidden to make up for wheat shortage

Canada-based NRI's death
It's a murder, allege kin
Ludhiana, May 10
A day after the Jagraon police booked four "contract marriage" agents allegedly for forcing 22-year-old Canada-based NRI Amanpal to commit suicide and dumping his body in a canal, Tajinder Singh, victim's brother and other relatives, today claimed that he was killed by the four persons.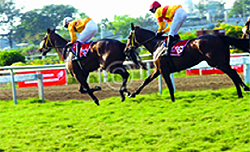 After kabaddi, Sukhbir to promote horse racing
Chandigarh, May 10
After kabaddi, Punjab Deputy Chief Minister Sukhbir Singh Badal is set to take his passion for horses to a new level by initiating work on an international racecourse in Ludhiana. There will also be a provision for dog races.


An international racecourse will come up in Ludhiana

Flood protection measures initiated, says Sekhon
Chandigarh: The government has taken elaborate flood control measures to prevent the threat of floods in the ensuing monsoon season. Irrigation Minister Janmeja Singh Sekhon said instructions had been issued to all divisions to ensure strengthening of river embankments by May-end. They had also been asked to clean and repair canals and drains by June 15.
Won't allow pvt buses on reserved routes: PRTC
Patiala, May 10
To improve its financial condition, the Pepsu Road Transport Corporation (PRTC) has decided to initiate various steps to boost its daily income which at present is about Rs 65 lakh.

HC admits plea by Tota Singh against sentence
Chandigarh, May 10
Two days after Punjab's former agriculture minister Tota Singh moved the Punjab and Haryana High Court challenging the trial court orders of convicting and sentencing him in a corruption case, Justice Ritu Bahri today admitted his appeal. Justice Bahri also issued notice for May 17 on Tota Singh's plea for grant of bail in the case.
1984 anti-Sikh riots
Victim's brother seeks enhanced relief
Chandigarh, May 10
The gory memories of the 1984 anti-Sikh riots were brought alive once again, with a Mohali district resident claiming that his now-dead brother remained bedridden for quarter of a century after being burnt alive in the violence.
Plea against ban on bullock cart race
Chandigarh, May 10
Just about three months Ludhiana Deputy Commissioner decided against allowing cart racing in Kila Raipur games, a Khanna-based organisation today moved the Punjab and Haryana High Court for allowing the event in the rural Olympics.
Ferozepur college teacher held for bribe
Ferozepur, May 10
The Central Bureau of Investigation (CBI) has arrested Manoj Kumar Kushwaha, Associate Professor, Shaheed Bhagat Singh College of Engineering and Technology, Ferozepur, from a hotel at Durg in Chhattisgarh on the charge of accepting a bribe to recommend affiliation to engineering colleges in Chhattisgarh.