Gatka lads from Tarn Taran make it to Guinness Book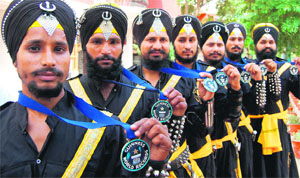 Amritsar, May 9
At a time when Punjabi youth in the border belt are losing the prime of their age to rampant drug addiction, Tarn Taran-based Bir Khalsa Gatka Group has brought laurels to the state by making it to the Guinness Book of World Records. The group broke the maximum number of coconuts placed on the forehead with a baseball bat during a contest organised in Rome on April 18.


Bir Khalsa Gatka Group with their medals in Amritsar. Photo: Vishal Kumar

More in race for PCC president's post
Chandigarh, May 9
The race for the Punjab Pradesh Congress Committee (PPCC) president's post has been thrown wide open with the party high command giving Capt Amarinder Singh only a temporary extension.


Santa Singh's portrait at museum
Will review decision, says Makkar
Amritsar, May 9
Taking note of protests from certain quarters, SGPC chief Avtar Singh Makkar today said the SGPC will review its decision to install the portrait of Baba Santa Singh, former chief of Budha Dal, at the Central Sikh Museum.
Tribune Impact
AG's post on contract: Badal orders probe
Chandigarh, May 9
A day after The Tribune carried a news item on the downgrading of the Punjab Advocate-General's post to that of a contractual employee, Punjab Chief Minister today marked an inquiry into the matter and directed the Home Department to immediately withdraw a letter in this regard.
State to boost eco-tourism
Chandigarh, May 9
Deputy Chief Minister Sukhbir Singh Badal has initiated major eco-tourism projects at Chhatbir Zoological Park in Ajitgarh district and two others projects in Ludhiana district.
In Parliament
Grain rot: Akali, Cong MPs clash
New Delhi, May 9
The Government today said it was open to an all-party meeting to find a mechanism for addressing the recurring problem of food- grain storage and wastage during the procurement season. "We are ready to sit with leaders and work out a mechanism. But till then, our target is to protect procured foodgrains. We will use plastic if adequate jute bags are not available," Finance Minister Pranab Mukherjee said after a heated debate in the Lok Sabha over the wastage of procured foodgrain now running the risk of damage during rains. The minister said the government had asked West Bengal to ensure the delivery of gunny bag at the earliest. The discussion, raised during Zero Hour by Samajwadi Party leader Mulayam Singh Yadav, turned into a full-fledged debate,
Minister: ISI trying to revive terrorism
New Delhi, May 9
Pakistan's Inter-Services Intelligence (ISI) is trying to revive terrorism in Punjab, Minister of State for Home Affairs Jitendra Singh said today. He was replying to a query by BJP MP Balbir Punj in the Rajya Sabha as to whether the ISI was trying to revive the Babbar Khalsa and resurrect terrorism in Punjab. The Minister said " yes".
Restore Punjab's quota in UT, demands Bittu
Chandigarh, May 9
Anandpur Sahib MP Ravneet Singh Bittu today raised in Parliament the issue of declining share of Punjab in the UT's administrative setup.
5 areas identified for central assistance
New Delhi, May 9
Just days after Punjab CM Prakash Singh Badal as well as a PCC delegation sought central assistance for the state, a high-level meeting today identified five key sectors in Punjab that need Centre's assistance. These are safe drinking water and checking the discharge of contaminated water into village ponds; skill upgradation, infrastructure development, border area development and Cancer treatment/prevention in Malwa.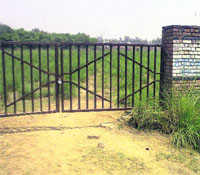 Projects fail to take off, farmers want their land back
Faridkot, May 9
The state government had acquired large chunks of land for some specific projects many years ago. With the government failing to implement the projects, the land at many places has become a cause of protracted litigation. The original owners of the land, mainly farmers, want it back as its market value has increased manifold.

Land site marked for a college in Faridkot

Discharge of effluents into Ghaggar goes unchecked
Patran/Rajpura, May 9
Despite repeated instructions by the state government, particularly Punjab Chief Minister Parkash Singh Badal, that necessary action should be taken by the Punjab Pollution Control Board (PPCB) against the violation of the prescribed pollution control norms, the discharge of hazardous effluents into the Ghaggar in Patiala by industrial units continues unabated.

The polluted Ghaggar near Moonak in Sangrur and (right) foam released by soap manufacturing units into the river near Rajpura. Tribune photos: Rajesh Sachar
400 duped of Rs 20 cr on pretext of regular jobs
Patiala, May 9
In an alleged multi-crore scam, around 400 persons have been duped of their money to the tune of Rs 20 crore in the past two years on the pretext of giving regular jobs to them in Punjabi University, Patiala. More than 100 persons met SSP Gurpreet Singh Gill with a complaint in this regard and narrated their stories.


Encroachment on rivulet: Notice issued
Chandigarh, May 9
The Punjab and Haryana High Court today directed Secretary, Department of Local Government, to submit a report on alleged construction on a seasonal rivulet or a barsati nullah in Ludhiana district.


Four held for dumping NRI's body in canal
Jagraon, May 9
With the arrest of four persons, including a woman, the Jagraon police has solved mysterious disappearance of a 22-year-old Canada-based NRI, who came here to formulate a contract marriage.