Check fund misuse by state govt: Jakhar to Sonia
Chandigarh, May 8
Punjab Congress Legislature Party leader Sunil Jakhar today urged party president Sonia Gandhi to intervene to stop diversion of Central funds by the SAD-BJP government. Jakhar, who headed a delegation of MPs and MLAs from Punjab which called on the Congress president, alleged that funds allocated under the Rashtriya Krishi Vikas Yojna and other village development schemes were being pocketed by "corrupt" politicians and administrative officials of the state.
CM meets Pranab, seeks loan waiver
Chandigarh/Delhi, May 8
The Punjab Government has sought Union Finance Minister Pranab Mukherjee's personal intervention for a waiver of Punjab's outstanding small savings loan of Rs 22,202 crore, or a moratorium on repayment of the loan for five years beginning this fiscal year. Chief Minister Parkash Singh Badal and Deputy CM Sukhbir Badal met Mukherjee in Delhi today. They were accompanied by Bathinda MP Harsimrat Kaur.
Minister moves HC


Tota Singh may quit on moral grounds
Mohali, May 8
Pressure is mounting on Agriculture Minister Tota Singh to submit his resignation from the Cabinet on moral grounds. Punjab Chief Minister Parkash Singh Badal, who has sought legal opinion on the issue, has been told that the minister has no legal obligation to quit.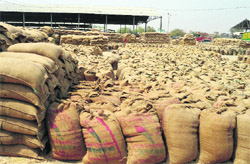 Millers, arhtiyas in illegal seed sale
Hoshiarpur, May 8
Commission agents (arhtiyas) and owners of shelling mills in this part of the region have been selling different varieties of seed to farmers without obtaining a licence from the Agriculture Department.



Gunny bags that once used for cattle feed now filled with wheat at Muktsar grain market. Tribune photo
Cattle feed bags being used for wheat
Muktsar, May 8
Old gunny bags that once carried cattle feed are being used to stock wheat at the local grain market. It seems that the Central government's nod to reuse old gunny bags for procuring wheat has been interpreted liberally.
Punjab 'downgrades' Advocate-General's post
Chandigarh, May 8
Created by the Constitution of India for advising the state government on legal issues, the Advocate-General's post in Punjab has been downgraded to that of a contractual employee.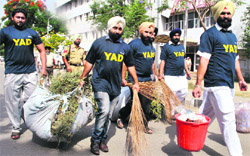 Members of the Youth Akali Dal president Preetinder during cleaniness campaign at Government Rajindra Hospital in Patiala. Tribune photo: Rajesh Sachar
Preneet takes up Patiala rail link issue with panel
Patiala, May 8
Union Minister of State for External Affairs Preneet Kaur has requested the Planning Commission of India to clear the Jakhal-Narwana to Patiala via Samana rail line at the earliest, which was included in the 2009-10 Railway Budget.
Ordinance on fuel price cut issued
Chandigarh, May 9
Nine days after the Punjab government announced to withdraw octroi on petrol and diesel, an ordinance was finally issued today. Consequently, tomorrow onwards, petrol in Punjab will be cheaper by 72 paisa per litre and diesel by 83 paisa per litre.
jalandhar tragedy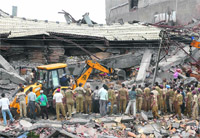 Divisional Commissioner begins probe
Jalandhar, May 8
Divisional Commissioner SR Ladhar has started a probe into the April 15 Shital Fibre building collapse which killed 23 workers and left dozens injured. An exhaustive probe into the incident from technical point of view is already underway by a team of engineers headed by Technical Adviser to the Chief Minister Lieut Gen. BS Dhaliwal (retd).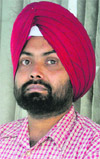 He made it to civil services, defying all odds
Chandigarh, May 8
Thirtyfive-year-old Kulwant Singh from Dhuri, who has made it to the civil services in his sixth and final attempt, is the only candidate to have been successful after giving his examination in Punjabi. For this Income Tax inspector, currently serving in Shimla, the journey has been a long one. "There were trying times. But I did not give up and achieved my goal step by step", he says. Kulwant, whose father is a Class IV Railway employee, studied at a Jawahar Navodaya school.
Kulwant Singh
CWC-traders row: Talks today
Amritsar, May 8
Land Port Authority of India member Mohinder Ranga visited the Integrated Check Post (ICP) in Attari today. He will hold formal talks with traders who are on the warpath over "excessive" handling charges tomorrow afternoon.


Notifications on municipal corporations upheld
Chandigarh, May 8
The Punjab and Haryana High Court has upheld Punjab Government notifications carving municipal corporations out of three municipal councils in Punjab.


Police arrests five snatchers from Ferozepur
Ludhiana, May 8
A post-graduate diploma holder in business management from New Zealand turned out to be the kingpin of a Ferozepur-based gang of snatchers.