Maluka tense after villagers disrupt teachers' dharna
Maluka (Bathinda), May 7


Tension gripped Maluka village when 120 teachers protesting outside the residence of Education Minister Sikandar Singh Maluka entered into heated arguments with villagers, most of them minister's supporters.
Policemen outside the residence of Education Minister Sikandar Singh Maluka. Tribune photo: Pawan Sharma

Patiala land scam accused to face suspension
Chandigarh, May 7
The state government has in principal decided to suspend all officials involved in what has come to be known as Patiala land scam, involving the sale of 6,000 sq yds of government land worth Rs 250 crore.
Procurement may touch 120 lakh MT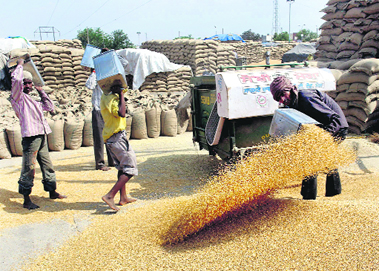 But government falls short of gunny bags
Chandigarh, May 7
Punjab has surpassed last year's wheat procurement figure by 2 lakh metric tonnes and is set to procure an unprecedented 120 lakh tonnes this season. Last year's procurement figure of 110 lakh tonnes was also an all-time record. This year, a prolonged cold spell ensured that the grains did not shrink.
Workers at the Rajpura grain market. A file photo

Delay in payments annoys agents
Chandigarh, May 7
Even as wheat procurement is at its fag-end, farmers and commission agents are crying foul over the inordinate delay in the release of payment by some state agencies.
Modifying cars into limos
Decide issue in two months, Punjab told
Chandigarh, May 7
The Punjab and Haryana High Court has set a two-month deadline for the State of Punjab and its authorities to see whether brakes need to be applied to the practice of modifying cars into limousines for taxi purposes.
Operation Bluestar Memorial
Debate begins over shape, design
Amritsar, May 7
Even as the SGPC and the Damdami Taksal are preparing to begin work on Operation Bluestar Memorial from May 20, the debate on the shape and design of the memorial has gained momentum. A majority feels that it should be different from a gurdwara.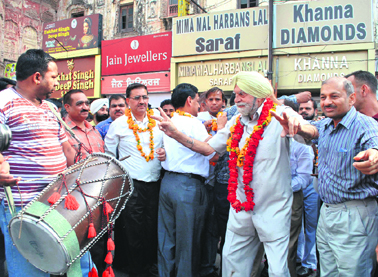 Celebration time: Members of the Punjab Jewellers' Welfare Association celebrate the rollback of excise duty on gold announced by Union Finance Minister Pranab Mukherjee, in Patiala on Monday. Tribune photo: Rajesh Sachar

Punjab Cong meets PM, seeks package
New Delhi, May 7
The Punjab Congress has requested Prime Minister Manmohan Singh to "distance" himself from Punjab Chief Minister Prakash Singh Badal. It claims that on the one hand Badal flaunts his proximity to the PM and on the other is getting "false cases" registered against Congress workers in the state.
10 lakh migrated to cities in last 10 yrs
Ludhiana, May 7
Blame it on repeated crop failures, unemployment or poor quality life, the rural people have been fast transiting to cities. So much so that 3.57 per cent of the rural population moved to cities over the last 10 years.
Expired veterinary drugs recovered
Faridkot, May 7
The differences between a deputy director and a veterinary doctor in animal husbandry department in Faridkot led to recovery of some drugs that have passed their expiration date.
Postal staff union threatens to launch 'peaceful' protest
Bathinda, May 7
Employees of the Postal Department across Punjab discussed the problems being faced by them while serving the people, during a meeting here on Sunday. Nearly 150 postal employees took part in the meeting of the Circle Working Committee of the All India Postal Employees Union Group 'C', Punjab Circle.
Cong leaders protest 'harassment' of workers
Bathinda, May 7
Led by former Congress MLA from Bathinda Harminder Singh Jassi, party leaders and workers today staged a protest dharna near St Joseph's Convent School against the SAD-BJP government for "committing excesses on Congress workers and supporters and ignoring problems of the local residents".
Patiala police launches drive against black films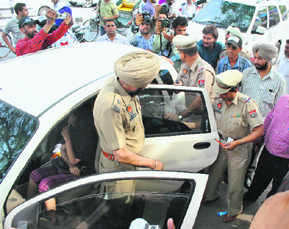 Vehicles of politicians, bureaucrats not touched
Patiala, May 7
During a drive launched against black films on windowpanes of vehicles, the city police issued challans and warning to residents, but turned a blind eye towards vehicles of politicians and bureaucrats. As the two-day warning period ended today, the traffic police started the drive against violators.
Superintendent of Police (Headquarters) SS Boparai removes black films from the car of a police inspector in Patiala on Monday. Tribune photo: Rajesh Sachar

'Literary meets can help improve Indo-Pak ties'
Chandigarh, May 7
Literary meets and student or youth exchange programmes can play a crucial role in creating congenial conditions for further improvement in Indo-Pak relations, says Tridivesh Singh Maini, a Fellow with Observer Research Foundation.
Sale of drugs by warder
Jail Minister orders probe
Chandigarh May 7
Jails, Tourism and Cultural Affairs Minister Sarwan Singh Phillaur has ordered an enquiry into the incident where jail warder Nachattar Singh was caught selling drugs to prisoners at the Bathinda Central Jail.
Protest against cut in kerosene quota
Amritsar, May 7
Former minister Laxmi Kanta Chawla today lashed out at Chief Minister Parkash Singh Badal for ignoring the plight of families belonging to the weaker sections who have not received their kerosene quota for the past one month.


Sale of drugs by warder
HC admits Bibi's appeal in Harpreet abduction case
Chandigarh, May 7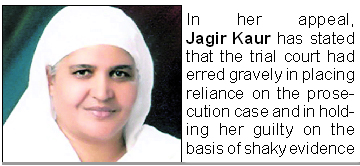 The Punjab and Haryana High Court today admitted an appeal by Punjab's former minister Bibi Jagir Kaur in the Harpreet abduction case. Available information suggests that with the admission of her appeal, Bibi will not be unseated under the provisions of People's Representation Act. In her petition filed through counsel RS Cheema, Bibi has sought directions for setting aside the Patiala CBI court orders, awarding her a five-year jail sentence in her daughter's abduction and forcible abortion case.
Vij released on bail
Jalandhar, May 7
Industrialist Shital Vij was granted bail by the court of Judicial Magistrate (First Class) Tripatjot Kaur here today. Sections 120-B (criminal conspiracy) and Sections of the Prevention of Corruption Act, slapped against him by the police, have been dropped. Section 304 of the IPC (culpable homicide not amounting to murder) has been converted into Section 304 -A (death due to rash and negligent act).
SC breather for BDA phase 4, 5 applicants
Bathinda, May 7
Bringing a major relief to those who had applied for plots in Bathinda Development Authority's (BDA) phase 4 and phase 5, the BDA has decided not to refuse the refund of the earnest money.
90-year-old killed by grandson
Hoshiarpur, May 7
An aged man was allegedly murdered by his grandson at Dagam village last evening. Police sources said the victim, identified as Sarwan Singh (90), had scolded his grandson, Sukhpreet Singh, for showing disrespect to holy Beer of Guru Granth Sahib. Sukhpreet in a fit of rage assaulted his grandfather which led to his death.
BSF arrests Bangladesh national
Amritsar, May 7
The Border Security Force jawans have arrested a Bangladesh national who was allegedly roaming in the restricted area near the Indo-Pak border fence.