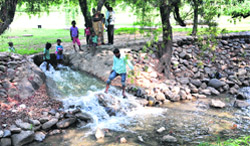 For some, water not precious: Potable water flows unchecked at Rose Garden in Sector 16, Chandigarh. Tribune photo: Pradeep Tewari
PGI doctors on mass casual leave today
Chandigarh, May 7
Patient care at the PGI is set to be hit tomorrow as resident doctors have decided to go on mass casual leave for one day. They have been on protest since May 3 over the alleged attempt of a technician to manhandle a doctor. During the general body meeting of doctors this evening, they decided to go on mass casual leave for 24 hours. Doctors deputed at the emergency, operation theatres and intensive care units will be on duty during this period. — TNS
Traffic constable hit by SUV
Chandigarh, May 7
Barely two days after two Home Guard volunteers with the UT police were assaulted in separate incidents, a traffic police constable was injured after he was hit by an SUV bearing a Delhi registration number at the Sector 24/25 lights here this evening.
Couple killed in road mishap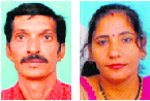 Chandigarh, May 7
In a tragic incident, a couple died while their 10-year-old daughter was injured in a hit-and-run accident in Sector 40 late last night. The victims were riding a Kinetic Honda scooter when a rashly driven car hit them and fled, leaving them injured on the road.
Ashok Kumar and Santosh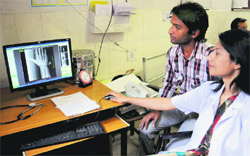 GMSh-16 getting computerised
Chandigarh, May 7
The city residents can hope for better health care at Government Mulit-Speicialty Hospital, Sector 16, in near future as the authorities have started computerisation of many facilities including X-ray machines, pharmacy, and even reports of diagnostic laboratories.

An official tries her hand at the new computerised X-Ray. Tribune photo: Manoj Mahajan
One arrested in kidney scam
Mohali, May 7
Cracking the infamous kidney scam, the Mohali police today arrested Fagu Lal, alias Sachin, here. He is one of the five accused in the case. The others are Manju Pandey, her sons Amitabh and Abhishek, Shakeel and Vikas.


Civic body employees go on strike
Mohali, May 7
Work in the office of the municipal council came to a standstill after employees went on a strike today.
Curbing crime tops DCP's priority list
Panchkula, May 7
Curbing crime and maintaining law and order will top the priority list of the new Deputy Commissioner of Police, Parul Jain, who assumed the charge this morning.
Garbage collectors win, pilot project scrapped
Chandigarh, May 7
The municipal corporation (MC) has succumbed to the pressure of the door-to-door employees association and scrapped its pilot project of garbage collection at Sector 22, launched with pomp and show a fortnight ago.



Leaders of door-to-door garbage-collection workers meet MC councillors Pardeep Chhabra and Subhash Chawla at Sector 22 in Chandigarh on Monday (Left) and Garbage-collection workers protest in front of the processing plant near the Dadu Majra Colony in Chandigarh on Monday. Tribune Photos: Pradeep Tewari & S Chandan
Admn says no to generator sets
Chandigarh, May 7
In the new policy on mobile phone towers, the UT Administration has decided not to allow generator sets on and around building with mobile towers.
No monkey business, this
Chandigarh, May 7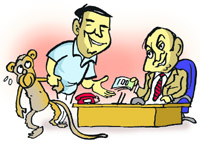 With the monkey menace rising in the city and no permanent solution in sight, the UT Administration has now decided to hire trained monkey catchers and pay them for every monkey they catch. The forest and wildlife department has floated tenders to hire the monkey catchers. Earlier, the Administration was mulling to hire Gurgaon-based monkey catchers and paying them Rs 300 per monkey. But later it decided to invite all the interested parties through a tender.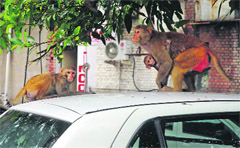 Northern sectors worst hit
Chandigarh, May 7
The monkey menace is widespread in the city, specially in northern sectors. Their favourite hanging spots are in Sectors 7, 8, 9, 10, 11, 18, 26, 27 and 28. The menace is forcing residents to stay indoors during morning and evening. Troops of monkeys have been terrorising residents with their aggressive antics.

Special train to Vaishno Devi likely
Chandigarh, May 7
Keeping in view the huge rush to the Vaishno Devi shrine at Katra in Jammu and Kashmir the Indian Railway Catering and Tourism Corporation (IRCTC) would launch a special train from the city.
Drive against tinted glass: 60 challaned
Mohali, May 7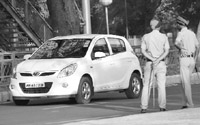 Following the Apex Court's directions, the Mohali Police has begun a special drive against tinted glass here. So far, it has issued 60 challans.

Over 1000 challaned in four days
Chandigarh

A car with tinted glass drives past two policemen in Mohali on Monday. Tribune photo: Vicky Gharu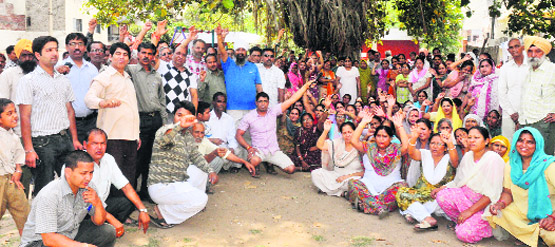 Venting ire against authorities: Residents of EWS flats protest against the estate office authorities at Sector 32 in Chandigarh on Monday. Tribune Photo: S Chandan
Yayawar Theatre fest concludes
Chandigarh, May 7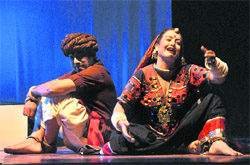 The two day Yayawar Theatre festival presented by the National School of Drama Repertory company, New Delhi, in association with the Rang Virasat and Vivek High school, and the Tribune group of newspapers as the media advisor, concluded at the school auditorium here today. Both the plays, Aadamjad and Panchlight, transported the elite city audience to the world of traditional folk theatre of Rajasthan and Bihar, with the elements of Nautanki genre pervasive their in.
Artistes perform the play 'Adamzat' during the Yayawar Theatre Festival at Vivek High Scool, Sector 38, Chandigarh, on Monday. Tribune photo: vicky gharu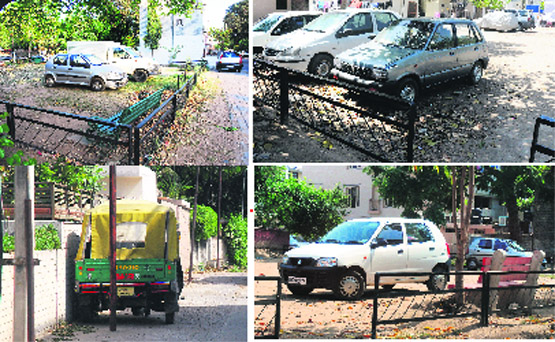 Clockwise: Sector 30, Sector 29, Sector 23. Sector 10, tribune photos: s chandan,
No prof, associate prof to be hired
Chandigarh, May 7
In the wake of the moral code of conduct of the forthcoming Senate elections, Panjab University has decided not to hire any professors or associate professors till the Senate election. However, recruitment to 50 per cent of the posts of assistant professor advertised by it recently will be done.
Online exam a hit among students
Chandigarh, May 7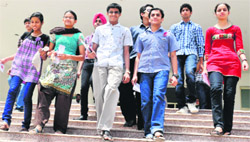 Contrary to the apprehensions of the thousands of their counterparts, over 400 city students seemed quite satisfied with their decision to choose the online medium for All India Engineering Entrance Examination rather than the conventional pen-and-paper format as the online question paper reportedly turned out to be much easier than the offline one held on April 29.
Students come out after appearing in the AIEEE at the Chandigarh Group of Colleges, Gharuan, on Monday. Tribune photo: Vicky Gharu
90 receive diplomas in convocation
Chandigarh, May 7
As many as 90 students of classical music (vocal and instrumental), classical dances and fine arts (painting) of northern region were conferred upon diplomas of Bhaskar and Visharad final at the Pracheen Kala Kendra convocation held at Randhawa Auditorium yesterday.