Finally, tourist season picks up in McLeodganj
Dharamsala, May 24
The tourist season has finally picked up in McLeodganj and Dharamsala in the past few days. Enquiries from various tour operators in the area today revealed that all hotels in the area were jam-packed.
Virbhadra boosts Cong's MC poll campaign
Shimla, May 24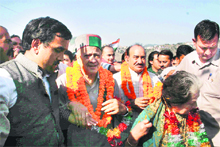 The Congress campaign for the Shimla Municipal Corporation poll received a boost with Union Minster Virbhadra Singh addressing a series of public meetings in various parts of the city today. He urged party men to remain vigilant as a desperate BJP could indulge in large-scale rigging.


Union Minster Virbhadra Singh and other Cong leaders campaign for the Shimla Municipal Corporation poll at Maliyana in Shimla on Thursday.
Favours probe into IPL malpractices
Shimla, May 24
Apparently prompted by the growing shrill against the IPL, Union Minister Virbhadra Singh today launched a scathing attack on Chief Minister PK Dhumal for undue favours being granted to the Himachal Pradesh Cricket Association (HPCA).
Yechury hits out at Centre over petrol price hike
Shimla, May 24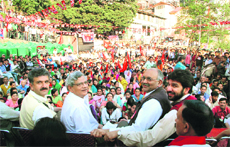 National Politburo member of the CPM Sitaram Yechury today sought votes for the CPM in the municipal corporation elections with the promise of restoring the lost glory and heritage of the "Queen of Hills".



Sitaram Yechury, national Politburo member of the CPM, at a public rally in Shimla on Thursday. Photo: Amit Kanwar

End Cong rule in MC: Dhumal
Shimla, May 24
Chief Minister PK Dhumal today sought votes from the electorate to put an end to the 26-year-old rule of the Congress over the Shimla Municipal Corporation (MC) which, he said, had failed to retain the glory of the ancient town and provide basic facilities to the people.
CPMET today; candidates yet to get roll numbers
Nurpur, May 24
Hundreds of candidates from Kangra district, especially Nurpur and Jawali areas, who have to appear in the Combined Pre-Medical Entrance Test (CPMET) being conducted by Himachal Pradesh University (HPU) are running from pillar to post to get their roll number-cum-admission cards, thanks to the unprecedented delay in their postal delivery to them or no communication by the HPU in this regard.
Churah dispensary devoid of vets
Dalhousie, May 24
It is not only civil hospitals that are facing staff crunch, but also veterinary dispensaries in far-flung areas of Churah subdivision in the district which are devoid of doctors.
Tibetans release recreated 'scroll of independence'
Dharamsala, May 24
The Students for a Free Tibet (SFT) has released a recreation of the Tibetan Proclamation of Independence issued by the 13th Dalai Lama in 1913 after returning from a forced exile in India. A spokesperson for the SFT said the handwritten scroll was unveiled to raise awareness about the coming 100th anniversary of "Tibet's declaration as an independent country", which will take place on February 13, 2013. The countdown was marked by the unveiling of the scroll.
Class VIII student drowned at Kangra
Kangra, May 24
A 14-year-old boy was drowned in the Manooni river near Matour on the outskirts of this town last evening when he was taking a bath in the river along with his friends.
Samiti demands degree college
Mandi, May 24
CPM-supported College Adhikar Manch Samiti observed a chain fast in support of their demand for opening of the government degree college at Rewalsar.
Woman burnt alive
Solan, May 24
A woman (33) was allegedly burnt by her husband Surinder Kumar at Mangan village falling in Rajgarh sub-division today. DSP, Rajgarh, Ram Lal said the couple had been quarrelling over something or the other. This morning Surinder poured petrol over her, set her ablaze.