HLP seeks dismissal of Dhumal govt
Shimla, May 21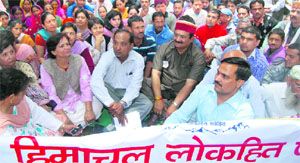 The Himachal Lokhit Party (HLP) today stepped up its tirade against the BJP regime as its senior leaders marched to the Raj Bhawan seeking the dismissal of the Dhumal government for favouring Jaiprakash Associates Ltd (JAL) and demanded a CBI inquiry into the alleged favours showered on the company in violation of the norms.
HLP activists hold a protest at the Raj Bhawan in Shimla on Monday. Photo: Amit Kanwar
Mixed season for cherry growers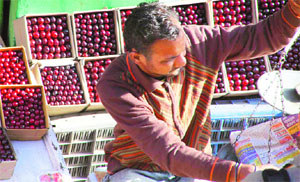 Good crop fails to bring desired returns
Shimla, May 21
A good cherry crop after last year's lean season has not brought much cheer to growers who have to content with low returns due to a downswing in the market. The total production is expected to cross 550 tonnes as against around 400 tonnes last year
A vendor sells cherry in Shimla. Photo: Amit Kanwar
Karmapa absolved of criminal charges
Dharamsala, May 21
Judicial magistrate, Una, Kanika Chawala today accepted the application moved by district attorney JR Attri to remove the name of the 17th Karmapa, Ogyen Trinley Dorjee, form the list of the accused in a criminal case registered against him and 10 others by the Una police.
BJP seeks vote on development plank
Shimla, May 21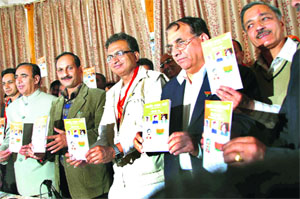 Urging the electorate of the state capital to rise above regional and caste considerations to ensure the development of the town, "neglected by the Congress for the past 25 years", the ruling BJP today released its election manifesto for the Shimla Municipal Corporation (MC) poll.


BJP leaders release the party manifesto in Shimla on Monday. Photo: Amit Kanwar
Samiti formed against demolition drive
Mandi, May 21
Supported by the CPI, the CPM, the BSP and other organisations, residents today formed Avas Adhikar Sangharsh Samiti against the demolition drive in the town and submitted a memorandum to the government.
3 killed as car rams into truck
Patiala, May 21
Three Himachal Pradesh residents, all hailing from Sundernagar, were killed on the spot when their Alto car rammed into a stationary truck near Banur barrier here in the wee hours today. The police has registered a case under Sections 283 and 304-A, IPC, against the truck driver who is yet to be arrested.
Abolishing posts of doctor condemned
Bilaspur, May 21
Some prominent Congress party leaders here have condemned and protested against the government order to abolish posts of one doctor each at the Primary Health Centres (PHCs) at Markand and Namhole and the Toba and Mandi Madwan health centres in the Naina Devi constituency in this district.
Rajiv Gandhi remembered
Shimla, May 21
Chief Minister PK Dhumal offered floral tributes at the statue of former Prime Minister late Rajiv Gandhi at the Sadbhawna Chowk to mark the state-level Anti-Terrorism Day, here today.
Cong to stage statewide protests today
Shimla, May 21
The Congress will hold protests across the state tomorrow, which is being observed as anti-corruption day by the party to highlight the alleged acts of omission and commission of the Dhumal government.
Foreigner's rape case: Ludhiana man held
Kullu, May 21
The police has arrested Sammy Sidna of Ludhiana on the charge of raping 22-year-old Australian woman Jasinta, his Facebook friend, who had lodged a complaint at Kullu Sadar on May 14.
Villagers hold candlelight march against Jaypee plant
Bilaspur, May 21
Hundreds of villagers, including men and women, drawn from several panchayat areas adversely affected by newly stated Jaypee Industries cement factory at Bagha, including those from Saai Kharsi, Soldha, Saayar Dobha, Rani Kotla and Suin Surhaad, took out a candlelight protest procession from Sai Kharsi to Kharsi chowk against the management, about 65 km from here, yesterday.
Case filed against husband, in-laws
Kangra, May 21
A newly wedded woman was sprinkled with kerosene on her body and given some medicine by her in-laws allegedly in an attempt to kill her. But she managed to run away from her house and was admitted to the DRPGMC Tanda.
3-day workshop of 67 Krishi Vigyan Kendras begins
Palampur, May 21
A three-day zonal workshop of 67 Krishi Vigyan Kendras (farm science centres) of Delhi, Haryana, Punjab, J&K and Himachal Pradesh began at CSK HP Agriculture University here today. Programme coordinators of these centres, directors of extension education of farm universities from the region, senior officers from the Indian Council of Agricultural Research(ICAR) and scientists of the host university are participating in the workshop.
Man dies at fair
Kangra, May 21
A 56-year-old man died under suspicious circumstances when he was selling some crockery at a fair near Sali village. He was rushed first to Sali hospital and then to Shahpur hospital, but died on the way.