Reddy brothers reaped fruit of good ties with YSR, Jagan
Shubhadeep Choudhury/TNS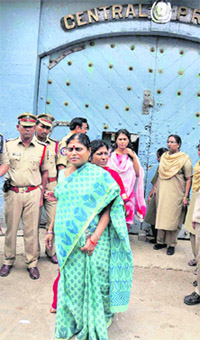 Jagan's mother comes out of a Hyderabad prison after meeting her son.

Bangalore, May 29
Lodged in Bangalore's central prison, mining magnate and former Karnataka Tourism Minister G Janardhana Reddy narrowly missed meeting old associate Jagan Mohan Reddy who was sent to the central prison in Hyderabad yesterday.
Relations between the Reddy brothers of Karnataka-Karunakara, Janardhana and Somashekara (first two are former Cabinet ministers and the youngest, Somashekara, still holds a Cabinet-rank post by virtue of being the chairman of the Karnataka Milk Federation) — and Jagan Mohan Reddy run deep. They also had good relations with Jagan's late father YSR Reddy
The proposed Brahmani Steel project in Andhra Pradesh's Kadapa, Jagan's home district, is allegedly a joint enterprise of Reddy brothers and Jagan. During the regime of YSR Reddy, Brahmani Steels obtained 14,700 acres of land in May 2007 for its 2.5-MT steel project with an option to expand it to 10MT in phases. The land allotted included around 4,000 acres for an airport on the steel project premises. Apart from allotting 2 tmc of water, the government had also allotted iron ore mines spread in an area of around 68 hectares near Obulapuram in Anantapur district.
The project suffered a setback when YSR suddenly died in a helicopter crash. It received another massive blow when Janardhan Reddy was picked up by the CBI in September last year. Jagan's TV channel, Sakshi, is also alleged to have investments by Reddy brothers.
EC not to intervene
The Election Commission is understood to have decided not to intervene in the matter concerning arrest of YSR Congress chief Jaganmohan Reddy, whose mother has sought his release in view of the coming AP bypolls
The Election Commission discussed the letter from YS Vijayalakshmi, YSR Congress honorary president.
Sources said the commission was not in a position to do anything in this regard as the matter was sub-judice. — PTI
A consultancy firm, which helped Reddy brothers acquire mining licences and clearances in Andhra Pradesh, was given 50 per cent share in the Obalapuram Mining Company (OMC) belonging to the Reddys. This extraordinary largesse was reportedly showered on the consultancy firm because it was a "benami" outfit of Jagan. The firm's promoter Diwakar Reddy is none other than the brother of Sakshi executive director Ramakrishna Reddy.
After YSR's death, Reddy brothers started facing hurdles with regard to their mining operations in Andhra Pradesh. Rosaiah, who became the Chief Minister after YSR's death, ordered a CBI probe into their mining activities.
Reddy's retaliated by launching a counter-attack through Sakshi, accusing the Andhra Government of launching a witch-hunt against them.
G Janardhana Reddy, the key man driving the OMC's mining operations, was arrested by the CBI on September 5 from his house in Bellary and taken to Hyderabad. He was kept in judicial custody in Hyderabad's central prison.
Jagan Mohan Reddy has also been sent to the same prison in Hyderabad by the CBI special court.
However, Janardhana Reddy was brought to Bangalore by the CBI on March 2 in connection with illegal activities of two more mining companies owned by him. Since then, he has been incarcerated in Bangalore.
Though political affiliations of the Reddy brothers lay with the BJP and that of Jagan and his father with the Congress, it did not come in the way of their collaboration with each other and making megabucks with each other's help.
After Jagan fell out with the Congress and resigned from the Lok Sabha on November 29, 2010, Reddy brothers knew that trouble for them was round the corner. But their efforts to manipulate the CBI investigation against them did not work.