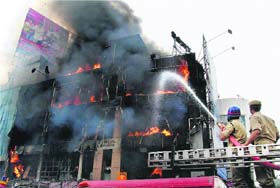 Firemen douse the fire that broke out in a shopping complex in Hyderabad on Sunday. — PTI
Remarks on eliminating rivals
CPM ticks off senior party functionary
Thiruvananthapuram, May 27
An embarrassed CPM in Kerala today ticked off its senior functionary MM Mani over his controversial remarks that there have been instances of the party eliminating its political rivals.
Teachers recruitment scam
CBI raids ex-DPI's house
Chandigarh, May 27
A CBI team today raided the residence of former UT DPI (Schools) Samwartak Singh in connection with the teachers recruitment scam involving recruitment of 536 teachers. The scam rocked the UT Education Department in 2009.


Vajra Corps showcases might
Jalandhar, May 27
The Indian Army showcased its might with more than 12,000 jawans, 200 tanks and infantry combat vehicles shaking the ground along the Sutlej as part of 'Ashwamedha', the four-day hi-tech military training exercise, which took off in Punjab today.

An Army vehicle moves through Sutlej waters as part of the ongoing annual exercise in Punjab on Sunday. A Tribune photograph
Soon, alcohol content in beverages to be regulated
New Delhi, May 27
Alcohol content in your favourite bottle of beer, wine and spirit is all set to go under scrutiny in the country. For the first time, India's food regulator FSSAI has finalised draft standards for all categories of alcoholic beverages like wine, beer, whisky, rum, gin and vodka to set the maximum permissible limits of alcohol in these drinks and thus, mandate safety standards.
Mining scam
Yeddy loyalists for CBI probe against ex-CMs
Bangalore, May 27
In a significant development, Yeddyurappa loyalist ministers, including excise minister Renukacharya, power minister Shobha Karandlaje and others, met Chief Minister Sadananda Gowda yesterday.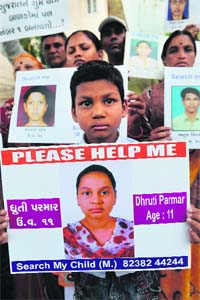 Family members and relatives participate in a "Missing Children" rally in Ahmedabad. The event was organised by "Search My Child" to highlight the plight of the estimated 2,000 children that are missing in Gujarat. — AFP
Coal 'Scam'
Govt rejects charges against Manmohan
New Delhi, May 27
Rejecting allegations against Prime Minister Manmohan Singh in the allocation of coal blocks, the government today said the allotment was done in an "equitable and fair" manner.
3 securitymen die in gunbattle with Maoists
Malkangiri (Odisha), May 27
A day before Union Minister Jairam Ramesh's visit to Malkangiri in Odisha, three securitymen were injured, one of them critically, in a gunbattle with Maoists in a forest in the district today.
12 killed in lightning
Burdwan (WB), May 27
A dozen people were killed and six others seriously injured after being struck by lightning in West Bengal's Burdwan and Malda districts today, the police said. While 10 were killed and six injured in Burdwan, two died in Malda due to lightning, they said.
Jantar Mantar
When Dwivedi promoted Hindi at Moscow convention
AICC general secretaries Janardhan Dwivedi and Mukul Wasnik were deputed by Congress president Sonia Gandhi to represent the party at the United Russia Party convention in Moscow last week.
Assam appoints 26K teachers in one go
Guwahati, May 27
Creating a record of sorts, the Assam Government has issued appointment letters to 26,110 new teachers for government-run primary and middle English schools in the state. All these teachers were selected through the Teachers' Eligibility Test (TET).
Prestigious staff college course to go online
Shimla, May 27
To train and prepare more service officers to handle important mid-level staff appointments in various military establishments, the prestigious Defence Service Staff College (DSSC) Course would now be conducted online for selected officers.
Akhilesh's wife to contest Kannauj Lok Sabha seat
Lucknow, May 27
Dimple Yadav would now contest the Kannauj Lok Sabha bypoll seat vacated by her husband and Uttar Pradesh Chief Minister, Akhilesh Yadav. Akhilesh quit his parliament seat to become a member of the Upper House in Uttar Pradesh.