17 bags of nag chhatri seized at Bindrabani barrier
Tosh/Gushaini (Kullu), May 27
The Forest and Wildlife Department has given a virtual free run to thousands of nag chhatri collectors in jungles across the state, including the Great Himalayan National Park.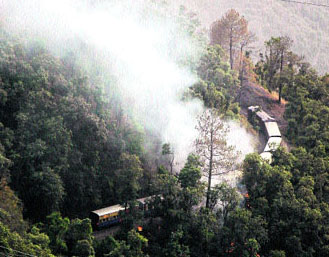 A toy train passes near a forest fire on the Kalka-Shimla railway track in Shimla on Sunday. Photo: Amit Kanwar

Failing to Comply With EIA Clearance
Power supply of 25 mining units to be disconnected
Solan, May 27
Mining units in the state are finally facing action for failing to comply with the Environment Impact Assessment (EIA) clearance with the Mining Department issuing directions to the State Pollution Control Board (SPCB) to disconnect power supply of nearly 25 such units in the Baddi-Barotiwala-Nalagarh industrial area.
Kasauli residents face water crunch
Kasauli, May 27
Lack of planning for meeting water requirements by granting scores of permissions to several resorts, hotels and flats in Kasauli tehsil is gradually reflecting on the local population.
Converting HRTC into HP Roadways
HRTC buses to be off roads, employees to go on one-day strike on June 5
Nurpur, May 27
The agitation launched by employees of the Himachal Road Transport Corporation (HRTC) for converting it into the state roadways has started picking up as employees of the Joint Action Committee (JAC) spearheading the stir has declared to go on a one-day strike on June 5.
27 schoolkids down with gastroenteritis
Hamirpur, May 27
Three more children were brought to the Government Civil Hospital, Toani Devi, today complaining of stomach ache and nausea taking the figure of schoolchildren suffering from gastroenteritis to 27.
Forest Dept to grow 45 lakh medicinal plants
Shimla, May 27
The state Forest Department will encourage planting of Salix (English willow) species in view of increasing demand of cricket bats and raise 45 lakh medicinal plants under the Sanjivani Van Scheme. Addressing the two-day conference of Forest Conservators, which concluded here on Friday, Principal Chief Conservator of Forests RK Gupta said the Salix species was being raised only in neighbouring state of Jammu and Kashmir and it could be grown in Himachal, which also had conducive agro-climatic conditions for growing it.
New technique to detect TB by using breath sample
Kangra, May 27
Dr Ram P Sharma, who is settled in England, visited the DRPGMC Tanda recently and delivered a talk on "Peptides as future drugs for diabetes" to the faculty and students of the college.
117 cases settled at Janata Ke Dwar camp
Bilaspur, May 27
A total of 117 cases were settled on the spot out of 137 cases of grievances and difficulties presented by villagers at the Prashashan Janata Ke Dwar camp held at Malagan in Ghumarwin subdivision. The day-long camp was attended by a large number of officers and villagers and presided over by Sub Divisional Magistrate (SDM) Mansi Sahay Thakur yesterday.
Junior engineers threaten statewide stir
Sundernagar, May 27
The HP State Electricity Board Limited Junior Engineers' Association, annoyed over the non-implementation of long-pending demands of the association by the board management, has given a 42-day notice to settle the demands failing which it will start a statewide agitation in a phased manner.
Employees' union rues govt apathy
Shimla, May 27
The Himachal Pradesh Sarva Karamchari Sangh has expressed resentment over the indifferent attitude of the government towards its demands. The sangh convened a special meeting to mark its first anniversary at which the demands were discussed and its leaders lamented that employees were not being given their due.
Dhumal misleading people on lowering VAT on petrol: Cong
Chamba, May 27
The Himachal Pradesh Congress Committee (HPCC) has flayed Chief Minister PK Dhumal for misleading people of the state regarding the lowering of VAT on petrol from 27 to 20 per cent. It said he did not know that VAT charged by the Himachal Pradesh Government on petrol was 25 per cent which was still being charged and had not been decreased from 25 to 20 per cent.
Bhakra Beas employees' chain fast enters 25th day
Sundernagar, May 27
The chain hunger strike of the Bhakra Beas Employees Union by the Slapper unit (affiliated with AITUC) in support of employees demands has entered the 25th day today.
PWD, IPH Dept at loggerheads over road damage
Kangra, May 27
Two state government departments are at loggerheads following damage caused to the recently constructed concrete Gupta Ganga road from the tehsil chowk here towards the DRPGMC Tanda. The PWD issued a notice to the IPH Department on Thursday in this connection.
2 employees killed repairing power pole
Bilaspur, May 27
Two Ghumarwin-based Electricity Board employees Jagar Nath of Kasohal village of Bilaspur district and Bhup Singh of Karsog of Mandi district were seriously injured when they fell from a power pole they had climbed for repair work. They were badly burnt as someone is said to have switched on the lines on which they were working at Ghumarwin. They died on way to the PGI, Chandigarh, last night.
Computer operators to wear black badges today
Shimla, May 27
Computer operators of the state Rural Development Department will wear black badges from May 28 in protest against the failure of the authorities to implement the recruitment rules and policy framed by the government of their cadre and enhance their salary.
Thieves decamp with jewellery, cash worth lakhs
Bilaspur, May 27
Two employees Ashok Kumar and Mahender Singh of Government Post-Graduate College here were deprived of jewellery and cash worth lakhs of rupees when thieves broke into their houses during the day and decamped with the booty.
11 khair trees felled
Nurpur, May 27
A case of illicit felling of khair trees from Atahara forest under Nurpur forest division came to light today. Unidentified culprits reportedly fell as many as 11 khair trees and stole these from this forest last night.
Minjar Fair from July 29
Chamba, May 27
This year the annual Minjar Fair of Chamba will be celebrated from July 29 to August 5.