'Humiliated' Gaddi youth ends life
Nurpur, May 25
Following the mysterious death of a Gaddi youth, Jarnail Singh (19), son of Kanshi Ram of Sadwan, members of the local Gaddi Community Union held a demonstration in front of the hospital mortuary here today, demanding strict action against the accused named in the FIR for allegedly humiliating the deceased forcing him to commit suicide last night.
Unemployment: Bali plans 'rath yatra'
Dharamsala, May 25
GS Bali, Congress MLA from Nagorta Bagwan, has planned a 'rath yatra' to highlight unemployment among youth of Himachal. Bali said the yatra would most likely be flagged off from Manali on June 6 by the party in charge for Himachal, Barinder Singh, and HPCC president Kaul Singh.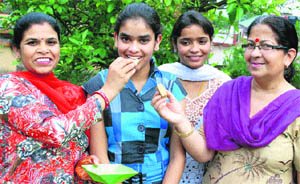 Girls top Class XII school board exams
Dharamsala, May 25
Girls dominated the Class XII results declared by the Himachal Pradesh Board of School Education (HPBSE) here today. Girls topped all streams of Class XII, including, science, commerce and arts. Most of toppers in all streams this year belonged to government schools.

Commerce topper Tanuja Kumari is offered sweets by her mother in Dharamsala on Friday. Tribune photo

Solan students excel in CBSE matriculation exams
Solan, May 25
Students of various schools in the district have excelled by bagging the highest 10 Cumulative Grade Point Average (CGPA) score in the Class X CBSE matriculation examinations.
Pensionary benefits on Punjab Pattern
State beneficiaries plan rallies, dharnas at dist HQs
Hamirpur, May 25
The Himachal Pradesh Pensioners' Kalyan Sangh (HPPKS), which has been demanding pension on the Punjab pattern for past many years, has once again intensified its campaign to achieve its demands and decided to hold rallies and dharnas at all district headquarters.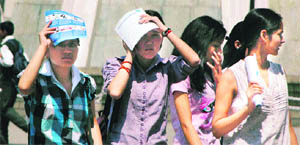 Girls shield themselves from scorching sun in Shimla on Friday. Tribune photo: Amit Kanwar
Benefits on Maternity Leave
File details, Director, Higher Education, told
Shimla, May 25
The state high court has sought an explanation from the Director, Higher Education, regarding discrimination between regular and contractual employees in granting maternity leave.
EIA authorities can clear mining projects
Solan, May 25
The state-level Environment Impact Assessment (EIA) authorities will now be able to grant clearance to mining projects having lease area less than 50 hectares as per the latest notification of the Ministry of Environment and Forests.
Centre to expedite clearances for SJVN's foreign projects
Shimla, May 25
The Centre will assist Sutlej Jal Vidyut Nigam (SJVN) in expediting clearances for its 900-MW Arun-III project from the Government of Nepal.
Virbhadra may quit manifesto committee
Shimla, May 25
Reports that Union Minister Virbhadra Singh may head the campaign committee of the Congress notwithstanding, the veteran leader is upset over inclusion of his name in the Election Manifesto Committee headed by Union Minister Anand Sharma and having GS Bali as convener.
Solan MC chief gheraoed
Solan, May 25
The chairman and executive officer of the local municipal committee were gheraoed by members of an anti-corruption body, Youth Against Corruption (YAC), in protest against the non-registration of an FIR against the Durga Club where reckless digging had broken water pipes of the main storage tank of the town a few days ago leading to losses worth Rs 14 lakh.
CPM, CPI stage protest against petrol price hike
Mandi, May 25
The CPM and the CPI today staged a protest march in the town against the hike in petrol prices and accused the UPA of benefiting the petroleum companies at the cost of the public.
Retired chief engineers denied pension benefits
Shimla, May 25
Retired chief engineers of the HP State Electricity Board, who superannuated before the 2006 pay revision, are running from pillar to post to secure their due pension benefits on the pattern of the PSEB.
Villagers seek scrapping of Haripur power project
Haripur (Kullu), May 25
Villagers in three panchayats - Soel, Karzan and Halaan-1 - today demanded scrapping of the 1.5 MW Haripur power project on the Haripur nullah here on the ground that the company has not got NoC from affected panchayats.
900 students to get scholarships
Hamirpur, May 25
Additional District Magistrate (ADM), Hamirpur, Rajeshwar Goel has said the Primary Education Department has launched the "inspire scheme" through which 900 students of Classes VI to X would be given scholarships of Rs 5,000 each in Hamirpur district.