Kisan Manch threatens mass agitation
Bilaspur, May 26
The Himachal Kisan Manch, a state-level organisation fighting for issues of farmers here, has taken an exception to repeated delay in taking Naina Devi area villages out of the Wild Life Sanctuary (WLS) there for the past several years.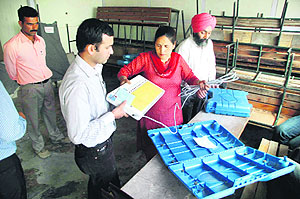 MC poll: Fate of candidates to be decided today
Shimla, May 26
The 79,956 strong electorate of the Shimla Municipal Corporation will exercise their franchise tomorrow to decide the fate of 95 candidates who are in fray from 25 wards, besides the posts of Mayor and Deputy Mayor for which direct election is being held for the first time.

Officials prepare for the MC poll at a booth in Shimla on Saturday. Photo: Amit Kanwar

Scribes give 3-day ultimatum to police
Bilaspur, May 26
Journalists and correspondents of daily newspapers here have strongly condemned the failure of the police to register a case under relevant sections of the IPC pertaining to an attack by some sportspersons of the Sports Department, including some coaches, on two journalists at Shikroha village where they had gone to perform their duty a few days ago.
Dhumal's no to lowering VAT on petrol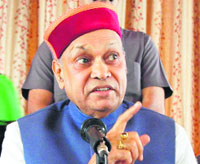 Shimla, May 26
There is no move to lower VAT on petrol to mitigate the impact of the steep hike of its prices effected by oil companies two days ago. Stating this while interacting with mediapersons here today, Chief Minister PK Dhumal said the government would consider the same only after Congress-ruled state like Maharashtra, where tax on petrol and diesel were exorbitantly high, would take such a step. His government had already lowered VAT on petrol from 27 to 20 per cent and on diesel from 20 to 14 per cent and than further to 9.70 per cent.
Gaddi Youth's Suicide Case
Demonstration held against villager's arrest
Nurpur, May 26
A large number of villagers from the Sadwan gram panchayat, led by local panchayat pradhan Pratap Shukla, held a protest demonstration in front of the police station here today against the registration of a case under Section 306, IPC, and the arrest of Om Parkash of Sadwan village on Friday.
Remain vigilant, Cong tells people
Shimla, May 26
While expressing confidence that it would return to power in the Shimla Municipal Corporation, the Congress today urged people to remain vigilant as the ruling BJP would try to use money power, liquor and other such means to win the MC poll.
Functioning of RLA
File details, Principal Secy told
Shimla, May 26
The state high court has directed the Principal Secretary (Transport) to get a report from all the Sub-Divisional Magistrates (SDMs) as to in how many cases, they have exercised powers under Section 19 of the Motor Vehicle Act for revoking licences of drivers who have been negligent in driving resulting in accidents.
Attestation parade of Gorkha recruits held
Solan, May 26
An attestation parade was conducted at 14 Gorkha Training Centre, Subathu, today amidst an immaculate passing-out parade. It was followed by a display of skills by recruits in bayonet fighting, physical training and archery.
Pensioners hold protest rally
Hamirpur, May 26
State government pensioners today held a dharna and protest rally at the Gandhi Chowk, Hamirpur, to highlight their long-pending demands, under the banner of the Himachal Pradesh Pensioners' Kalyan Sangh (HPPKS).
Evening cricket at Kangra begins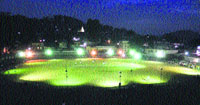 Kangra, May 26
The Jai Maa Bajeshwari Cricket Club organised a fortnight-long cricket festival at the Municipal Stadium in this temple town which was inaugurated last evening and the stadium was provided with flood lights backed by generators.
A view of the Municipal Stadium in Kangra on Friday evening. Photo: Ashok Raina

7th batch of National Himalayan expedition ends
Chamba, May 26
The six-day trek of the seventh batch of the National Himalayan Trekking-cum-Nature Study Expedition organised by the Youth Hostels Association of India (YHAI) culminated at the Youth Hostel, Dalhousie, today.
Revision of poll rolls of Hamirpur dist from June 1
Hamirpur, May 26
As per the directions of the Election Commission of India, the revision of electoral rolls of all the five Assembly constituencies of Hamirpur district - Hamirpur, Sujanpur, Bhoranj, Badsar and Nadaun - will be undertaken on the basis of January 1, 2012, at all polling stations from June 1 to 18, 2012.
Two killed as car falls into gorge
Bilaspur, May 26
Two persons Karan Bahadur (45) of Mayapuri, Delhi, and Meena Devi (42) of Peeka village, Kaithal, Haryana, were killed on the spot and five others, all of the same family and relations, were injured, some of them seriously, when their Ecco car (DL-9CAC-2583) fell 50 m down into a gorge from NH No. 21 (Chandigarh-Manali) near Jaamli, 25 km from here, early this morning.