Suvidha centres not so convenient
Charges for several services quite high as compared to government rates
Kulwinder Sandhu
Tribune News Service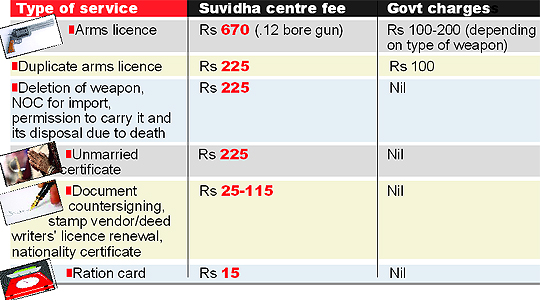 Moga, May 26
Suvidha centres were established by the previous SAD-BJP regime for effective delivery of services under the Right to Service Act. But instead of making things convenient for the general public, these centres have been burning a hole in their pockets. Applicants are being charged more than what the state government used to for certain services.
For an arms licence, the state government has fixed a fee of Rs 100 for a .12 bore gun, Rs 150 for any rifle and Rs 200 for a revolver or pistol. But, suvidha centres charge Rs 570 for each application as facilitation charges apart from government fee and Rs 20 as cost of the application form. It means if a person applies for a .12 bore gun, he ends up paying Rs 670 at a suvidha counter for acceptance of his application form. The facilitation charges are 5.7 times higher than the actual fee.
For a duplicate arms licence, the government fee is Rs 100 while facilitation charges are Rs 225. However, there is no government fee for entry of weapon in arms licence, deletion of weapon, no objection certificate for import of weapon, application for entry of retainers, addition of weapon, permission to carry weapon and disposal of weapon due to death. But, suvidha centres charge Rs 225 each for these services.
Suvidha centres also get Rs 225 as facilitation charges from Army personnel for a no-objection certificate for carrying a private weapon.
If you are unmarried and want a certificate, you have to pay facilitation charges of Rs 225 even as there is no fee fixed by the government for the certificate. The facilitation charges for getting a marriage certificate are Rs 570 apart from government fee of Rs 200 and Rs 20 as the cost of the application form.
There is no government fee for countersigning of any documents, issuance or renewal of stamp vendor or deed writers' licence, issuance of nationality certificate and copy of any government document. But, suvidha centres charge Rs 115, Rs 55, Rs 25 and Rs 35 as facilitation charges, respectively.
There is no government fee for making a ration card, change of name in ration card, addition and deletion of name, change of address, replacement of ration card and duplicate ration card. But, suvidha centres get Rs 15 as service charges apart from the cost of application form for each of these services.
There is also no government fee for issuance of an affidavit. But, suvidha centres charge Rs 25 as facilitation charges, Rs 115 for issuance of various permissions and Rs 55 for indemnity bonds and surety bonds.
The facilitation charges for issuance of pesticide and fertilizer licence is Rs 115 each apart from prescribed government fee and cost of application form. There is no government fee for change of shop, change of firm or company and extra godown for pesticide. But, the centres charge Rs 115 as facilitation charges for each of these services.
Another factor that has come to light is that suvidha centres do not accept forms downloaded from government or district administration websites and rather force the people to purchase forms from sale counters.
Moga DC's 'diktat' adds to woes
Moga District Magistrate Arshdeep Singh Thind has imposed a ban by issuing verbal orders on the sale of forms for arms licences. As a result, a person interested in getting an arms licence made first has to write an application on plain paper to the DM and then go to his office to seek nod for purchasing application form from sale counter. An application form downloaded from the district administration's website is not accepted, said Gurmail Singh, a local resident.