Excess water flow in canal alarms Muktsar farmers
Muktsar, May 16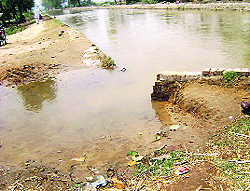 Excessive water flow in the Arniwala canal is giving sleepless nights to farmers. With its banks damaged near Rupana village on the Muktsar-Malout road, farmers fear that a breach may occur. The canal was breached because of heavy water flow a few years ago too, causing widespread damage. But the authorities seem to be paying little heed to the issue.


A minor breach in the bank of a water channel. Tribune photo

Pakistan denies visa to 320 Sikh pilgrims
Amritsar, May 16
For the second year in a row, the Pakistan High Commission has denied visas to Sikh pilgrims who were to visit the neighbouring country from May 17 to May 26 to observe the martyrdom day of Guru Arjan Dev.
Young Congress MLAs abandon enmity with Akalis
Chandigarh, May 16
With former foes turning friends, politics in Punjab is in a churn. Newly elected Congress leaders have given up their animosity towards the SAD and in some cases are working in tandem with the Akalis to ensure development of their constituencies.
Govt hiding facts on thermal plant: Amarinder
Patiala, May 16
Training guns on the SAD-BJP government, the PCC president, Capt Amarinder Singh, has accused Deputy Chief Minister Sukhbir Singh Badal of "hiding the ground reality" on the progress made in the 1980 MW Talwandi Sabo thermal power plant.
Gujral: Child adoption policy discriminatory against NRIs
Chandigarh, May 16
Are Non-Resident Indians (NRIs) barred from adopting healthy children from India? "Yes", says Naresh Gujral, Rajya Sabha member from Punjab. If an NRI has to adopt a healthy child from India, says Naresh Gujral, he has to go through the inter-country adoption process at par with foreign nationals, including Overseas Citizens of India (OCIs) and People of Indian Origin (PIOs).
Inordinate delay in sowing cotton worries growers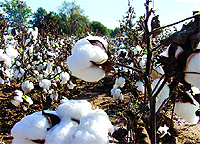 Faridkot/Muktsar, May 16
After reaping a bumper harvest, farmers in southwest Malwa, known as the state's cotton belt, are a worried lot. Reason: Inordinate delay in wheat harvest and, in turn, cotton sowing due to adverse weather, which resulted in late ripening of wheat crop. Cotton seed had been sown on around 37 per cent of the area under the crop till mid-May last year. But, this year only 14-15 per cent area had been covered so far.
Swaminathan not in favour of sale barriers for farmers
Samrala, May 16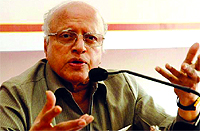 The Chairman of the National Commission on Agriculture, Dr MS Swaminathan, says that farmers should be allowed to sell their produce anywhere in the country without hindrance for better returns. He was talking to mediapersons at the Market Committee office here today. Dr Swaminathan, answering a query, said a national commission for farmers was a must to know the problems of farmers and recommend a solution to the problems.
Vanity mask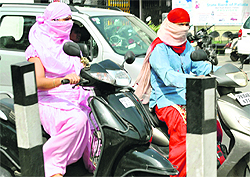 SUN SCREEN: These young girls in Patiala choose to drive their scooters with their faces covered to escape the scorching summer heat. Tribune photo: Rajesh Sachar

water woes
Central team to assess waterlogging in state
Chandigarh, May 16
The Planning Commission has decided to send a team of experts to Punjab to assess the extent of waterlogging and damage caused by it.
Pranab hints at fiscal bailout
New Delhi, May 16
The constant pressure on the Centre by Trinamool Congress chief Mamata Banerjee for an economic bailout could prove a boon for Punjab.
Punjab promotes three as IGPs
Chandigarh, May 16
The Punjab Government today promoted Dr Naresh Kumar, Ram Singh and SS Srivastava as Inspector Generals of Police (IGPs).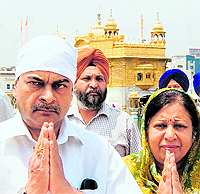 India, Pak may ease visa norms
Amritsar, May 16
Union Home Secretary RK Singh today said he would take up with Pakistan the issue of handing over wanted fugitives to India during talks with his Islamabad counterpart on May 24-25. Laskhar-e-Taiba chief Hafiz Saeed is on the top of India's list of most wanted criminals who are hiding in Pakistan. During the meeting that is to be held in Pakistan, both the countries are likely to sign a new visa policy with an aim increase people-to-people contact and strengthen trade ties.

Union Home Secretary RK Singh and his wife Sheela at the Golden Temple on Wednesday. Photo: Vishal Kumar

Efforts to bring Nili-Ravi breed from Pak: Minister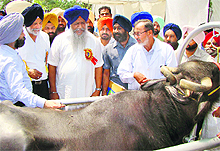 Patiala, May 16
The state government is committed towards making Punjab number one state in the country as far as animal husbandry and dairy development is concerned and for this, they are making efforts to bring Nili-Ravi buffalo breed to Punjab, which gives around 35 kg milk everyday.


Punjab Animal Husbandry and Dairy Development Minister Gulzar Singh Ranike inaugurates a workshop at Kalyan village in Patiala. Tribune photo: Rajesh Sachar

University teachers hold protest rally
Patiala, May 16
Punjabi University teachers today held a protest march on the university campus against non-releasing of arrears from January 1, 2006 to July 31, by the Punjab Government and the UGC.
Drugs in jails
Sessions judges told to conduct surprise checks
Chandigarh, May 16
Hooked to the idea of barring drugs from jails, the Punjab and Haryana High Court has directed the district and sessions judges of Punjab and Haryana conduct surprise checks in the prisons.
HC comes down heavily on lawyers over pending cases
Chandigarh, May 16
Squarely blaming advocates for the mounting pendency of cases for which the Bench has to take the blame, the Punjab and Haryana High Court has condemned the fraternity for adopting a dual policy.
Decide on eco syllabus in six weeks: Court
Chandigarh, May 16
The Punjab State Board of Technical Education and Industrial Training was today granted six weeks for finalising the curriculum on compulsory environment education in 19 diploma courses conducted by it.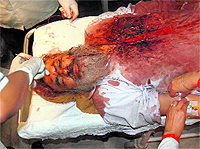 Bloody clash over land in Kapurthala; 7 injured
Kapurthala, May 16
Seven persons were injured in a clash over a piece of land near Nadala under the Begowal police station in Kapurthala district this evening. The warring groups exchanged fire. Sharp-edged weapons were also used in the clash.


One of the injured persons in a hospital. A Tribune photo

DTO office clerk held with stolen vehicles
Jagraon/Ferozepur, May 16
A clerk at the District Transport Office (DTO) in Ferozepur was arrested with a stolen vehicle here.