Day after, family in state of shock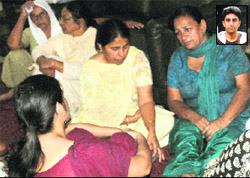 Mohali, May 16
"I had instructed my son just a day before the incident to cancel his programme to Rishikesh with friends, but he did not listen to me. With him, we have lost everything," said a sobbing Davinder Kalia, Anubhav's father, who drowned in the Ganges with two friends last morning.

Anubhav Kalia's (inset) mother and other relatives mourn at her house at Sector 69 in Mohali on Wednesday. Tribune Photo: Vicky Gharu
Soil erosion puts rail track at risk
Mohali, May 16


The foundation of the newly laid rail track connecting Mohali and Ropar is apparently at risk. The soil below the track has eroded at places, creating large pits and crevices in the 15-foot-high embankment for the broad-gauge electrified track.
Pits located near the rail track at Saneta village in Mohali on Wednesday. Tribune Photos: Vicky Gharu (Left) A close shot of a crevice.
Vulgar calls made to Judge's family
Chandigarh, May 16
The UT police has registered a case against an unidentified person for making vulgar calls to the family of a sitting Judge of the Punjab and Haryana High Court.
Defaulters feel estate office heat
Chandigarh, May 16
Several owners of leasehold commercial property auctioned by the UT estate office and those who have converted industrial sites into commercial ones have come under the scanner of the UT housing and urban development department for default in the payment of service tax, running into crores.
PU plans to buy top-model Innova for DCDC
Chandigarh, May 16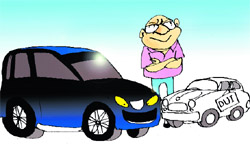 After a Toyota Corolla for the Panjab University (PU) Vice-Chancellor, the PU plans to purchase a swanky MUV for newly appointed dean college development council (DCDC) Naval Kishore to develop better college-university interaction. The proposal has raised many eyebrows as the PU will purchase a vehicle for the DCDC for the first time. It has even been stressed in the proposal that the top model of the vehicle be bought.


UT to hire forensic experts
Chandigarh, May 16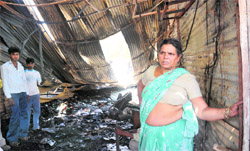 The fifth major fire incident at the furniture market of Sector 52-53 two days ago has woken up the UT Administration which, besides ordering an inquiry into the incident, is also thinking of hiring forensic experts to evaluate the loss in the fire. The affected area was videographed under Additional Deputy Commissioner Mahavir Kaushik's supervision yesterday to assess the loss suffered by the shopkeepers.
A woman at her shop which was gutted at a furniture market in Chandigarh. Tribune photo: Pradeep Tewari
Geneva-based road safety team in city
Chandigarh, May 16
A team of Geneva-based Global Road Safety Partnership (GRSP) visited Chandigarh and met Harman Singh Sidhu, president of an NGO on road safety, 'ArriveSAFE', today to chalk out a road map in order to curb the increasing number of road accidents and fatalities.
Hawara, Bheora produced in court
Chandigarh, May 16
Members of the BKI Jagtar Singh Hawara and Paramjit Singh Bheora, who have been convicted of assassinating former Punjab Chief Minister Beant Singh and are lodged in Tihar Jail, New Delhi, were brought to the district courts at Sector 17 amidst high security for the hearing of the jail break case. To avoid any untoward incident, a heavy pose of police personnel was deployed in and around the courts complex.
Regulate mesh size of nets, say varsity experts
Chandigarh, May 16
While the UT Administration is finding it difficult to save Sukhna Lake from declining water level and weed, the experts believe that the authorities should also focus on regulating the mesh size of fishermen's nets.
Mock drill comes a cropper
Chandigarh, May 16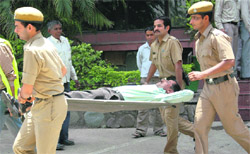 A mock drill held by the national disaster management authority at the Haryana Mini-Secretariat, Sector 17, today turned out to be nothing more than a show for the curious onlookers as a majority of the employees did not even react to the alarm raised by a fire tender for evacuating the office premises.
Firemen carry a person during a mock drill at the Haryana Mini-Secretariat in Chandigarh on Wednesday. Tribune photo: Manoj Mahajan
Police fails to nab Jeewan, family
Zirakpur, May 16
The Police 'failure' in nabbing the main accused Jeevan Garg in the Royal Empire case just raised the apprehension about fair play by the police among those, who have invested lakhs of rupees in a hope to get their 'dream' houses.
First Indian private pilot woman dies at 95
Mohali, May 16
Rich tributes were paid to Beant Kaur, the first woman pilot of the country, at her residence in the house of Maj (retd) Narinder here today.
UK's Deputy High Commission office in city soon
Chandigarh, May 16 Chandigarh is all set to get its second diplomatic mission as the Union Government has reportedly given a green signal to the British Government to open its new Deputy High Commission offices in Chandigarh and Hyderabad.
Gujral: Child adoption policy discriminatory against NRIs
Chandigarh, May 16 Are Non-Resident Indians (NRIs) barred from adopting healthy children from India? "Yes", says Naresh Gujral, Rajya Sabha member from Punjab. If an NRI has to adopt a healthy child from India, says Naresh Gujral, he has to go through the inter-country adoption process at par with foreign nationals, including Overseas Citizens of India (OCIs) and People of Indian Origin (PIOs).
Mohali Zila Parishad gets Rs 12.49 crore
Mohali, May 16
For this fiscal, the annual budget of Zila Parishad, SAS Nagar, would be Rs 12.49 crores. The budget has been passed unanimously in a parishad meeting of the parishad, headed by Satnam Singh Rampur Sainia, chairman of the body.
Three-day seminar on leadership
Mohali, May 16
A three-day seminar on leadership was inaugurated at Maharaja Ranjit Singh Armed Forces Preparatory Institute (AFPI) here yesterday. Besides AFPI cadets, students of various schools in Chandigarh and Mohali were taking part in the seminar, organised to inculcate leadership qualities.
Road work lingers on in UT
Chandigarh, May 16
Motorists in southern sectors are facing a tough time as the UT Engineering Department has not completed the construction of many road stretches between Sector 47 and 39. On a number of occasions, two-wheeler riders have lost balance or skidded on these stretches, leading to injuries to them.
| | |
| --- | --- |
| | (Clockwise) The road at the Sector 44-45 traffic point in Chandigarh; the stretch at the Sector 45-46 traffic light point, The slip road at the Sector 48-49 junction and The road stretch at the Sector 50-51 point. Tribune photos: Parvesh Chauhan |
Show-cause notice to rights activists
Chandigarh, May 16
The two rights activists, who raised the issue of deputationists from the neighbouring states of Punjab and Haryana 'overstaying' their deputation period of five years, the UT Administration has issued show-cause notice to them for highlighting the matter before the Prime Minister. The show-cause notice was issued to Swarn Singh Kamboj, tabla instructor, and Rakesh Puri, electrical instructor, both from the Government Model Senior Secondary School, Sector 27, by the UT Education department on May 11. It mentions that both had sought information under the RTI Act and had written in this regard to the Prime Minister without getting permission from the competent authority.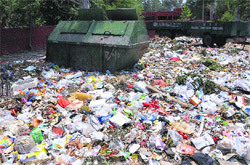 MC fails to act on Admn complaint
Chandigarh, May 16
Sounds strange but it is a fact that the Municipal Corporation is not taking care of even the complaints lodged with it by the UT Administration regarding sanitation problem. One would wonder what will be the fate of the common man's grievances.

Garbage lying near the boundary wall of Government Model School, Sector 16, in Chandigarh. Tribune photo: Manoj Mahajan



Teachers' promotions questioned
Chandigarh, May 16
UT education department's act of getting 13 principals for its schools by promoting 10 teachers and getting 3 on deputation has left many questioning the propriety of outgoing DPI (S) Sandeep Hans.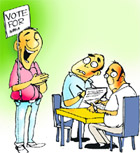 Evaluation centres turn into campaign hub
Chandigarh, May 16
In wake of the upcoming Senate elections, Panjab University's evaluation centres have practically turned into a campaigning hub for the contestants planning to contest elections from college teachers' constituency. University's gymnasium hall where the evaluation for the undergraduate paper is going on has turned out to be a hot spot for the candidates. The situation is same at PU's evaluation centres in Hoshiarpur, Ferozpur, Dasuya, Khanna and Abohar.
PEC employees hold candlelight march
Chandigarh, May 16
The PEC employees in protest against the PEC authority with regard to their provident fund issue took out a candlelight procession here today.
Permanent appointment issue to be taken up today
Chandigarh, May 16
Tomorrow's Syndicate meeting is expected to witness heated arguments over the permanent appointment of Daizy Zarabi in Panjab University.
Panjab varsity guard fired
Chandigarh, May 16
Panjab University today terminated the services of a security guard posted at University Health Centre. He was found sitting at the office of Additional Chief Medical Officer (COM) with air conditioner on and watching television.
From Schools and colleges
Placement 305 diploma engineers secured job in leading national and multinational companies in a placement fest organised by Punjab State Board of Technical Education and Industrial Training (PSBTE&IT) and Chandigarh Group of Colleges, Gharuan. Companies like Mahindra, Satyam, TVS Motors, Groz Beckert Asia, Japanese firm Takata India, Solitaire Infosys, etc participated in the fest.