SGPC's no to admissions & jobs to 'patits'
Amritsar, May 17
The SGPC has decided to strictly implement its norms to ensure that only 'Sabat Soorat' Sikhs (with untrimmed hair and beard) are given admissions and jobs in all SGPC-run institutions.
marriage act row
Jathedar does a volte-face
Amritsar, May 17
Taking a U-turn on the issue of a separate Sikh marriage Act, Akal Takht Jathedar Giani Gurbachan Singh today said the amendments being made in the Anand Marriage Act 1909 to facilitate registration of Sikh marriages were "absolutely legitimate".
Vigil up at ICP
Amritsar, May 17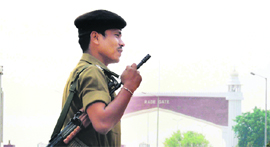 The Border Security Force (BSF) has deployed extra forces at the Integrated Check Post following threats of a possible terror attack on its Pakistan side. The development followed after intelligence agencies in the neighbouring nation sounded an alert to Pakistan Rangers about a possible terrorist strike at the key trading post between two countries.
A BSF jawan on vigil at the Integrated Check Post. A Tribune photograph
8 securitymen deployed with Jagmeet withdrawn
Muktsar, May 17
The district police has withdrawn eight guards deployed with Congress Working Committee member Jagmeet Singh Brar as part of the state government's efforts to prune the security of VVIPs.
Oil stations get supplies
Jalandhar, May 17
The residents heaved a sigh of relief today after petroleum tanker owners ended their two-day strike and resumed supply to pumps belonging to the Hindustan Petroleum Corporation Limited (HPCL).
Border area farmers seek relief
Ferozepur, May 17
Hundreds of farmers belonging to border villages today submitted a memorandum to Ferozepur Divisional Commissioner Raminder Singh demanding compensation in lieu of acquisition of their land by Defence authorities for the construction of an 11-ft wide road along the zero line six decades ago.
Govt announces scheme for girlchild
Chandigarh May 17
To uplift the social status of girls, improve the declining gender ratio and tackle the school dropout rate among girls, a special programme has been chalked out for them.
'Will restore people's faith in govt schools'


Though just a matriculate, Education Minister Sikander Singh Maluka is becoming attuned with his department and is making waves. Firm and authoritative as Power Minister more than a decade back, he is expected to call the shots even now. Maluka is on the fast lane, streamlining transfers, proposing a commission to revise the school syllabi and trying to bringing in more English in the government school curriculum. In an interview with Jangveer Singh, he speaks of his future plans
State gives clean chit to higher-ups
Chandigarh, May 17
The State of Punjab today gave a clean chit to its high and the mighty in the Nayagaon land acquisition case. Nearly a week after the Punjab Government claimed it was probing whether land purchased by 60 high-ranking officers on Chandigarh's periphery was public, the state today said that "except in seven cases, the land in possession of all other individuals was never government/public land".
Complaint against 'outsourcing' of manpower hiring by Infotech
Mohali, May 17
The Managing Director of Punjab Information and Communication Technology Corporation Ltd (Infotech) has "outsourced" the job of hiring manpower trained in IT to meet the requirement of various government departments, causing loss to the public sector undertaking.
Kandi canal to be completed this year
Chandigarh, May 17
The second phase of Kandi canal will be completed and made operational this year to feed areas of Garhshankar subdivision.
Five IAS, two PCS officers transferred
Chandigarh May 17
The Punjab government today transferred five IAS and two PCS officers with immediate effect. Disclosing this here today, an official spokesman said Sarvjit Singh, IAS, has been posted as Chief Administrator, GMADA, and in addition ex-officio Director, Town and Country planning. Kirandeep Singh Bhullar has been posted as MD, Punjab Agro industries Corporation, Chandigarh, in addition Commissioner, Roopnagar Division,
Punjab plans product-specific industrial zones
Chandigarh May 17
Deputy Chief Minister Sukhbir Singh Badal has said the Punjab Government had finalised a plan to create product-specific industrial zones for giving a boost to industrialisation in the state.
Relief for Tota Singh; HC suspends sentence


Chandigarh, May 17
In a relief to Punjab's former agriculture minister Tota Singh, the Punjab and Haryana High Court today placed under suspension the one-year imprisonment sentence awarded to him in a corruption case. Tota Singh was out on interim bail granted to him by Mohali's special court, which sentenced him to one-year rigorous imprisonment on May 5 on the charge of misusing the official car of Punjab School Education Board.
Habeas corpus pleas
Explain delay in filing reply, SSPs told
Chandigarh, May 17
The Punjab Police is in dock for taking habeas corpus petitions "lightly". Two of its district police chiefs have been summoned by the Punjab and Haryana High Court and asked to furnish affidavits explaining the delay in filing replies to the petitions. A cost of Rs 20,000 each too has been imposed in both cases.
Transport policy case
Alleging police inaction, petitioner moves HC
Chandigarh, May 17
Nearly five months after the Punjab and Haryana High Court made it clear that barrister-at-law Himmat Singh Shergill could move the investigating agency for the registration of a case against the Badals in the transport policy case, he today moved the court again alleging police inaction. The case will come up for hearing on May 18 before the Bench headed by Acting Chief Justice MM Kumar.
Two held for robbing traders while posing as policemen
Patiala/Rajpura, May 17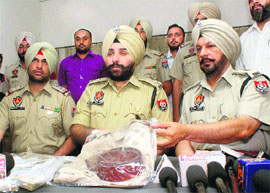 The Patiala police today arrested two members of a gang, including a dismissed constable, allegedly involved in looting traders after donning police uniform. The police has recovered Rs 6.20 lakh from the accused. The arrests were made following a tip-off from another gang member arrested by the Fatehgarh Sahib police. An operation lead by SHO, Rajpura City, Bikramjit Brar, led to the arrest of the accused who used to stop traders travelling in buses and later rob them of their cash.
Patiala SSP Gurpreet Singh Gill shows police uniform seized from robbers in Rajpura. Photo: JS Virdi