M A I N N E W S
Northern states want reservoirs tanked up
Vibha Sharma/TNS
Uneven monsoon?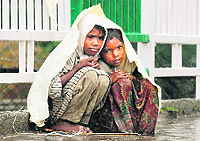 Monsoon seemingly not following its usual course
Reservoir level low from last year
New Delhi, June 7
With the monsoon seemingly not following its usual course, skirting the areas in urgent need of precipitation in Peninsular India, states up north have started asking the managements of crucial water reservoirs to not wait for the monsoon bounty and tank up using existing flow of rivers feeding them.
AT present, all the three water reservoirs supplying irrigation water to the grain bowl of the country - Punjab and Haryana - are maintaining levels much lesser than those held last year, on the same date. As on June 5 for example, the reservoir level of Bhakra was 1540.68 feet, less than that maintained last year (1573.16 ft) and below its full reservoir limit of 1685.01 ft.
Likewise Pong, its full reservoir level is 1400 ft but it is currently holding water at 1310.45 ft, lesser than last year's 1350.43 ft. With a full reservoir capacity of 1731.99 ft, Ranjit Sagar too is maintaining a lower level of 1646.06 ft as against 1680.41 ft last year.
Not just Pong, Bhakra and Ranjit Sagar, Tehri and Ram Ganga in Uttarakhand are also maintaining lower volumes. In fact, the water level in all 84 major reservoirs, crucial for hydro-power generation and irrigation in the country, is running below last year's levels.
As per Punjab irrigation secretary Karan Bir Singh Sidhu, the state has flagged off the issue with the BBMB, saying that the good flow in snow-fed rivers feeding the reservoirs should be utilised to bring up their levels.
Armed with a good canal and tube well network, officials from both Punjab and Haryana insist that the two states are capable of taking care of any possibility of an errant monsoon this year, as is being feared after signals of El Nino conditions developing during August-September.
Now the good part is that both Punjab and Haryana are not really dependent on monsoon for summer crops as compared to the rain-fed areas of the country, where a bad year can spell financial disaster for millions of farmers. Seasonal rains accounts for almost all the annual rain in 75% of India's geographical area and 78% of the gross cropped area in the country
However, even though their dependence on the seasonal rains is less, monsoon rains are essential to recharge fast-depleting groundwater and fill up reservoirs.
Generally, it is from May 20 onward that the 'filling season' starts in the three key dams in north India - Bhakra on the Sutlej, Pong on the Beas and Ranjit Sagar on the Ravi. The monsoon downpour augments the snow melting that starts occurring in late March. Sidhu says that with the early summer the Sutlej has enough water to replenish the reservoir it feeds.
Meanwhile, monsoon yesterday further advanced into central Arabian Sea, remaining parts of coastal Karnataka, entire Goa, some parts of south Konkan, south Madhya Maharashtra and north interior Karnataka, parts of south and central Bay of Bengal, most parts of northeast Bay of Bengal, entire Nagaland, Manipur, Mizoram, Tripura, Assam, Meghalaya, Arunachal Pradesh and some parts of sub-Himalayan west Bengal and Sikkim.
The Northern Limit of Monsoon (NLM) is currently passing through Harnai, Satara, Belgaum, Agumbe, Medikeri, Kodaikanal and Gangtok.