The line never ends
Husain's art was shaped by the unique composite fabric of India. Unfortunately, the ideology that shaped his artistic journey lost ground to the rising power of sectarian politics. These facts taint an honest evaluation of Husain's contribution to Indian art
K Bikram Singh
17-9-1915
09-6-2011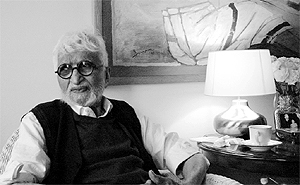 Husain in his London studio 2006
When time accelerates not only future events hurtle towards us faster, even the events of the recent past disappear into oblivion more rapidly. It was only on June 9 last year that Maqbool Fida Husain died in a London hospital far away from India, his motherland that had forced him into exile. Already in a year his memory has become faint. It is mostly his former tormentors and current collectors that remember him - the tormentors whenever his works appear in a public place and collectors when his works appear in public auctions and go under the hammer.
The controversies surrounding Husain, during the last decade of his life, have caused double damage by obstructing a serious evaluation of Husain's place in the cultural history of India both as a public figure who personified multi-cultural India, and as a major artist who has left a decisive mark on the modern Indian painting. Let me make a beginning towards such an evaluation.
The persona
Maqbool Fida Husain was born to Zaineb and Fida Husain in 1915, in the temple-town of Pandharpur in Maharashtra, then a major Hindu pilgrim centre. The family spoke Marathi and was well integrated with the local community. His devout Sulemani Muslim grandfather had a lampmaking shop in the street leading to Vithobha Temple.
This sense of shared cultural heritage for Maqbool was further strengthened in Indore where he had his early schooling. It was here that Maqbool first witnessed the iconic Duldul horse of Imam Husain in the Muharram procession that was to become a major source for his horse paintings. In Indore, he was equally attracted by Ramlila performances and began to enact Ramlila scenes with his friends at home, and loved playing the role of Hanuman.
This enchantment for Ramlila became a wellspring of Husain's Ramayana paintings. In the late 1960's Dr. Ram Manohar Lohia, the socialist ideologue, advised Husain to stop painting for Tatas and Birlas and start painting for the common man. "Paint Ramayana", he said. "That is the best way to penetrate the popular psyche and reach the masses". Husain set about systematically studying the Ramayana and then created his Ramayana series over several years. This was followed by a series on the Mahabharata, and paintings on several other Hindu gods and goddesses.
Maqbool was also exposed to Mahatma Gandhi's ideas and the freedom struggle at Darul Tulaba Husamiya Madarsa in Baroda where he did a part of his schooling. It was perhaps the influence of Hakeem Abbas Tayabji, a Gandhian, who headed the school that prompted Husain to stay back in India after the partition of 1947, even though several of his close relatives migrated to Pakistan. Rest was done by the streets of Bombay, where he came in 1936 to earn a living. His days of painting cinema hoardings and living on the pavements and chawl which offered material for making of a legend, profoundly exposed him to the real and fantasy world of the ordinary working people - a world of multiple identities, distinct but shared cultures. This world of the common man, both rural and urban, was to become a major theme of Husain's paintings for several decades.
Soon after he won the Lalit Kala Akademi's National Award in 1955, it brought him into media focus. Husain instinctively knew how to cultivate the media and the media found him charming. It was courtesy Rajni Patel that he met Jawaharlal Nehru and was asked to do a portrait of him in 1963. This was followed by two more portraits perhaps immediately after Nehru's death on May 27, 1964. In 1967, his first short film "Through the Eyes of a Painter" won the Golden Bear Award at the Berlin Film Festival. Husain had truly arrived on the public cultural space of India.
The non- conformist
In the next decade, his public persona grew. Here was a person emerging from a humble background and strutting the stage of high art and culture; a practicing Muslim with a flowing beard and bare feet who loved painting Ramayana, Mahabharata, Hindu gods and goddesses and the Christian Mother Teresa; a painter who painted horses and loved making films; an artist with a golden touch but who casually gifted his paintings to chaiwalas and panwalas; a non-conformist who had easy access to powerful politicians of the day but who enjoyed the company of dhabawalas in Nizamuddin basti. Husain symbolised the true integration of Muslims despite the scars of the Partition. This phenomenon also created the hope that Hindus of India will eventually learn to accept their Islamic heritage.
For almost three decades after 1955, Husain was universally applauded by the Hindus, the Christians and the Muslims. In 1980, the Ramlila Committee of Delhi invited Husain to design the cover of its annual diary. That diary was distributed in thousands and no Hindu found anything objectionable in this cover. But the same cover painting came in for hostile attacks by a section of Hindu fundamentalists after the demolition of Babri Masjid. What had happened in the meantime? Husain's work had not changed in its essential spirit but tragically the social space in which he was working had become communalised.
The first major crack in the culture of Nehruvian tolerance and celebration of diversity came with the Emergency imposed by Indira Gandhi in 1975. All dissent was brutally put down. Even cartoons had to face censorship.
The national consensus on a multi-cultural and multi-aspirational India speaking in different voices, having been suppressed by the Emergency, offered a space to the rightist parties with religious fundamentalism as their main ideology, which emerged as forces of resistance. They gained popular acceptance both amongst the Hindus and the Muslims. The attacks on Husain and his paintings began in this changed and charged atmosphere. The attacks came both from sections of Hindus and Muslims, the former accusing Husain for depicting goddesses in the nude and the latter for painting Hindu gods despite being a Muslim.
In the cultural history of India, Husain thus represents the ideal of a multi-cultural society that independent India was trying to create. This has received a huge setback with the death of Husain in exile but it remains an ideal that is still worth aspiring for.
The artist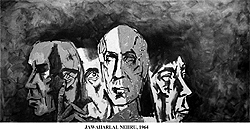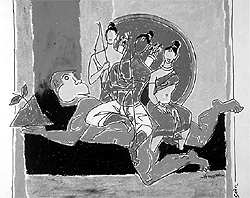 (Above) The portrait of Jawaharlal Nehru done over several sittings in 1963. (Below) Ramlila Committee Diary: The Ramlila Committee of Delhi invited Husain to design the cover of its annual diary in 1980. A decade later, this cover became controversial
Husain's unique language of painting was formed during the years that he spent painting cinema hoardings - flowing lines, bold colours, evoking an illusion of completeness of the image with minimum details, emphasis on movement within the image, and a combination of reality and fantasy. Later he picked up other elements like making faceless images to give it universality. This unique language of Husain has influenced a large number of younger painters.
As for his worldview, the common man was central to his vision. Much before Husain arrived on the scene of Indian painting with his images of potters and peasants in the initial years, the common man had already entered Indian painting through the works of Nandalal Bose and Ramkinkar Baij in Santiniketan.
Husain's empathy with the common man was like a gut response of a man who arose out of them. Much like Satyajit Ray in Pather Panchali, he neither romanticised them nor pitied them. He painted them in all their ordinary dignity and his language gave them a certain abstract universal quality. Besides, Husain went beyond their real world and also painted their myths and fantasies - the world of cinema, mythology and the eccentric world of the Raj. For Husain as an artist, nothing was too insignificant and nothing too holy to be untouchable. He could paint the humble umbrella and the oil lamp with as much joy as Hanuman or Mother Teresa as Yashoda Maiya. Not that Husain has not painted serious subjects in a serious manner e.g. his paintings inspired by Bhutto's hanging, Andhra Cyclone and Bangladesh War. However, the dominant mood of a large body of his work remains joyful and quite often full of humour and quirkiness.
Years in exile
The canvas of Husain's work is very large. We do not yet have access to his work done in his five years of exile. This included a series called 'History of Indian Civilisation' for Laxmi Mittal, and 'History of Arab Civilisation' along with a large installation of fancy cars and glass horses for the Shekhina of Qatar. A proper evaluation of Husain's significance as an artist will involve a study of these works as well. These may become accessible at a later date. But even before that happens it can be safely said that Husain was one of the most significant contemporary Indian painters who has left a lasting impact on the art scene of modern India. If today Indian art has acquired respectability in India and abroad, in the market place as also in prestigious museums, a part of the credit for this goes to Maqbool Fida Husain.
The writer is a well-known film producer, who has authored 'Maqbool Fida Husain' a book that chronicles Husain's artistic journey
The queer chronology of his art
1915 Born in Pandharpur, Maharashtra
1948 Joins the Progressive Artists' Group
1955 First solo exhibition in Zurich, also awarded Padma Shri
1955 Wins Lalit Kala Akademi's National Award
1964 First exhibition in New York
1971 Invited along with Pablo Picasso at the Sao Paulo Biennial
1973 Awarded Padma Bhushan
1986 Nominated to the Rajya Sabha
1996-2006 His works declared controversial, house and studios vandalised, works burnt
2004 Delhi High Court dismissed cases of obscenity against him
2005 His single canvas fetches $ 2 million at Christie's auction
2006 Went on a self- imposed exile after several threats to his life