Costume drama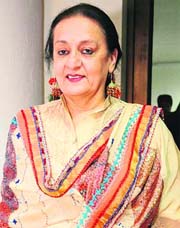 If you loved Dolly Ahluwalia in Vicky Donor, then wait for her upcoming projects Luv Shuv Tey Chicken Khurana and Sadi Love Story. And in between she is busy designing costumes for Bhaag Milkha Bhaag
Her recent appearance on screen swayed the audience. A harried mother, who gets along well with her mother-in-law, post a few pegs together, Dolly Ahluwalia Tewari got much appreciation. "I am glad people liked the act. But it really got awkward when two gentlemen commented in Sector 20 recently 'Kade sade naal vi peg sheg la laya karo'.

"Hard work reaps in rewards. I believe in moving on to do better each time". — Dolly Ahluwalia Tewari
She's got the look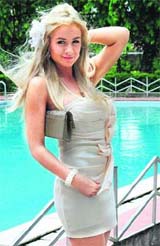 When it comes to music, 'hearing' is believing. But in case of DJ Emely 'seeing' is believing
The venue of the music concert has been shifted from a resort near Morni Hills to JW Marriott. The reason cited for the change by the organiser is, "We were flooded with inquiries about DJ Emely, (who will perform at the event) and we realised that at the earlier venue not many people will be able to make it to 'see' her." No wonder, why 'seeing' this DJ is a bit more important than listening to the kind of music she plays. One, she is strikingly beautiful, two, she is dressed up for the occasion. Aptly or not, that's debatable (a white tube dress in satin with tantalizing hemline which gave the feeling that a wardrobe malfunction is waiting to happen)!
I have a crush on you…
Most of them are married or taken but the beauties and hunks of Bollywood tell us about their crushes from across the seven seas. No harm in looking and admiring, right?

How Jackky stays fit…
Jackky Bhagnani has worked in films like Kal Kissne Dekha and Faltu. He has a few more films in hand. Debuting in films was not easy because he had the mammoth task of losing 60 kilos before he could face the camera. The 6 footer weighs 70 kilos, which is perfect for his height. He tells us how he managed it and shares his fitness regime.

Will power: Jackky Bhagnani
Saif is back in his element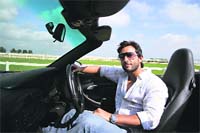 Saif Ali Khan is excellent at playing the lover boy. He has proved this in movies like Dil Chahta Hai, Hum Tum, Kal Ho Naa Ho, Salaam Namaste, and Love Aaj Kal. He is back in his element in a romantic comedy Cocktail in which Diana Penty and Deepika Padukone are his co-stars. The team of Cocktail talks about Saif's charms.
Kim Kardashian owns a YSL gun
Reality TV star Kim Kardashian's new fashion accessory is a pearl-handled Yves Saint Laurant pistol. The 31-year-old posted a picture of the weapon on her Twitter and Instagram accounts today, writing the words Bang bang underneath the photograph, reported a publication.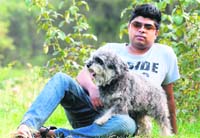 pet passion
Small wonder
There he was, all playful and naughty, nibbling his own food and having other dogs' food as well. "I went to this kennel which has a separate section for smaller dogs and another section for bigger breeds. I looked at Mylo, he was the naughtiest little creature there and I knew that he was for me."
TROUBLE SHOOTER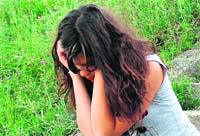 It's ok to be assertive
My husband is not very cooperative. I am a college teacher and come home at 5 pm. My mother-in-law stays with us and she does not allow me to keep a maid. They put me down for everything. My parents are in the same town so I have some support with my children. They are happy with my son but not my daughter. So far I have been giving all my money to my husband. I feel blank at times and a tiredness all the time. At times I get angry and shout at my husband.
In the comfort zone
Godrej Interio, a leader and innovator in the home and office furniture segment, launched their three variants of premium mattresses in Chandigarh. The three variants namely Reborn, CalmCruizer and Sleepmate take comfort to a different level altogether by making the sleeping experience entirely a luxurious one.
Master Chef
Peach perfect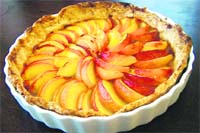 FFor tart
The gruelling summer and the yummy succulent fruits available in this season are two diverse ends, one bringing agony while the other an ultimate pleasure for the taste buds. Peachy peaches are sitting pretty on rehris across the town and they are the appropriate accompaniment for any mouth watering dessert. There is no need to cook them but effectively had as flambéd with ice cream or used in crispy tarts.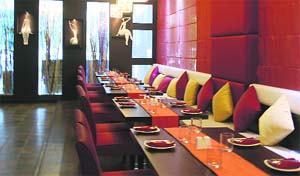 indulge
Luxury within reach
If the pricey tags of the super-luxe dens aren't for you, take a look at the mid-budget hospitality segment. Comfort at the right price is the mantra of the hotel chains investing in region today. Chandigarh recently saw the launch of its first luxury budget hotel Oyster in Sector 17.
green thumb
Finding the root-cause
We like having fruits and vegetables in our kitchen garden. We also want to have the best of shrubs, climbers and ornamental trees. But are we providing them the best conditions and environs to get the best results? Normally, the plants are not very fussy about their requirements in home gardens. But there are a minimum of conditions that have to be given to derive the maximum output with quality.
Sequel calling: Farhan Akhtar
Miss-matched
Pyaar Ke Side Effects was a big hit. The sequel is ready to be made. It will not star Rahul and Mallika. Instead, the makers are looking at casting Farhan Akhtar with Vidya Balan. We think Vidya looks a tad old in front of Farhan.
Going places: Vidya Balan
What's next

Pretty girl Nargis Fakhri is known for her link-ups. She was ousted by Asin from Khiladi 786. Finally, she has been signed on by Pritish Nandy Communications for one of their next films.
Missing link: Nargis Fakhri
Back door exit
The Shanghai team: Emraan Hashmi, Kalki Koechlin, Abhay Deol, and Dibakar Banerjee had to make a quick exit from a mall in Delhi after the crowd there went berserk and out of control! Emraan is such a big crowd-puller!
In your shoes
Sonakshi Sinha loves dancing. She will perform to Malaika Arora's Munni badnaam song at an upcoming awards event.
New Releases
Shanghai
Producer: PVR Pictures, Priya Sridharan, Dibakar Banerjee
Director: Dibakar Banerjee
chatter box
Weight's an issue!
Malaika Arora Khan's remarks are said to have irked a contestant of reality show, The Chosen One. Malaika was handed over with the job of setting a task for the contestants of the UTV Stars' show, aimed at finding the face for the channel. After the participants completed the given task, Malaika was supposed to give her advice. But her comments did not go down too well with one contestant named Drishti. She later complained of not being treated well because of her weight.
The year ahead
If your birthday is June 8... A romantic interest will develop and it could be someone from your past. Your long-term plans are likely to pay off, as your cherished dreams will be supported by the cosmic energies. Stop analysing a problem and make a decision. Trust your instinct, even if logic tells you to take the opposite path. A close relative is a lot more vulnerable than you realise.
Astro Turf
ARIES: Try to complete unfinished work. Businessmen: it is advisable not to start new projects. Your health could be worrying you a little. This is also a positive time for business partnerships. Tarot message: Don't do anything at the cost of health. Time will heal all pains and wounds. Lucky colour: Cherry red. Magic number: 43