Chasing love
Mona
Shooting in real locales, including London, a love story highlighting the problems of young Indians living abroad, Rab Se Sona Isshq claims to be the first youthful, cross-continental story on telly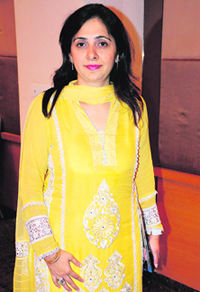 Kinnari Mehta. Photo: Parvesh Chauhan

Premise: Beautiful Saahiba deserted by the man of her dreams on the very day of her wedding.
What follows: A cross-continental chase. Girl follows her love to London.
Fierce competition rules the telly screen. Rab Se Sona Isshq is Zee TV's latest soap trying to break free of all the stereotypes. Moving away from the closed door politics to begin with, this soap takes the audience to real locations—Punjab and London.
On Friday, the cast along with its producer shared their take on the larger than life serial that all of them are in love with.


The risk taker
For Kinnari Mehta, it's the seventh show for Zee and she aspires to produce 70 more. With her latest, she is trying to achieve something that probably hasn't been tried before. "We will simultaneously be shooting in Mumbai as well as London as the show goes on air. The chips from different locations will fly to our technological base while we coordinate different ends," says Kinnari who has total faith in her competent team. Just over with shooting in and around Chandigarh, she is looking forward to the London phase where she goes along with the lead actors. Is it all worth it? "Well, if I have to stand out in the crowd, I have to give something different," she says.


It's been most amazing to shoot here. I have gone at the eleventh hour with my requirements. Not only were those fulfilled but also I got to hear, 'Thank you nahi bolna ji, yeh Punjab hai'. I will take such warm memories from here and return again for sure!~

Kinnari Mehta, producer, Rab Se Sona Isshq
In this attempt to be different, they have picked a storyline that deals with challenges that present generation faces: choice between career and love. London base opens another dimension, migrants dealing with dreams versus real life out there.
And, that's not all. The show will have its own music in Sufiana tinge inspired by the likes of Bulleh Shah, Reshma and Abida Parveen. "This is another first. We will have a rock band in the show performing songs pertinent to the situations," says Kinnari who agrees that few episodes on the show will return to close door drama, "But, it's going to be the story of a daughter not the regular daughter-in-laws our telly usually tells."
The ladies' man

Ranvir, who leaves a comfortable life back home as well as his love to follow his London dream, is being played by Ashish Sharma. With a serial Chandragupta Maurya and a movie Love Sex Aur Dhokha to his credit, who is Ashish in real life? In his oh-so-charming ways answers this dude, "Allow me to say I am a ladies' man. And, that's what makes Ranvir a lovable character that I play!" Kinnari further elaborates, "During auditions Ashish clicked. And, our very young girls team carried on the look test for hours, changing clothes, clicking and giggling all the time. Zee also gave a go ahead instantly, such is his charm."
Why such grandeur, when the audience look for but a simple, interesting story, a journo asks. "Well, London is central to the story. It is a story that many can relate to. Choices we make, unintentionally hurting those around and where our choices take us on," says Ashish who plays a rather popular, loved guy in his own village who leaves it all to pursue his dreams to end up doing menial jobs to survive in a foreign country.
Damsel in distress
Ekta Kaul, who plays lovelorn Saahiba, is a beautiful Kashmiri girl. And, that's what show producers were looking at. A biotechnologist who worked as a marketing person for sometime, she is taking life a day at a time in this new world. The journey has been challenging so far, she admits, "I am so new to acting. Few workshops helped. But still I am not as comfortable as the other cast who have worked in the field before," says Ekta who really appreciates that her cast cooperates when she takes time preparing for the shots and has to take retakes. Does she resemble her character onscreen? "Not really. I am completely reserved and an introvert, unlike Saahiba." Each day has not been easier than the previous one, admits Ekta who wants to carve her own niche in the world. "Right now, with so much riding on the team, I try to satisfy myself with my work first, and, then my team. Will see where life takes next."
The third angle
Daljeet is another significant character in 'Rab Se Sona Isshq' to whom his family's happiness matters the most. It's played by Kannan Malhotra who has few serials to his credit, including 'Geeta Ka Dharamyudh', many commercials and four Malyalam movies. Convincing his business family to try out his luck in acting was tough but he somehow managed. Still not well-versed in Malyalam, he was pulling it off well, when his parents asked where he does he work for he was hardly seen on screen. And, that's what made him pick up the telly. A happy, supportive family now to back him, Kannan is giving his best shot. "Unlike me, the character I play is reserved, with so many days of shooting, I have almost started living in that mode," says Kannan who holds a graduation in tabla. Music is what he loves and is pretty open to other options.
"Rab Se Sona Isshq is the biggest we have ever launched," says Usha Thomas, deputy vice president, channel promotions, Zee. Well, check out when it's launched next month!
mona@tribunemail.com