City kids shine in AIEEE results
Very few students from the city had managed to crack the IIT-JEE
Nikhila Pant Dhawan
Tribune News Service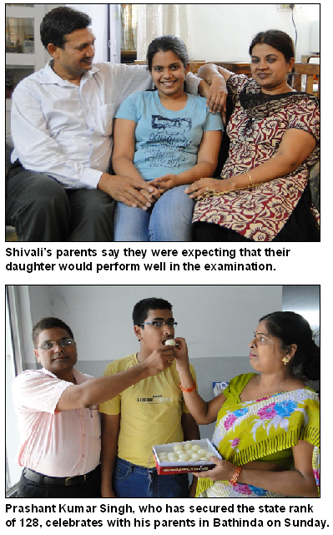 Bathinda, June 10
The results of the All India Engineering Entrance Exam, announced late on Saturday night, brought the smiles back on the faces of many students in Bathinda, who hadn't done too well in the IIT-JEE exam.
With an all India rank (AIR) of 332, DAV School student Shivali managed to secure the ninth rank in the entire state. Shivali had secured rank 973 in the IIT-JEE. Shivali aspires to take up chemical engineering at IIT Delhi.
Pushapjeet Sodhi, a Saint Fateh Singh School Maur student, grabbed the 29th state rank with an AIR 1019. Army Public School student Prashant Kumar Singh secured rank 128 rank in the state with an AIR 5149.
Daughter of MN Goyal, a senior manager at National Fertilizers Limited, and teacher Anju Goyal, Shivali studied at the St Joseph's Convent School till class X and passed the metriculation examination with a CGPA 10. She followed it up scoring 92.2 per cent marks in her class XII examinations.
Sounding jubilant over the AIEEE results and giving the credit of her success to her parents and teachers, she said she had studied for the exam with full dedication.
She also maintained that having a clear understanding of the basic concepts played a vital role in her performance. "Being self-confident is of utmost importance. While preparing for an exam, one should give it her/his best shot till the end," she said.
Pushapjeet, son of Civil Hospital pharmacist Sukhwinder Singh Sodhi and Welfare Department employee Bhupinder Kaur, cleared his class X exams with CGPA 10 and scored 89 per cent marks in class XII.
Interestingly, Pushapjeet had performed better than Shivali in the IIT-JEE by securing the 721st rank.
Son of an ex-serviceman Nand Singh and housewife Rekha Rani, Prashant Kumar Singh had passed his class XII examination with a brilliant score of 93 per cent. Prashant wishes to take up aeronautical engineering at either PEC, Chandigarh or IIT Pune.
Karan Goyal spent a year, after clearing his class XII examination, preparing for AIEEE and says the hard work paid off.
A resident of Rama Mandi, Karan has secured a state rank of 127 and an AIR of 5069.
Over 11 lakh students had taken the AIEEE this year. Sandeep Pathry of Government Boys Senior Secondary School, Mukherjee Nagar, New Delhi topped the examination by securing 346 out of a total of 360 marks. Rajpura resident, Anant Gupta secured AIR 2. He had secured 7th rank in IIT.
Among girls, Mansi Sood of Delhi Public School, Vasant Kunj, New Delhi, topped with an AIR of 6 and a score of 336 marks.
Fact file
AIEEE was conducted through online and offline modes by the Central Board of Secondary Education (CBSE) on April 29 (offline exam) and the May 7, 12, 19 and 26 (online exams).
This year, 11,37,256 candidates registered for Paper-I for B.E./B.Tech, out of which 10,61,854 candidates appeared and for Paper-ll for B.Arch/B.Planning 83,049 candidates registered out of which 71,316 candidates appeared.
Of around 11 lakh candidates who wrote the exam, 4.1 lakh crossed the cut-off mark of 48, and are eligible for the next phase of online counselling.
Earlier, CBSE was expected to announce the results on June 1.