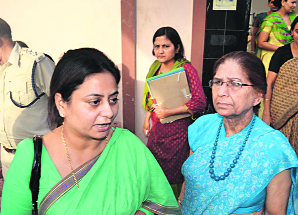 BJP seeks CBI probe into Apna Ghar case
Chandigarh, June 12
The Haryana BJP today demanded a CBI probe into the affairs of the Rohtak-based shelter home, "Apna Ghar", where exploitation of children and women came to light when a team of the National Commission for Protection of Child Rights (NCPCR) raided it on May 9.
A team of the National Commission for Women (NCW) comes out of a shelter home in Bhiwani on Tuesday. A Tribune photograph
NCW team visits Bhiwani
Bhiwani, June 12
A four-member team of the National Commission for Woman arrived this evening to meet children shifted from Rohtak-based shelter home, "Apna Ghar", to various shelter homes here.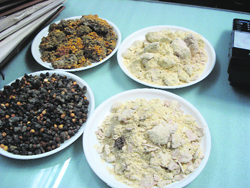 Fungus-infected food supplied to anganwaris in Kaithal
Kaithal, June 12
In a shocking incident, the food supplied to anganwaris in Haripura has been found to be fungus-infected. Additional Deputy Commissioner, Kaithal, Dinesh Yadav, has issued directions to the anganwari staff not to serve food from this stock to protect the health of the children.
Samples of fungus-infected foodstuff. Photo by writer
Cop's murder points to official-sand mafia link?
Faridabad, June 12
The murder of a constable, Mahavir Singh here yesterday raises the stink of possible collusion between the sand mafia and government officials.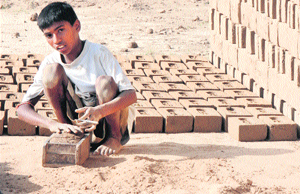 Even as the world is busy celebrating World Day against Child Labour, 13-year-old Rajesh makes bricks at Barota village in Karnal on Tuesday. Tribune photo: Ravi Kumar

Woman shot in Bhiwani
Bhiwani, June 12
A woman was gunned down by a youth at her house in Bank Colony here early today. The victim, Manju, had reportedly lodged a complaint with the police about five days ago that the accused, Partap, was harassing and threatening her.
Man hacks wife, paramour
Fatehabad, June 12
A man allegedly hacked his wife and another villager with an axe at Samain village in Fatehabad. The accused allegedly found the victims in a compromising position in his house in the wee hours today. The critically injured victims have been admitted to PGIMS, Rohtak.
Four mobile phones seized from jail
Sonepat, June 12
Arun Singh, SSP, Sonepat, raided the district jail late last evening and seized four mobile phones and six SIM cards from four hardcore criminals lodged there.
Dearness relief up for pensioners
Chandigarh, June 12
The Haryana Government has revised the rate of dearness relief admissible to its pensioners or family pensioners on unrevised pension and family pension with effect from January 1, 2012.
Auto driver found dead in Hisar
Hisar, June 12
Gobind, an auto-rickshaw driver was found dead near the Community Sentre of Sector 1/4 here this morning.