Friend, philosopher... guide
This Father's Day, here's catching up with some who share a special bond with their daddy darling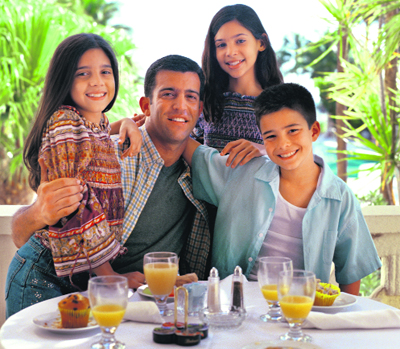 Father's Day may be a recent import to India, but the bond has always been special. Dads are a darling when it comes to daughters, but we were surprised to find how special a bond sons share with their dads as well! This Father's Day, we talk to a few sons as well as daughters from the region, on their relationship, some cherished memories and challenges... Today is a special day for model Anchal Kumar, who is celebrating in a big manner. The party is at her new sea-facing apartment wherein eight of her closest friends join her and her dad S Kumar.
Thinkstockphotos/ Getty images
A royal treat
Eating joints in the city are all set to dish out the best on Father's Day
He might have scolded you for eating junk food and falling ill, he might even have stopped your pocket money at some point of time or even threatened you with dire consequences if you turned up late at home...but he still loves and cares. Still, Daddy dearest is the strongest and most reliable man on earth! On Father's Day treat him the best.
On wings of wishes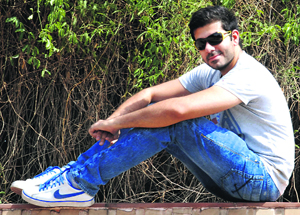 Dreams are common to all of us, but some people live to fulfill each dream... such is the story of Avneet Setya, who recently won the UTV Bindass Dell Inspiron Road Diaries show
The strangest fact about a father-son relationship is not being able to talk your heart out. Now, imagine confessing your feelings for your father on a paper, wrapping it in a bottle and throwing it away in the Ganges! That is exactly what Avneet Setya has done through the rare opportunity he bagged.
INSTINCT DRIVEN: Avneet Setya. Photo: Nitin Mittal

It's happening
Painted to perfection
The Government College of Art-10, Chandigarh, is holding a special exhibition as part of its diamond jubilee celebrations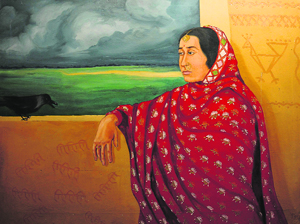 There's an unusual commotion at the Government College of Art-10, Chandigarh. While the frames have been put up, there're still some volunteers running about, tending to the last-minute details. Posters, paintings, works of some of the eminent artists, renowned names in the world of art, are rubbing shoulders with the works of former principals and faculty. Diamond Jubilee celebrations are a perfect platform for any college to put its head up, throw its weight around, flaunt its alumni and paint the progress graph. Photos: Manoj Mahajan
Astro turf
ARIES: Try to keep your business plans a secret. Students should complete revision in time. An unexpected guest may gatecrash today. A romantic mood can colour the toughest situation with rosy hue. Tarot message: Plan your life to avoid the in-built delays that comes your way. Lucky colour: Coffee brown. Magic number: 41
The year ahead
If your birthday is June 17...
Tribute to daddy dearest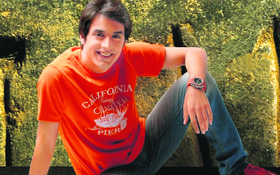 While Mother's Day is celebrated with aplomb, Father's Day too has its moments. We get some stars to talk about their dads and the importance of Father's Day. Gaurav Bajaj as Aman on Uttaran: "My father has always been my hero. I remember once when I was around 4 years old, we had visited an adventure park in Singapore and as soon as we entered, I saw a huge fountain with an enchanting ball right in the middle of the fountain. The pacifier: Gaurav Bajaj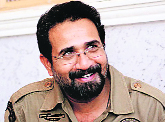 Sabu Cyril to design the Bigg house
The Bigg Boss house for Season 6 reported to be beginning from October 2 this year, promises to be more spectacular than ever. One of India's biggest art directors Sabu Cyril is learnt to have been roped in to design and construct the lavish set at the lush-green hill-station of Lonavala.
Art for reality: Sabu Cyril

Ready to rock?
Kingfisher Strong is all set to delight its customers with the 2nd edition of Kingfisher Strong Indi-Beats scheduled to take place at Chandigarh. Renowned Bollywood singer KK will be taking centrestage to entertain music lovers with popular numbers such as Yaaron, Tadap Tadap, Pal et al.
Indulge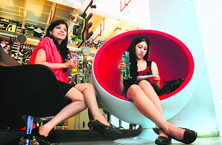 A stylish affair
Café Oye is one destination at the DLF City centre, IT Park, where you can sit, eat, play games and even read while savouring your favourite dish. Although the café opened up four months ago, the owner has reworked the menu to cater to a larger audience. Says Lalit Goyal, the twenty-eight-year-old owner from Panchkula, "I always thought of doing something different from my father's business; so I set up a joint with a good ambience and cost-effective food." Photo: S Chandan
The power within
Most of the problems we face today are the result of lofty, materialistic aims. There is more to life than just your profession and Rajee Malik's latest book Dhyan Ke Rahasya is all about that. Meditation is something that happened to Rajee. "I didn't know what dhyan is when I started experiencing it," she says. Three decades later, life has only grown better and she has been sharing her knowledge by guiding people into meditation, writing for various publications. This is her fourth book.

Staying fit the Bebo style
Kareena Kapoor made headlines when she sized down from chubby to impossibly slim last year. The gorgeous unofficial ambassador of the size zero trend in India who has two books, Don't Lose Your Mind, Lose Your Weight and Women and the Weight Loss Tamasha, dedicated to her by author and dietician, Rujuta Diwekar, gives us some fitness tips. Eat whatever you like: You can eat everything you like, be it Chinese food, Thai curry, dessert, chocolate, Dal Makhani or parathas but you have to eat it in moderation. Right size: Kareena Kapoor

Shekhar Suman's kitchen fad
Despite not being a foodie, actor Shekhar Suman loves to cook. He says, "I'm not a foodie at all. However, I'm a non-vegetarian. I like plain food like dal-chawal. But having said that, I love to cook as it serves as my stress-buster."
Enter, the entourage!
Queen of pop Madonna reportedly takes an entourage of 200 people on tour, including 30 bodyguards, personal chefs, an acupuncturist, a yoga instructor and an on-site dry cleaner.
Problem child
Troubled star Lindsay Lohan, who is shooting the Elizabeth Taylor biopic Liz & Dick these days, was found unconscious in her hotel room. Paramedics were called for her rescue after producers failed to get hold of the 25-year-old actress but they left after finding nothing medically wrong with her, reported a publication online.
Pooja Bhatt to dub for Sunny Leone?
Mahesh Bhatt may have found her the perfect fit for his erotic-thriller. But adult star Sunny Leone's dialogue delivery does not accurately fit the bill.
Sun pact
Instructions: Pour all liquors into a martini glass filled with ice cubes. Now fill the glass with Sprite and serve. Cocktail Jokes — A guy walked into a bar and sat down next to a man with a dog at his feet. "Does your dog bite?" he asked. "No," A few minutes later, the dog bit the guy's leg. "I thought you said your dog didn't bite!" he asked. "That's not my dog," was the reply... (Nugyal is a mixologist at CocktailJockey.com)
Deep, murky waters
Actress Vanessa Hudgens says she loved taking on a "darker, deeper" role than her High School Musical character for Spring Breakers. The 23-year-old, who shot to fame with the Disney series, plays a college student turned bank robber in her latest movie, reported a website. "I've been recently doing a few projects that are darker, deeper and heavier. Reading these situations in the movie where our characters rob people, which has such a harsh and hard element, was something that I just liked," she said. Spring Breakers, which also stars Selena Gomez and Rachel Korine, is set for release next year. — PTI
Naomi Watts moving to Kensington?


Actress Naomi Watts, who will play Princess Diana in her upcoming film Caught In Flight, is reportedly setting up home in the posh location here to play the tragic royal on the big screen. Watts, 43, who grew up in Australia, has been cast in Oliver Hirschbiegel's upcoming drama which will tell the story of the last two years of the princess' life before she died in a car crash in Paris in 1997, reported a publication. Diana lived in the royal residence Kensington Palace and also went to The Harbour Club and Beauchamp Place for hang-outs. — PTI
Getting back with boyfriend?
Singer-actress Christina Aguilera has reportedly roped in boyfriend Matthew Rutler as the songwriter for her next album. The 31-year-old Beautiful hit maker, who met him two years back on the sets of her movie musical Burlesque, said she is enriching her relationship by sharing the work for her upcoming seventh studio release, reported a website. "Matt has come a long way from being a production assistant on Christina's movie Burlesque. He's now a songwriter, working on the new tracks for her new album. People will be surprised by the sound they've put together," said a source. — PTI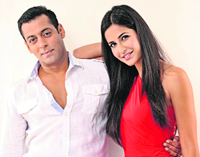 Poster confidence
It is interesting to note that Katrina Kaif has a solo poster for Ek Tha Tiger, which is a Salman Khan film. Katrina Kaif is a star in her own right and she has achieved it rapidly. None of his other heroines have had solo posters for their films whether it is Ready or Bodyguard. The promotions of Ek Tha Tiger are on.


Return gift: Salman Khan and Katrina Kaif
Alien issues
Shirish Kunder is having trouble making crop circles to depict UFO landings for his film Joker in Chandigarh, Punjab. Crop circles are concentric rings that burn the earth when UFOs land here.
Bip's singular tour
Bipasha Basu is in London shooting for the last leg of her international film Singularity. She's been eating chocobars, doughnuts etc. and is enjoying shopping.
One for love
Preity Zinta looks gorgeous these days. She is busy shooting Ishk in Paris. She has also signed two more films which she cannot talk about right now. Ishk in Paris will release in September 21.
Mutual concern
Sharman Joshi and Boman Irani both play fathers in Ferrari Ki Sawaari so they celebrated Father's Day at a Mumbai radio office to promote the movie.