RBI likely to cut rates, may ease liquidity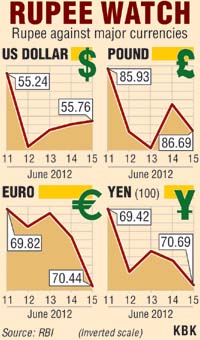 Mumbai, June 16
The Reserve Bank of India releases its midquarter monetary policy review on June 18, and weakening domestic and global economic conditions have added to the likelihood it will take action to boost growth, despite lingering inflation worries.
On Thursday, India reported headline inflation at 7.55% in May, in line with expectations, which however, under ordinary circumstances would keep the RBI focused squarely on controlling prices.
However, Indian GDP growth slipped to a nine-year low of 5.3% in the March quarter, and industrial production was flat in May, data this week showed, adding to a sense of urgency about the deteriorating state of the Indian economy.
A Reuters poll last week showed most economists expect a repo rate cut, but few expected a cut in the cash reserve ratio, the share of deposits that banks keep with RBI. Expectations have grown since then for a CRR cut.
The RBI will release its midquarter monetary policy review on Monday, and there is a broader-than-usual range of expected outcomes, according to the predictions of traders and economists.
Possible scenarios:
25 BPS CUT, BOTH IN REPO RATE & CRR: Probability: One of two most likely outcomes.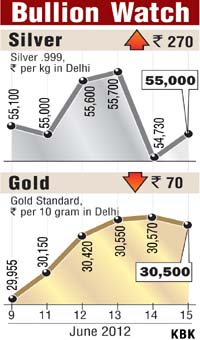 Many market participants are betting on a modest reduction in both the repo rate and CRR because the combination of interest rate and liquidity easing would send a signal that the RBI is keen to prop up growth by providing liquidity to banks while ensuring inflation is under control. An easing in core inflation to around 4.85% in May may give the central bank comfort to cut rates. Such an action would compel banks to cut lending rates.
25 BPS CUT IN REPO RATE, NO CRR CUT: Probability: One of two most likely outcomes
The RBI may decide only to reduce rates but refrain from infusing more market liquidity, as it is already injecting cash into the system through bond purchases and may prefer to save the CRR tool for when liquidity tightens sharply. However, only a repo rate cut may not be enough to spur banks to cut lending rates, or to improve sentiment sufficiently to bolster growth.
NO REPO RATE CUT, 50 BPS CUT IN CRR: Probability: Less likely
To improve monetary policy transmission, the RBI could choose only to reduce the CRR, which would release liquidity and bring down banks' cost of funds immediately, enabling them to reduce lending rates. Many view a reduction in CRR as a more effective tool than a rate cut.
The RBI may be reluctant to cut CRR by such a big margin, however, that could fuel inflationary pressures.
25 BPS CUT IN REPO RATE, 50 BPS CUT IN CRR: Probability: Less likely.
Some investors hope the RBI turns actively dovish, betting that a big CRR cut accompanied by a rate cut ensures effective monetary policy transmission. With mounting pressure on the RBI from the government, some in the market believe the RBI may take the plunge and release an aggressively pro-growth policy.
NO CHANGE IN RATES OR CRR: Probability: Unlikely
With a sagging economic growth, moderate core inflation, and rising pressure from the government, it is unlikely that the RBI does nothing, as a downturn in domestic and global economic conditions has spurred calls for central bank action. — Reuters