Sensex up 1.6% to highest close in 6 weeks ahead of RBI policy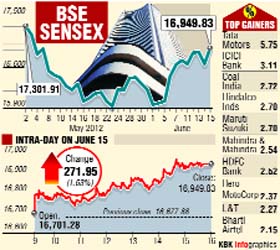 Mumbai, June 15
The Bombay Stock Exchange Sensex rose on Friday to its highest close in six weeks as banks gained on hopes for aggressive monetary easing at home, and by hopes major central banks would work to contain any global turmoil from Greek elections.
Domestic stocks have rallied this month on hopes the Reserve Bank of India's will cut interest rates by at least 25 basis points on Monday. Some investors also see a joint cut in the cash reserve ratio, or the amount of funds lenders must park with the central bank.
Greek elections are on Sunday, adding to the potential risk, though at least sentiment was boosted on reports that central banks of major economies are ready to provide liquidity if elections result dent global markets.
"Any adverse news flow in Greek result, or any deviation what is expected on the policy front will trigger higher volatility in markets," said Kaushik Dani a fund manager at Peerless Mutual Fund, referring to RBI policy.
"If currency stabilises around 55 levels and if global commodities continue to soften then definitely it will be good news for our economy," he said, adding it would offset concerns about inflation.
The 30-share BSE index rose 1.63% to 16,949.83 points, posting its highest close since May 3 and adding 1.4% for the week. The broader 50-share NSE index advanced 1.67 percent to 5,139.05 points. Shares have rallied since the country posted its weakest growth in nine years in the January-March quarter, according to data released on May 31, raising expectations the RBI would need to switch its focus from inflation to growth.
Data this week showed India's wholesale price index inflation accelerated to 7.55%, which has put into question how aggressive the RBI can afford to be in easing rates. But the tamer 4.8% core inflation has left expectations for at least a 25 bps rate cut intact.
The BSE index has gained 4.5% this month, well outperforming the 1.9% gain in the MSCI Asia-Pacific index excluding Japan.
Banking shares, as measured by the NSE banking index, rose 2.3 percent on Friday and have gained 6.6 percent so far this month. ICICI Bank rose 3.3%, while HDFC Bank advanced 2.5%.
Other interest rate-sensitive stocks also rose. Tata Motors gained 6%, helped as well after its May global vehicle sales rose a stronger-than-expected 12% from a year earlier. — Reuters