Finally, jails dept sends proposal for promotion
Patiala, June 15
After a delay of almost eight years, the Punjab Jails Department has finally forwarded a proposal to the state government for promotion of officers in the Grade-I category. The proposal, once cleared, would pave the way for many officers to the rank of Jail Superintendent. A couple of years ago, many newly recruited officers had refused to join the department sighting poor promotions.
Power cuts leave people high and dry
Patiala, June 15
With many cities in the state facing hours long unscheduled power cuts, the tall claims of the Punjab Power Corporation to provide uninterrupted power supply to all categories of electricity consumers during the summer season have fallen flat. Not only the domestic sector, but also agricultural pumpset (AP) consumers are not getting eight-hour power as assured. Besides, the domestic power supply in villages has been badly affected.
Four months on, rural doctors await salaries
Patiala, June 15
Even after a year of regularisation of their services, the rural medical officers in the state have not received their salaries for the past four months. In some districts, including Jalandhar, they have not received their salaries since December 2011.
No gurdwaras on caste lines, warns Takht
Amritsar, June 15
The Sikh high priests recently directed the community not to raise gurdwaras on the basis of caste as it would create a divide in the Sikh community. They warned that strict action would be initiated against those violating this edict of the Akal Takht.
Youth Cong to hold protest on June 20
Chandigarh, June 15
The Punjab Youth Congress today announced that it would hold a protest in Amritsar on June 20 and subsequently in the rest of the 12 parliamentary constituencies to protest against the SGPC decision to honour Balwant Singh Rajoana, convicted in the Beant Singh assassination case.
Vested interests trying to create rift: BJP
Chandigarh, June 15
The BJP general secretary, Manjit Singh Rai, denying differences with its coalition partner (SAD) on the Amritsar Mayor issue, said here yesterday: "Certain vested interests are trying to create a divide but will not succeed. It is certain that as per the pre-poll pact with the SAD, the Mayor in Amritsar and Jalandhar will be from the BJP and in Ludhiana and Patiala the SAD".


Two years on, shelter home awaits govt aid
Jalandhar, June 15
Pushpa Gujral Nari Niketan, which provides shelter to abandoned kids, has not received any financial aid from the state government for the past two years. The chief executive officer (CEO) of the shelter home, Col SS Shoker (retd), told The Tribune that the management had sent a letter to the Social Security and Women & Child Development Department last year, requesting it to provide Rs 10 lakh as financial assistant to the shelter home for its day-to-day functioning.
For 'path' at Dukhbhanjani Beri, wait till 2020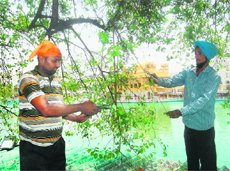 Amritsar, June 15
If you are planning to book an "akhand path" at Dukhbhanjani Ber in the Golden Temple complex here, you will have to wait for another eight years as bookings for the same have already been made till 2020.




Dukhbhanjani Beri being pruned at the Golden Temple on Friday. Photo: Vishal Kumar

Withdraw taxes on petrol, diesel: CPM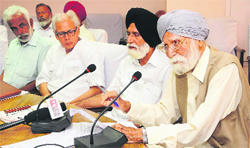 Chandigarh, June 15
The Communist Party of India (Marxist) today demanded immediate withdrawal of all taxes, Central as well as state, imposed on petrol and diesel to give relief to the common man and 15-hour power supply to Punjab farmers during the paddy transplantation season.

MCPI general secretary Jagjit Singh Lyallpuri addresses mediapersons in Chandigarh on Friday. Tribune photo: Parvesh Chauhan

3,000 state brick-kilns face closure
Ludhiana, June 13
3,000 brick-kilns in Punjab are on the verge of being shut down with a notification by the Ministry of Environment and Forestry making environment clearance a must for these units for mining operations on less than five hectares.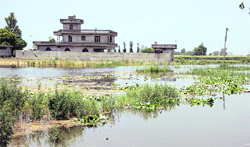 Breach in Bist Doab Canal
Gakhlan (Jalandhar), June 15
Water from the Bist Doab Canal inundated 10 acres of agricultural land in Gakhlan village this morning following a 20-ft breach in the Bist Doab Canal. The canal was clogged with debris and a thick growth of the water hyacinth at the breach site. This means the canal has not been cleaned since a long time.

Flooded fields at Jalandhar's Gakhlan village. Tribune photo
Raging blaze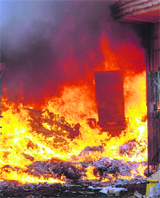 A fire engulfs a plastic scrap godown at Rajpura on Friday morning. Photo: JS Virdi
Five killed in Moga accident
Moga, June 15
Three women and two children, including a newly born baby, were killed in an accident when the Indigo car in which they were travelling crashed into a roadside tree on the Ferozepur-Moga national highway, near Ghal Kalan village, this evening.
Ropeway project
Chandigarh, June 15
Punjab and Haryana today cleared the decks for the Rs100 crore Anandpur Sahib-Naina Devi ropeway.The decision was taken at a meeting between Chief Secretary Rakesh Singh and his Himachal Pardesh counterpart Sudripta Roy in Shimla today.
Patiala MC meets revenue target, gets appreciation
Patiala, June 15
The Patiala Municipal Corporation has got accolades from the State Department of Local Government for its efforts in increasing revenue and achieving the budgetary target for the financial year 2011-12.
Teachers to gherao CM's residence on June 27
Patiala, June 15
Unable to get an appointment with Punjab Chief Minister Parkash Singh Badal for the past two years, 7654 Sanjha Front Teacher Union will gherao the residence of the Chief Minister in protest against non-regularisation of their services on June 27.
Five Indian prisoners repatriated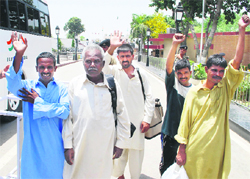 Amritsar, June 15
Five Indian prisoners, including a spy, were repatriated by the Pakistan authorities through the Attari-Wagah joint check post, near here, today. They were languishing in Kot Lakhpat Jail, Lahore, and returned after completing their jail term ranging from five to 10 years.



Freed Indian prisoners at the Attari-Wagah joint check post after their repatriation from Pakistan on Friday. Photo: Vishal Kumar

Paper mill fire yet to be extinguished
Amritsar: The fire at Khanna Paper Mill is still to be doused. Firefighters were able to reach the interior portions of the affected area today.The authorities have pressed JCBs into service to lift the burnt paper. Deputy Commissioner Rajat Aggarwal said: "Fire in 70 per cent of the area has been extinguished, but it will take us another 48 hours before we end the operation."
Charge sheet filed
Ludhiana, June 15
The police today filed a 374-page charge sheet in the court of Judicial Magistrate Amarinder Pal Singh against six persons for killing Moga DSP Balraj Singh Gill (46) and Monica Kapila (38), on Feburary 1 last year.



Man held for killing daughter, boyfriend
Tarn Taran, June 15
In an alleged case of honour killing, a girl and her boyfriend were strangled to death by family members of the girl at Booh village and their bodies buried near a bank of the Beas river.
Migrant killed in Moga village
Moga, June 15
A migrant labourer, hailing from Bihar, was murdered and three others were injured by a Dalit youth with a sharp-edged weapon at Bhinder Kalan village under Dharamkot sub-division in the district today.