Cong gives rebels a day more to relent
Chandigarh, June 4
The Punjab Congress today put off action against rebel candidates despite earlier having given them time till today to withdraw from the fray after attempts to bring them back into the party fold failed. Congress vice-presidents who are the incharge of committees formed for selecting candidates in all four municipal corporations that go to the polls on June 10 are making last-ditch efforts to rein in the rebels.
11 defiant in Ludhiana
Ludhiana, June 4
As many as 11 Congressmen continue to be in a defiant mood in Ludhiana.
Congress frustrated by infighting, says Sukhbir
Chandigarh, June 4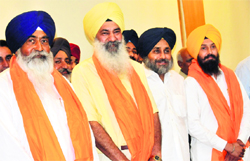 The SAD has predicted a clean sweep for its party nominees as also of the BJP in the June 7 and June 10 civic elections. SAD president Sukhbir Singh Badal said the feedback he was getting from the ground was most Congress candidates were being forced by the party to contests even though the wave was in favour of the SAD-BJP alliance.

Deputy CM Sukhbir Badal welcomes SAD (Amritsar) leaders into the Akali Dal in Chandigarh. Tribune photo: Pradeep Tewari

SAD (Delhi) leaders join Shiromani Akali Dal (B)
Ludhiana, June 4
The Shiromani Akali Dal today got a shot in the arm when the former Punjab youth wing president of the SAD (Delhi) along with his supporters joined the party.


Operation Bluestar Anniversary tomorrow
Sikh bodies may spar over memorial's design
Amritsar, June 4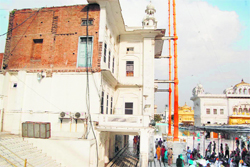 With the SGPC finally going ahead with its plan to build Operation Bluestar Memorial by starting its 'kar sewa' on May 20, the 28th anniversary of the Army operation on June 6 will be a different affair this time as for the past several years this demand had been hogging the limelight on the occasion. The SGPC today began an "akhand path" at the Akal Takht, the 'bhog' ceremony of which will take place on June 6.
The site of the Operation Bluestar Memorial in Amritsar.
Project to provide urban amenities in rural areas
Chandigarh, June 4
Chief Minister Parkash Singh Badal today gave in-principle approval to implement the Provision of Urban Amenities in Rural Areas (PURA) Scheme in a cluster of villages having a population of about 25,000 to 40,000.
Smart cards to replace coupons in Punjab jails
Ludhiana, June 4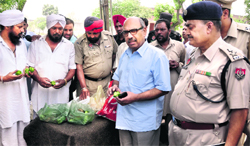 The jail department has decided to replace coupons issued to inmates with smart cards for purchasing grocery items. Inmates were given coupons in exchange of money for purchasing small items in jail.




DGP (Prisons) Shashi Kant in Ludhiana. Tribune photo: Himanshu Mahajan
Jail official alleges threat to her kids


Ludhiana, June 4
The superintendent of a women's jail has alleged that her children are facing threat to their lives from wanted criminal Amit Kamboj. She requested the authorities to shift an inmate allegedly associated with the criminal. Women's Jail Superintendent Sanehjot Kaur told DGP (Prison) Shashi Kant that she received the threat call yesterday afternoon and the caller identified himself as Amit Kamboj.
Sanehjot Kaur
Police clean chit to Akali leader Kang
Chandigarh, June 4
Nishan Singh was never targeted by Manjinder Singh Kang. Twenty years after alleged militant Nishan Singh of Amritsar district was killed, the Punjab Police has given a clean chit to Akali leader Manjinder Singh Kang. He had claimed killing Nishan Singh during an interview on a television channel.
Scholars deliberate on Manto's life
Malerkotla, June 4
A seminar on the life of Saadat Hasan Manto, a renowned Urdu fiction and short stories writer, was organised by the Punjab Urdu Academy at here today.
Dasuya MLA Sahi cremated
Hoshiarpur, June 4
Chief Parliamentary Secretary and Dasuya MLA Amarjit Singh Sahi, who passed away yesterday, was cremated with state honours at his native town Dasuya today. His son Harsimrat Singh lit the pyre. A police contingent reversed their arms and fired in the air to give last salute to Sahi.


NRI drug ring
Kingpin's girlfriend among three held
Jalandhar, June 4
The Rs 200-crore "ice" racket took a new turn with the arrest of a Delhi-based woman IT professional and two other women who allegedly helped the gang of NRI drug peddlers, led by Ranjit Singh Raja, to smoothly carry out the trade. The arrested IT professional is Raja's girlfriend.
Two drug peddlers arrested
Patiala, June 4
The Nabha Sadar police today arrested two persons on the charge of supplying intoxicating powder to youth in and around the town. The arrested accused used to deliver the contraband to their clients after taking down the order on phone.
3 Patiala SHOs under lens
Patiala, June 4
Three Station House Officers in Patiala have been accused by as many Congress candidates contesting the June 10 civic body elections of threatening them with dire consequences in case they did not pull out of the race. The police officials are inspectors Karan Sher Singh (Tripri police station SHO), Rajesh Kumar (Civil Lines SHO) and Daljit Singh Virk (Kotwali SHO).

Union Minister Preneet Kaur speaks to mediapersons in Patiala. Tribune photo: Rajesh Sachar