no respite from scorching heat
Cuts, water paucity make summer harsher
Prabhjot Singh
Tribune News Service
Chandigarh, June 1
Unabated heat wave conditions continue to torment the people in the state, their woes being compounded by power cuts and shortage of potable water. The worst part is that meteorologists don't see any immediate respite from the heat, in perhaps one of the harshest summers in the last decade.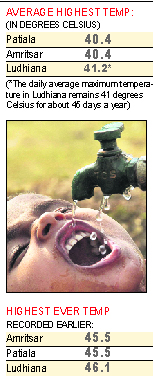 However, there is a forecast for dust or thunderstorms in the next 24 to 48 hours, which may slightly bring down day temperature that has been hovering between 41 and 47 degrees Celsius in the region.
Among the areas that have been facing the shortage of potable water are Ropar, Nawanshahr, Hoshiarpur, Ludhiana, Patiala, Ferozepur, Moga and Muktsar.
Churu in Rajasthan continues to be the hottest place in the country with the day temperature touching 48.7 degrees Celsius. In Punjab, the maximum temperature was well above the average 40.4 degrees Celsius.
Meteorologists maintain that heat wave conditions may persist for a while as there was no noticeable upper cyclonic circulation that brings rain. Though the heat has hit normal life at most places, farm operations, including sowing of cotton in Malwa, remain unaffected. Farmers have either successfully sown cotton or are at the finish line.
Vegetable growers in the state, too, have little or nothing to worry because of the rising temperature. They only need shallow and not flood irrigation for their crops, said Director of Agriculture Mangal Singh Sandhu.
Sandhu said the weather had been good for crops so far. "Paddy transplantation will officially start from June 10 while 80 per cent of the cotton sowing in Malwa has been successfully completed," he said. Extreme heat wave conditions, however, may not be good for both livestock and poultry, agricultural experts say.
(Inputs by PK Jaiswar in Amritsar)
Heat stroke toll six in Amritsar
Amritsar: Three more deaths were reported due to heath stroke in Amritsar today, taking the toll in the holy city and its adjoining areas to six during this summer season. A woman pilgrim was found dead at the Golden Temple yesterday whereas the body of another victim was found from Bhushanpura area. A resident of Abadi Guru Nanak Nagar, too, had succumbed to heat stroke a few days ago. Another victim was identified as Udaybhan Singh of Paschim Puri in New Delhi. His body was found in the area near India Gate police post. One more heat-related death was reported at Sathiala village in Beas area. Co-villagers claimed that he was moving in the sun when he suddenly collapsed. He was rushed to a hospital, but doctors declared him brought dead. — TNS
During south-west monsoon...
Fazilka receives less than 250 mm of rainfall
Gurdaspur, Hoshiarpur, Ropar and eastern parts of Patiala receive more than 750 mm of rainfall
Areas closer to hills receive 1,000 mm of rainfall
The area that divides Punjab into two equal zones and runs in north-west to south-east direction receives 500 mm of rainfall