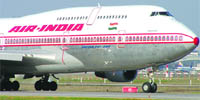 Flight to Toronto suspended
Amritsar, June 11
The Amritsar-Delhi-Toronto flight has been suspended temporarily because of the strike by pilots of national carrier Air-India. There are also no signs that it may be resumed before July 31.
Two Punsup officials, rice miller booked
Faridkot, June 11
The Vigilance Bureau has booked Punsup district manager Harminder Singh and inspector Gamdoor Singh and rice miller Ashok Aran of Kotkapura for allegedly pilfering paddy worth Rs 2.13 crore.
news analysis


Re-poll triggers rift between SAD, BJP
Chandigarh, June 11
The Punjab State Election Commission has ordered a re-poll in Patiala's Ward 1. Incidents of clashes, stone-pelting and damage to EVMs were reported from this ward yesterday. The commission has also ordered a re-poll in eight polling stations of Ward 3 of the Amritsar Municipal Corporation after allegations that the EVMs had been hacked, using a laptop.
Congress leader booked in Patiala
Patiala, June 11
The Patiala police today registered three FIRs in to yesterday's violence in the municipal corporation elections.

Poor results land Capt in tight spot
New Delhi, June 11
While the Congress hit out at the SAD-BJP coalition government for allegedly unleashing a reign of terror in last week's Punjab civic polls, the results could spell fresh trouble for party's state unit chief Capt Amarinder Singh.
Political woes for Dhanda continue
Ludhiana, June 11
It has been a series of disappointments for senior SAD leader Harish Rai Dhanda. From an MLA to being nominated as Punjab Public Service Commission (PPSC) Chairman only to be unsaddled by the court and now losing the MC elections, politics has been full of disappointments for him. Dhanda lost from Ward No. 28 to Congress candidate Maharaj Singh Raji by around 300 votes. Had he won the elections, he would have been the favoured choice for the post of Ludhiana Mayor.



Pre-monsoon showers bring cheer to farmers
Muktsar, June 11
Pre-monsoon showers that lashed the region twice this week have brought cheer to the farmers in the district, who were earlier worried about their crops following persistent heat wave.
Amritsar boy tops PSEB Class X exam
Mohali, June 11
Mukesh Kumar Verma of Madhav Vidya Niketan Senior Secondary School in Amritsar has topped the Punjab School Education Board Class X examination, the results of which were declared today.



Mukesh Verma's family members and friends celebrate in Amritsar. Photo: Vishal Kumar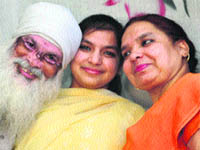 Ludhiana's Sarita is second
Ludhiana, June 11
Daughter of a mechanic, Sarita has secured second rank in the Class X examinations. A student of RS Model Senior Secondary School, the teenager feels inspired by former president of India APJ Abdul Kalam. An all-rounder, Sarita loves to play musical instruments, including harmonium and tabla, and is a keen softball player.

Sarita with her parents. Tribune photo: Himanshu Mahajan

Controversial Muni killed
Abohar, June 11
Suraj Muni, who had allegedly thrown a copy of Guru Granth Sahib into a canal on the Malout-Dabwali road a few months ago triggering protests by Sikhs, was murdered today.



Govt nod must to exchange shamlat land: HC
Chandigarh, June 11
In a significant judgment, the Punjab and Haryana High Court has ruled that prior approval of the state government is required if the panchayat decides to exchange land in shamlat deh with any other land.
5 held for death of former sarpanch
Ludhiana, June 11
A day after the Municipal Corporation elections, Independent candidate from Ward 66 Sohan Singh Gogga and 27 of his supporters were booked in an attempt to murder case in the firing incident at Partap Chowk.