Independent machinery is needed under the Commission for Protection of Child Rights Act, 2005, to ensure children's safety, while the process of criminal law can move in the mainstream
State panels on child rights a must
Anil Malhotra
Children are the future, but that future is not safe if we don't protect them. The condition of inmates of child protection homes exposed in Haryana recently shocked the conscience of the nation. Physical, mental and sexual harassment has been rampant in several such private institutions.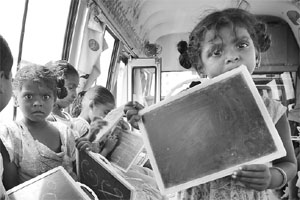 National and state commissions for protection of child rights under the CPCRA also have the jurisdiction to ensure implementation of the Right to Education Act.
Offences of molestation, rape, wrongful confinement, criminal intimidation and immoral trafficking have been registered against these protection houses, where caregivers had turned into predators.
A plethora of laws exist to protect child rights. The Protection of Children from Sexual Offences Bill, 2011, is also on its way to become a deterrent law. However, enacting laws is not the solution. Sensitisation regarding child rights, appointing ombudsmen to protect children and, above all, providing special care to their privileges is the need. Indifference, tardiness and insensitivity in protection of children must end. Callous treatment of children should be penalised by socially ostracising child offenders, as law alone is not the remedy.
A wholesome law
India participated in the United Nations (UN) General Assembly Summit in 1990, which adopted a Declaration on Survival, Protection and Development of Children, and acceded to the Convention on the Rights of the Child (CRC) on the December 11, 1992. The CRC is an international treaty that makes it incumbent upon the signatory States to take all necessary steps to protect children's rights enumerated in the Convention.
In order to ensure protection of the rights of children, one of the recent initiatives that the government has taken is the adoption of the National Charter for Children, 2003. The UN General Assembly Special Session on Children held in May 2002 adopted an Outcome Document titled "A World Fit for Children", containing the goals, objectives, strategies and activities to be undertaken by the member countries for the current decade. Accordingly, the Commission for Protection of Child Rights Act (CPCRA), 2005, was enacted by Parliament to provide teeth and implement the UN Convention. This is an Act to provide for the constitution of a national commission and state commissions for protection of child rights and children's courts, which would facilitate speedy trial of offences against children or of violation of child rights and related matters.
Starting point
In light of the CPCRA, it is incumbent on governments of all states and UTs of the country to take necessary steps to protect children's rights enumerated in the CRC. Sections 13 and 24 of the CPCRA provide ample powers both to the national and state commissions for taking necessary steps and recommending appropriate remedial measures with regard to issues pertaining to all children in distress. These can be enforced in all states by setting up state commissions for protection of child rights under Section 17 of the CPCRA in their jurisdiction. Thus, as a starting point, states need to set up the commissions so that the entire machinery can be galvanised in this direction.
Any contention by any state or UT for not setting up such a commission should not be entertained, especially in view of the sensitivity and magnitude of the problems relating to children in difficulty.
To complete the setting up of a fully operational system under the CPCRA, children's courts can be constituted under Section 25 of the Act and Special Public Prosecutors can be appointed under Section 26. Thus, independent of the other statutory enactments dealing with criminal laws or other penal provisions in general, the CPCRA can be very effectively utilised for individually setting up a statutory system for enforcement of child rights specifically. This will create an exclusive forum for in-camera proceedings for redress of children's rights issues and provide timely relief.
The issues pertaining to missing children or children in distress can be exclusively looked into by the respective state commissions in view of the powers vested in them under Sections 13 and 24 of the CPCRA. If a state commission concerned suo motu or upon inquiry into complaints came to the conclusion that there was a violation of child rights, non-implementation of laws relating to children or non-compliance of instructions pertaining to the welfare of children, it can under Section 15 of the CPCRA approach the Supreme Court or high court for necessary orders. A commission can also recommend to the government concerned grant of interim relief. Thus, any individual case of children in distress can be immediately remedied by a commission under the law.
A state commission has to have six members — out of which at least two should be women — specialising in child health, welfare or development, juvenile justice, child psychology, laws related to children or having knowledge of children in distress. The commissions are vastly empowered to examine all factors affecting children — including trafficking, torture, exploitation, pornography and prostitution — and recommend appropriate remedial measures. The commissions have mandatory powers to forward cases to any magistrate. Independently, a commission upon inquiry can recommend initiation of proceedings for prosecution or any other action deemed necessary. The panels can thus go a long way towards checking cases of trafficking of children, particularly for exploitation, begging, prostitution and pornography. It would also be an attempt towards eliminating all organised child mafias.
Specialists needed
A conjoint reading of the remedies under the CPCRA indicates that an altogether separate and independent machinery can be set into motion under its provisions to specifically look into issues related to child rights, while the process of criminal law can move in the mainstream.
Child abuse can be curbed with a heavy hand only if children's issues are dealt with under separate parameters under the watchful eye of child specialists, i.e., qualified members of the State Commission for Protection of Child Rights, besides child welfare or inspection committees and boards. Trained and experienced persons, sensitive to child rights, are required to handle their issues.
Once child offenders are apprehended, speedy trial of the offences can be ensured in children's courts, which can be set up under the CPCRA.
A vigilant commission — both as a watchdog and investigator — can play a significant role in helping children in distress. Children in trouble need to be handled by child specialists, and not in the general stream, so that necessary time and energy may be devoted.
Not police alone
Children go missing, are abused or are maltreated in silence. In view of this, the police or investigating authorities should not be solely responsible for pursuing the reported cases of children in distress. Rather, public bodies, NGOs, and state legal services authorities should be made part of the support services, which would help speed up the investigation process.
If the authorities and public bodies at various levels — village, district, state and the Centre — work together to identify children in distress, it will be possible to efficiently investigate and locate children in difficulty, besides preventing future instances of abuse and abduction.
Considering that India is a large nation geographically, with vast territories housing a multi-cultural society and a population of over 1.1 billion people, resolving such critical issues is not easy. However, keeping in view that children are a highly vulnerable section of society, every effort should be made to devise methods to protect them.

FOUR ACTS DESIGNED TO PROTECT CHILDREN
A perusal of the various Acts to protect children would show it is best that every state set up a panel under the Commission for Protection of Child Rights Act (CPCRA), 2005, to look into matters regarding child rights not visualised in other laws. These panels can utilise the powers of state boards, authorities and committees for seeking effective implementation of the four Acts compared below.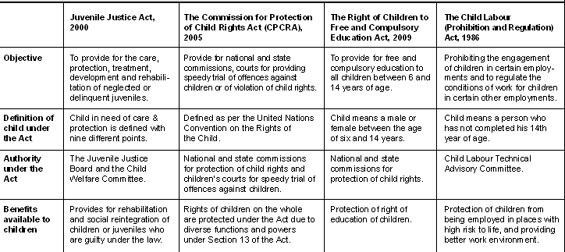 STORY THUS FAR
The only states that have set up commissions to protect child rights:
Delhi, Goa, Sikkim, Maharashtra, Karnataka, Madhya Pradesh, Rajasthan and Assam.
Punjab, Haryana and Chandigarh need to set up district child welfare committees, besides state and district inspection committees, as required under Sections 29 and 35 of the Juvenile Justice (Care and Protection of Children) Act, 2000. Selection committees for these panels have to be headed by a retired high court judge. Having ex-officio members of such committees is pointless as government officials have no inclination or time for child-related issues.
The writer is a lawyer specialising in child rights and family law issues. E-mail: anilmalhotra1960@gmail.com