M A I N N E W S
Badal not in race for post of V-P
Naveen S Garewal/TNS
Chandigarh, June 17
Punjab Chief Minister Parkash Singh Badal is not in the race for the post of the Vice President. Though he has never been formally asked to be the vice presidential nominee of the National Democratic Alliance, the Punjab Chief Minister has made it clear that he was not keen to move out of the state.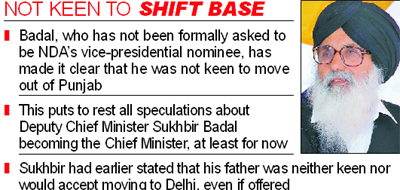 This puts to rest all speculations about Deputy Chief Minister Sukhbir Singh Badal becoming the Chief Minister, at least for now. Sukhbir had made it clear before leaving for a 10-day overseas tour last week that his father was neither keen nor would accept moving to Delhi, even if offered.
SAD spokesperson Dr Daljeet Singh Cheema said the Chief Minister had told party colleagues and well- wishers that he was not interested to shift base to Delhi. A similar statement was made by SADís Rajya Sabha MP Naresh Gujaral, who said Badal Senior had no ambition to occupy the post of the Vice President.
However, party insiders say the SAD president (Sukhbir) was open to the idea. But as the NDA does not have the requisite numbers to ensure election of its nominee, he discussed the issue with his father and finally a decision was taken that Badal would not accept the offer. ďThe NDA partners have held no meeting so far to decide their presidential or vice-presidential nominee. Itís the media, which is proposing the names and not the NDA leadership. And even if Badal Sahibís name has come up for the post of Vice President, heís not keen to contest the poll,Ē Sukhbir had said.
A senior SAD leader said Parkash Singh Badal is one of the tallest leaders in Indian politics and his stature was higher than that of the Vice President.
Often a comparison is drawn between Badal and former three-time Rajasthan Chief Minister Bhairon Singh Shekhawat, who was a political contemporary and friend of the Punjab CM. Shekhawat was elected Vice President in 2002.
He remained in the post till 2007. He resigned after loosing the Presidential poll to Pratibha Patil.
Not keen to shift base
Badal, who has not been formally asked to be NDAís vice-presidential nominee, has made it clear that he was not keen to move out of Punjab
This puts to rest all speculations about Deputy Chief Minister Sukhbir Badal becoming the Chief Minister, at least for now
Sukhbir had earlier stated that his father was neither keen nor would accept moving to Delhi, even if offered