M A I N N E W S
Water War: Hooda, Dikshit meet today
Haryana claims it is already giving Delhi double its agreed share
Geetanjali Gayatri/TNS
Chandigarh, June 17
If Delhi wants to muddy the waters this sweltering summer and pass the buck despite getting more than double its share of agreed water supply from Haryana, the state is unwilling to be the national capital's punching bag.
At least that seems the intention of Haryana Chief Minister Bhupinder Singh Hooda, who will be meeting Delhi Chief Minister Sheila Dikshit to resolve the water issues which, sources maintain, happen to be Delhi's own doing, created due to its own "mismanagement, inefficiency and overdrawal".
Tomorrow's meeting comes after Hooda has already shot off a "point-for-point" exhaustive reply to a letter from Dikshit, stating that her water-facts were incorrect.
In his letter, Hooda has referred to completion of the Carrier Link Channel (CLC), set in motion only after he took over in 2005 and constructed as per a MoU between Delhi and Haryana in 1993, which Delhi has so far avoided commissioning.
While stating that this channel, if commissioned, would provide uninterrupted and regular supply to Delhi, Hooda has also mentioned that despite all provocation, Haryana would continue to give Delhi more than its legitimate supply like it has done in the past. Referring to Delhi increasing its pumping capacity at Wazirabad, the letter, sources said, also mentions non-payment by Delhi for construction of the channel and other pending issues.
Chief Secretary-level talks between Haryana and Delhi were held last week to "clear the air" on the water crisis in Delhi despite which the state continues to flog Haryana for a shortfall in supply, officials of the Haryana Irrigation Department said.
As against 610 cusecs of water supply to Delhi, Haryana is supplying nearly 1,200-1,300 cusecs every day, which means that Delhi is getting an additional 600 to 700 cusecs.
"Delhi gets 330 cusecs from Yamuna and 371 cusecs from Bhakra. Of a total of 700 cusecs, after deduction of 13 per cent losses, they are supposed to get 610 cusecs while we supply nearly 1,300 cusecs," Haryana Superintending Engineer Rajiv Verma explained.
Bound by a court order to keep the Wazirabad pond filled, Haryana is sore about the fact that Delhi conveniently replaced its eight 21 MGD capacity pumps there with those having a variable capacity of 31 to 45 MGD, thereby doubling the lifting of water.
"This is a crucial issue. The court had in 1996 directed us to keep the pond filled. At that time, they had 21 MGD capacity pumps. We realised something was amiss only when the water started falling by one foot overnight for days together. Investigations revealed that they had replaced the pumps while keeping us and the Central authorities in the dark," Verma said.
Haryana Financial Commissioner and Principal Secretary, Irrigation, KK Jalan said that the state was keen on commissioning of the Carrier Link Channel, Delhi was shying away from granting permission.
"Delhi has made an unauthorised cut and doesn't want the channel commissioned. Besides, they have not contributed a single penny towards its construction. If we go by the MoU, Delhi was to bear the entire cost of Rs 650 crore for construction of the channel. However, the Chief Minister, in his magnanimity, agreed to pay Rs 150 crore while Delhi has still not paid up the remaining Rs 500 crore. Still, they are getting double the supply. Then, where is the issue and how are we to blame?" said Jalan.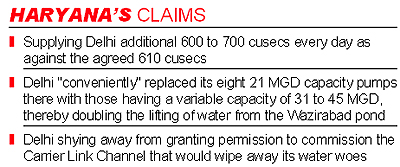 PMO asks Delhi, Haryana to resolve water issue
Himani Chandel & Shaurya Karanbir Gurung
Tribune News Service
New Delhi, June 17
There seems to be no end to the blame game between politicos of Delhi and Haryana over the issue of water shortage in the National Capital.
After the PMO directive to the two governments to immediately find an amicable solution, Principal Secretary, Haryana Chief Minister, Chhatar Singh today held a meeting with Principal Secretary, Prime Minister, Pulok Chatterjee on the issue. The Chief Minister of the two states are scheduled to meet tomorrow.
Haryana has been asserting that there has been no reduction in the water supply to Delhi from the disputed Munak canal in the state and maintained that it is releasing "double the legitimate share of Delhi".
KK Jalan, Principal Secretary of the Haryana Irrigation Department, said, "We checked with the chairman of the Upper Yamuna River Board, who is also a member of the Ministry of Water Resources and the Central Water Commission.
He said Haryana was making adequate water supply to Delhi."
He said Delhi was receiving more than 50 per cent of its water supply from the Yamuna, when it has been allotted only 6 per cent. "Delhi has internal mismanagement issues and is blaming Haryana for the same," he added.
On the other side, the Delhi Government has been retreating that Haryana has reduced the raw water supply, without finalising the share of Delhi in water savings from the new Munak-Haiderpur concrete channel.
"The level of water at Wazirabad is 672 feet against 674.5 normal level. The fall in water level resulted in drastic curtailment in water supply to the city. However, the level at the Haiderpur plant has been down by 15 MGD," said Delhi Government spokesperson.
The officials said every single feet reduction in the water level at these plants reduced generation by 20 to 30 MGD and also affected the overall functioning and pumping supply.
It may be recalled that the construction of the channel has been fully funded by the Delhi Government as per an MoU signed between the two States in 1993. The Delhi government has paid Rs 414 crore to Haryana till date.
"The construction has already benefited Haryana by savings of around 120 to 130 MGD raw water that earlier used to be lost in the 'kutcha' canal and in the Yamuna by seepage and evaporation. But Haryana has not shared any part of the savings with Delhi.