M A I N N E W S
Rationing in Shimla, supply on alternate days
Pratibha Chauhan/TNS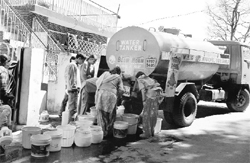 People queue up to get water from a tanker in Shimla on Sunday. Photo: Amit Kanwar

Shimla, June 17
Planning a trip to the Queen of Hills? Here's an advisory: Stock up on water.

The local Municipal Corporation (MC) has formally introduced water rationing. That means various localities will get their supply on alternate days on a rotation basis.

The MC authorities said the Irrigation and Public Health (IPH) department has informed them the water level in the two main sources of Ashwani Khud and Gumma has declined substantially. The power shortage has made it worse as pumping out water has been severely affected.

Corporation commissioner MP Sood said the IPH department yesterday supplied about 36 MLD (million liters daily) water to the MC, hardly enough for a town of about 2 lakh people. The supply is being made through tankers in the worst-hit areas.

With the mercury soaring in the plains, there has been a huge influx of tourists to the state, especially Shimla. Almost all hotels are packed to their capacity.

"It is a major problem. We are forced to engage tankers, which are not easily available," says Harnam Kukreja, president, Shimla Hotels and Restaurant Association.

Despite the 'Queen of Hills' being flaunted as an international tourist destination, not much attention has been done to augment the water supply. During the tourist season, several localities go without water for up to five days at a stretch, affecting tourism adversely. The worst affected areas include Chakkar, Boileauganj, Summer Hill, Lakkar Bazaar and Sanjauli.

Not left with many alternatives, the MC has tried to plug leakages as a lot of water is wasted during supply. It has put in place a Rs 80-crore scheme to replace the existing pipelines. However, that's just water saving, and not adding to the woefully inadequate supply.