Having contributed thirty-five hundred jingles in eleven languages, seasoned singer KK opines that it is the lyrics that make a song and not really the music
When melody meets the master
For any father, the joy of watching his son do well is perhaps a feeling of immense pride and that is exactly what happened with KK when he recorded with his son recently. "He wrapped it up in 15 minutes flat. It feels nice when children tend to stride ahead," he says. In Chandigarh for Season 2 of the Kingfisher Strong Indi-beats at the Parade Ground, KK shares some notes with us.
What happens when a Jatt meets a Juliet? Let's find it out from actors Diljit Dosanjh and Neeru Bajwa, in Ludhiana for the promotion of their upcoming movie Jatt and Juliet…
Opposites attract
There is a Jatt — a naughty, roguish yet lovable desi guy - and there is a Juliet — a modern Punjabi kudi with loads of sophistication. And the hit pair of Jihne Mera Dil Luteya, actors Diljit Dosanjh and Neeru Bajwa is back with a bang. This time around the venture is called Jatt and Juliet, for whose promotion they visited Ludhiana recently.
success mantra
The art of growing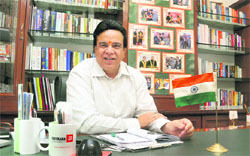 Life makes no promises except that it will be challenging — is the dictum that Ashok Chitkara lives by. The Chancellor of Chitkara University today, he started his journey alone, armed with just education, around three decades back. Working through the years, his yearning for learning and achieving has only grown stronger!
Education wise: Ashok Chitkara
The crusaders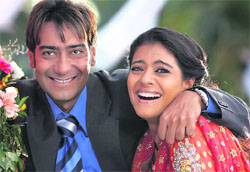 Bollywood star couple Ajay Devgn and Kajol will be seen together in a short film on female foeticide, being made as a part of the Maharashtra government's initiative to tackle the issue. Ajay and Kajol, who have a nine-year-old daughter, have associated themselves with the Maharashtra government's campaign against female foeticide and are making a film on the issue.

Pitching in: Ajay Devgn and Kajol

Proud to be a rowdy!
After a string of box-office failures, actor Akshay Kumar is again basking in the success of action flick Rowdy Rathore and the Bollywood star now says he wants to stick to the genre which brought him initial fame and recognition. Akshay began his acting career with action films like Khiladi, Waqt Humara Hai, Mohra, Suhaag, Elaan and Khiladiyo Ka Khiladi.
Playing safe: Akshay Kumar

I fear being typecast: Vishwajeet Pradhan
Actor Vishwajeet Pradhan has played the role of a cop a number of times, and he is set to be seen in the khaki uniform yet again in Soham Shah's Sher. However, he says he fears being typecast and so doesn't say yes to playing the character easily.

Cop calling: Vishwajeet Pradhan
The namesake


Bollywood diva Madhuri Dixit now has a star named after her shining in the sky. This was made possible by a group of the Dhak Dhak girl's fans. "Wanted to thank my fans for the honour. They had a star in the Orion constellation named after me," Madhuri tweeted. A group of 13 members of The Empress Fanpage met the actress recently on the sets of the dance reality show Jhalak Dikhhla Jaa, which she is judging, to present her the star certificate.

Three cheers: Madhuri Dixit

Meaty parts please: Sandhya
Actress Sandhya Mridul, who was last seen in Nishikanth Kamath's Force, says she looks forward to roles that make her feel responsible as an actor. "I look for meat in a part. I want responsibility as an actor," Sandhya, who has recently returned from a holiday in Hong Kong said.

Core strength: Sandhya Mridul

You've got votes
Will Smith was named the fittest dad in a Facebook poll conducted by Gold's Gym recently. Surprisingly, fit and trim footie star David Beckham came in at second place. Smith, 43, — currently staying in shape fighting aliens in Men in Black 3 — got the most votes in the poll.

Top notch: Will Smith

100 crore club is just a fad: Shahid Kapoor
Earning 100 crores at the box office has become a new benchmark for a film to be declared a hit in Bollywood, but actor Shahid Kapoor says it's just a trend and movies should not be judged solely based on this.

Wings of poesy: Shahid Kapoor
I'm fine with losing my money: Ashton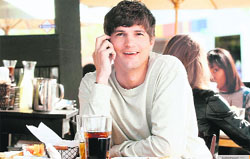 Two and A Half Men star Ashton Kutcher says he does not care if he loses money from the investments he has made in start-up businesses. The 34-year-old actor, who has recently invested a lot of cash into a portfolio of start-up technology companies, said his main motivation is to make people happy, reported a magazine.
No problem: Ashton Kutcher
Showers of blessing
Actress Uma Thurman, family and friends threw the third-time mother-to-be an intimate baby shower recently. The party was hosted by Thurman's half-sister Taya Thurman at her apartment, reported a magazine. "Taya threw a wonderful, sweet party -– it was exactly what you'd hope your baby shower would be," a source said.
Where there's a Will...
Rapper Will.i.am was pulled over by cops after driving a car without license plates. The Black Eyed Peas star was driving his custom-made car through Hollywood when he was stopped by the police, reported a publication.
Par Excellence
Create 'Lag'
One of the hallmarks of great players in any game is that they hit the ball 'late'. Top class cricketers , tennis players and golfers are considered to be 'in form' when they have the right timing. In most of these games the hands are always leading the bat/racket/club at impact which is what is considered hitting the ball 'late'.  For golfers this move is done by creating a lag of the club in the downswing. Casting is the opposite of lagging and leads to poorly timed shots and errors in direction, contact and trajectory.
High designs
Designer Shruti believes in dressing a complete personality
Designing dresses is not just putting everything 'latest' in the creations. For young designer, Shruti Singla, designing is equal to creating personalities. And when this is a job, one just can't take it easy. Sitting in her newly opened designer studio, Ruchi S in Panchkula, Shruti shares her little dream and passion, which has now become her profession as well.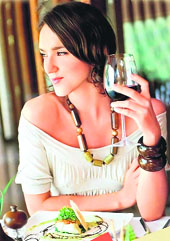 Win(e)some tips
Designer Shruti believes in dressing a complete personality
Wine is an alcoholic beverage made from fermented fruit juice, usually from grapes. The natural chemical balance of grapes lets them ferment without the addition of sugars, amino acids, enzymes, or other nutrients. Yeast consumes the sugars in the grapes and converts them into alcohol. Different varieties of grapes and strains of yeasts produce different types of wine.
tune in
Bang on
The music, at first, sounds like sticking your neck out in an industrial furnace. Heavy metal is not for the week hearted. The genre that did not got the respect it wanted but got the recognition it demanded. Also referred to as, metal, heavy metal is a sub genre of rock music that came to the fore only in the 1970s and largely in the US. The bands that came to be associated with heavy metal had a characteristic thick, massive sound, lots of loudness and overpowering guitar beats.
Best of the Orient
The Oriental Blossom, a Chinese specialty restaurant at Hotel Park Plaza, Sector 17, Chandigarh, offers genuine Oriental flavours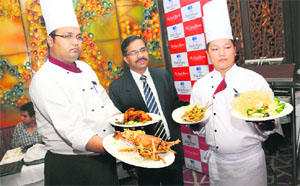 The heat is beating down and had it not been for something to divert your mind, it would have been impossible to cope up. And when the mind is diverted by newly opened The Oriental Blossom, a Chinese specialty restaurant at Hotel Park Plaza, in Sector 17, the heat takes a back seat. With Oriental music playing in the background, some interesting paintings and artifacts on the walls and a detailed oriental menu, the place sure spells luxury.
Chatter Box
Who will fit the bill?
Balaji Telefilms' is making a show with writer Saba Mumtaz called Tere Ishq Nachaye which will air on Zee TV soon. While Nishant Malkani was to do the show, now a newbie is being signed. The girl is an older actor so Aamna Shariff of Kahiin Toh Hoga fame and Prabhleen Sandhu seen in Zee TV's Aap Ki Antara are being considered.
Ready, steady, go….
Rakesh Paul aka Pratap of Rajshri Productions' Jhilmil Sitaaron Ka Aangan Hoga on Sahara One is a renowned Indian Television actor also known for his role in Woh Rehne Wali Mehlon Ki. He is an alumnus of the National School of Drama. This smart actor from Patna, who moved to tinsel town to be an actor is very soft spoken. He does justice to the character of Pratap, he plays on screen. Rakesh Paul in conversation with Life+Style.
The year ahead
If your birthday is June 19...
On your birthday, you will enjoy greater will power and self-confidence. You will have somewhat self-centered approach to life that may be in conflict with some of the other influences in your life. Nineteen is a loner number and you may experience feelings of being alone even if you are married. Health remains good. Money gains from unplanned sources brighten up your day.
Astro Turf
ARIES: Take proper care of your diet. Love life will be exciting. A friend of same sex may be helpful to you. Financial matters may cause you stress. Singles could be on the lookout for a partner.