Life jackets redundant at Sukhna
Chandigarh, June 18
Life jackets have become redundant at the Sukhna Lake. It is obvious that anybody can easily stand in the water, three feet deep, in the boating area of the cityís landmark and nobody will drown.
| | |
| --- | --- |
| Motorboats kept at the dry bed of the Sukhna Lake in Chandigarh on Monday. | Tourists boat without life jackets at the Sukhna Lake in Chandigarh on Monday. Tribune Photos: Manoj Mahajan |
Depleting water level in sukhna lake
UT Admn to conduct study
Chandigarh, June 18
Waking up from deep slumber, the UT Administration has now decided to conduct a study on how to bring maximum water from the Sukhna catchment area to the Sukhna Lake.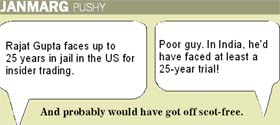 Former Pinjore councillor held
Panchkula, June 18
Vigilance nabbed former councillor of the Pinjore Municipal Council (now corporation), Suman Bhandar, in a ~1.17-crore scam last night. She was produced in the district court here today, which remanded her to judicial custody.
Shatabdi delayed by over an hour
Chandigarh, June 18
Passengers of the morning Shatabdi were harassed as the train was delayed by over an hour-and-a-half after an executive coach developed a technical snag in New Delhi.


Respite in sight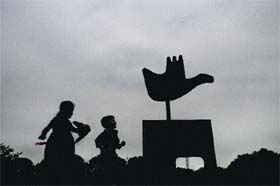 Children enjoy the cloudy weather near the High Court in Chandigarh on Monday morning. Tribune photo: S Chandan
pu vc Selection
Chancellor asks search committee to resume work, recommend panel
New Delhi, June 18
The hitherto suspended process of selection of the new Vice-Chancellor (VC) of Panjab University (PU) resumed today, with Vice-President and Chancellor Hamid Ansari asking the search committee set up for the purpose earlier to restart work and recommend a panel of three VC probables ďat the earliestĒ.
MC giving UT Administratorís directions a miss
Chandigarh, June 18
Making a mockery of UT Administrator Shivraj Patilís directions given during a public hearing to municipal corporation (MC) officials to provide basic civic amenities to residents of the Deep Complex here, the authorities are waiting for written instructions to commence the work.

CTU depot or junkyard?
Chandigarh, June 18
As the Chandigarh Transport Undertaking (CTU) is struggling to keep its ageing fleet of buses running, a huge junk of around 120 condemned buses are already lying dumped in the two workshops, located in Industrial Area Phase I here.


Condemned buses dumped at a CTU workshop in Phase I, Industrial Area, Chandigarh. Tribune photos: Parvesh Chauhan
UT police feedback mechanism gets wings
Chandigarh, June 18
Moving a step ahead in improving the feedback mechanism of the UT police, police personnel posted at the control room will now be asking callers to pass any information regarding any criminal activity in their area.
Fire breaks out at PGI research block
Chandigarh, June 18
Few books, documents along with a wooden table were destroyed in a fire that broke out at one of the research blocks of Post graduate Institute of Medical Education and Research (PGIMER) here today. Though no exact cause of the incident was ascertained, prima facie it was suspected that short circuit in the air conditioner could have resulted in the mishap.
body donation
PGI received 11 bodies this year
Chandigarh, June 18
The department of anatomy, PGIMER, Chandigarh, has received the body Raj Sharma, who died at the age of 94 years here today. Sharma donated was president of Arya Samaj Mandir, Sector 22, and chief patron of Brahma Maha Sabha. He was also a social worker and also fond of instrumental music (harmonium).


Trees present sorry picture as termite menace plagues city
Chandigarh, June 18
There is no respite from the termite menace in the city as the trees continue to be eaten into their vitals all over the city. A random survey by the Tribune team, particularly in Sectors 3, 9 and 10 on Monday revealed horrifying pictures of the vitals of the tree trunks being eaten into by the menace.
A view of trees affected by termites at Leisure Valley, Sector 3, Chandigarh, on Monday.
Committee to monitor functioning of ECHS
Chandigarh, June 18
To redress various administrative and functional issues affecting the Ex-Servicemenís Contributory Health Scheme (ECHS), an oversight committee has been created to look into the day-to-day aspects of its functioning.
A risky ride
Panchkula, June 18
Missing grills on various roads in the city are posing a threat to not only commuters, but also pedestrians. Several accidents have occurred on these roads. Thieves made away with the grills that were re-installed at various places.
A vehicle driver and a rickshaw-puller (right) take wrong turns at Phase I, Industrial Area, Panchkula. Tribune photos: S Chandan
Nature Park in Sector 62 nears completion
Mohali, June 18
One of the projects of Punjab Chief Minister Parkash Singh Badal for Mohali is nearing completion with the Greater Mohali Area Development Authority (GMADA) developing the Nature Park in Sector 62 on a large scale.
Nature Park, which is being developed by GMADA in Mohali. Tribune photos: Vicky Gharu
Pending demands
Pensioners to take out protest rally
Mohali, June 18
A meeting of the general body of Punjab Government Pensioners Association was held today under the chairmanship of Raghbir Singh Sandhu. It was felt that the Punjab government was not doing justice to its pensioners because it had not considered their genuine demands.
Solid waste management plant
MC to float tenders soon
Mohali, June 18
With the land acquisition process by GMADA for the solid waste management plant under way, the local municipal corporation is all set to float tenders. The project is coming up at a cost of Rs 73 crore.
With decrease in mercury, residents heave sigh of relief
Chandigarh, June 18
City residents, on Monday, witnessed a minor respite from the heat wave as the day temperature fell by more than five degrees as compared to yesterday. The maximum temperature today was 37.8 degrees as compared to 42.1 degrees on Sunday.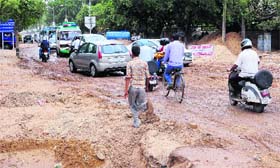 An unmetalled road at the airport traffic lights after some underground pipeilne work in Chandigarh on Monday. Tribune photo: S Chandan
When power cuts become a norm
Panchkula, June 18
Scheduled and unscheduled power cuts, besides low voltage during the day and at night, have made the lives of residents miserable. The most affected areas include Sectors 4, 12, 12-A, 14, 10, 11, 9, 8 19 and 21, Industrial Area, Phases I and II.
Devinder re-elected RWA president
Panchkula, June 18
Devinder Mahajan has been unanimously re-elected, as president of the Residents Welfare Association Sector 4 Mansa Devi Complex, here today. The other office-bearers of the association include vice-president Brig (retd) RP Singh, General Secretary Vikram Punia, and executive members Ram Avtar Yadav, Kunwar Yuvraj Singh, Neerja Kaushik, Pawan Sharda, SC Nijhawan etc.
Over 1.4 lakh administered polio drops
Mohali, June 18
The local health authorities claimed to have administered pulse polio drops to as many as 1.4 lakh children (below five) till now in two days of the pulse polio drive. Giving details, Dr Usha Bansal, the local civil surgeon, said that they would achieve the target of administering the drops each and every child during the drive.
Results suffer due to politics
Chandigarh, June 18
With only 100 regular officials left to struggle with over 16 lakh answersheets, the results for various examinations conducted by Panjab University are expected to get delayed this year. While there are an equal number of contractual employees, the figure has failed to give any respite to the officials who have to manage the answersheets of over 2.5 lakh students.


Mission admission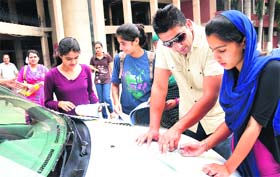 Students fill in admission forms on the first day of prospectus sale at the Government College For Girls, Sector 42, Chandigarh, on Monday. Tribune photo: Pradeep Tewari
Online counselling for AIEEE commences
Chandigarh, June 18
The procedure for admission to various institutions through the All India Engineering Entrance Examination 2012 has started, 30 NITs, 5 IIITs/IIITM/IIITDM, 13 Central and state governments funded institutions, and 45 self-financed institutions will be admitting candidates to the bachelor courses of engineering/technology and architecture/planning programmes, through a centralised counselling procedure, for the academic session 2012-13.
Schools directed to abide by wildlife protection Act
Chandigarh, June 18
The Central Board of Secondary Education has redirected all private schools of the region to surrender any preserved museum specimens of plants and animals that are rare and threatened, as per the Wildlife Protection Act 1972, to the department of environment and forest department.
Maths workshop inaugurated
Chandigarh, June 18
Professor RJ Hans Gill, an eminent mathematician, inaugurated an advanced workshop on numerical analysis in the Panjab Universityís Department of Mathematics on Monday. Padam Bhushan awardee Prof RP Bambah presided over the event.